Peru
Foreigners guide to buying a car in Peru - part 1
January 23, 2018
When we were thinking about how to get around Peru and the whole South America, we thought having a car would be the best option. So we went to the ordeal of buying a car in Peru, successfully got one, and decided to write the process for you, so you can save some stress...
How to get around Peru - easily with a car
The internet is full of various advice about buying a car in Peru, but finding recent advice for foreigners is not so easy. I have only found a 5 years old article describing the process and a bunch of advice on forums like "not worth the trouble" and similar. Well, we decided to go through the trouble, trust the old article and follow it step by step to make our way how to get around Peru easier.
Step 1 for buying a car in Peru – get a stamp in passport
"Get a stamp in passport from the immigration office, in the Breña neighborhood of Lima, which gives foreigners permission to sign contracts in Peru, and is called "permiso especial para firmar contratos para extranjeros".
So, finding the immigration office wasn't so hard, talk to the people there if you know around 50 Spanish words, 40 of those are names of food and animals  - not so easy. But we managed and after 10 minutes and "talking" to 3 different people found out it is done on the internet now – lucky us, right? Basically, we just needed to pay the fee of 16 sol and register on immigration website after this payment. Sounds like 15 min job, took us 3 hours...
First, we had troubles with registering and paying at Banco de la Nacion, then with registration at immigration website – first Primoz didn't exist, then trying to figure out which receipt numbers fit which field, then the payment didn't exist. Eventually, we gave up and went to the nice lady for an advice, show her mobile phone, and she just smiles and says: "something something medio hora something", hmm I guess it takes half an hour to validate the payment... OK, all good, we go for a walk to find a place to print the confirmation after we get it. The last problem – the downloaded confirmation got somehow lost in the phone, then was in a weird format and couldn't be opened, but after another 20 minutes we hold the printed confirmation in our hands – what now? "I think she says something about that we come with the paper and get the stamp in the passport..." So we go back, go to the nice lady again who was visibly ignoring us just to find out, there are no more stamps for passports – we are holding it printed in our hands! Victory is ours! (at least I hope we understood them right this time :-D).
Step 1 for buying a car in Peru simplified – go online!
So what is the first step process in the new digital world of Peru? If you ever find yourself in Peru wanting to buy a car, the first step can be done from the comfort of your home:
Register at www.pagalo.pe and pay the fee of 16 sol.
Even though you get the payment receipt right away, wait 30 min
Go to www.migraciones.gob.pe, in the right menu choose permiso especial para firmar contratos, fill in all data and download and print the confirmation
Tip: If you don't speak Spanish, rather do it on your computer where google translate works much better. Translating the whole page on your mobile is not so easy...Yeah google, we would really need some update here...
Happy ending
Happy and proud of ourselves, we went to the nearest local bistro which looked OK to us (like 500 m from the immigration office). First of all, I run to the toilet and when I come back, Primoz proudly announces that he has ordered dos of something. Well, dos of something came in the shape of grilled chicken, fries and salad, on top of that I ordered also dos of radioactive Inka Kola. We both agree it was on one of the best grilled chicken we ever had (no remorse from my side – no energy to search for vegetarian food).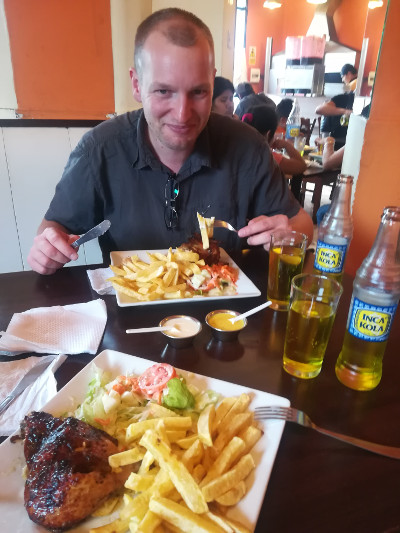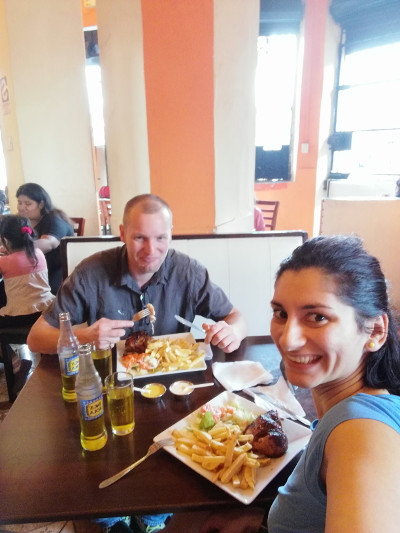 Foreigners guide to buying a car in Peru - part 1