Chile
Chiloe, a mystical island in the south of Chile
December 28, 2019
If you are looking for unique tourist places in Chile, the Chiloe island in the south is definitely one of them. It's a big island south of Puerto Montt shrouded in mysterious stories and legends and it makes for a great 2-3 days to trip to a less visited tourist place in Chile.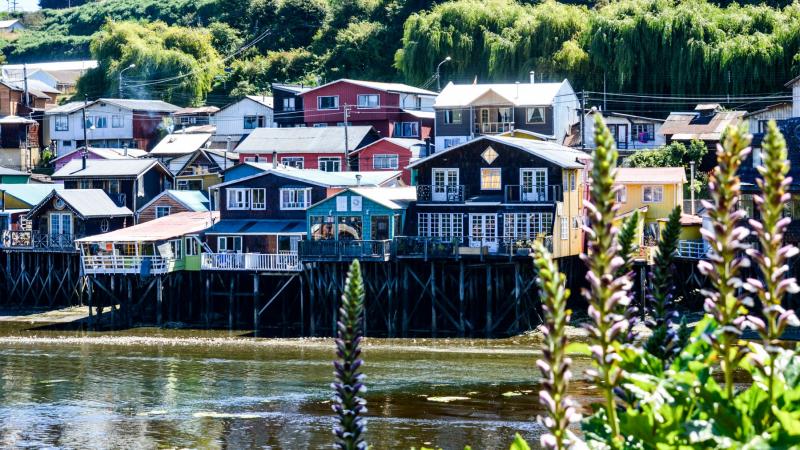 If you are looking for unique tourist places in Chile, the Chiloe island in the south is definitely one of them. It's a big island south of Puerto Montt shrouded in mysterious stories and legends. The best way to get there and enjoy its atmosphere is to rent a car and stay for 2 or 3 days. If you don't have the time, another option is to pay for a whole day tour – that's what we did.
I must admit, I'm quite sorry, that we went on the tour instead of taking 2-days for the island, as it's a quite long drive from Puerto Montt, meaning most of the time sitting in the bus. And you know how it is on these tours – a lot of waiting around and not having the option to stop wherever you want and do whatever you want.
Doesn't matter which tour operator you choose, they are all the same – better to use the money for renting a car and having full freedom. Chiloe Island in South Chile is a beautiful place that deserves more than just a day visit. You can spend 1 day driving around, stopping in the cute small towns and villages and the next day in the quiet solitude of the National Park Tantauco on the southern tip of the island or the national Park Chiloe in the North.
Gallery
One day trip to Chiloe island
What the organized tour we took to Chiloe Island looked like that it left me so disappointed? We left at 8 a.m. from Puerto Varas, drove 2 hours to get to the first town on the island – Ancud, where we admired an old church, took a photo with a cow (ok, we didn't, but we could have….).
Then we continued to another town Dalcahue, where we walked in the port and on the artisanal market, had salmon for lunch in a restaurant outside of the town, that was reserved just for us and continued to next town Castro.
In Castro, we went to look at 2 ore Jesuit's wooden church, before our last stop on the famous riverfront with colourful houses called palafitos. After that, we had to head back to Puerto Varas, to finish our excursion at 6 p.m.
Gallery
I know, that this is a great option for many people, especially people who don't drive or who are not able or willing to organize their own trips. But for us, it was an enormous loss of time and instead of doing all these touristy things I'd rather travel as I learned during that year in South America – by enjoying the atmosphere, local food, talking to locals and walking in nature.
Spending 3 days on your own on Chiloe Island
Had the option to do this trip again, I'd rather taken 3 full days, rent a car and discover the island on my own. Here's what I'd do:
I wouldn't miss a visit to Tantauco National Park on the south part of the island
I'd visit the drowned forest in Chepu, in the northern part of National Park Chiloe
I'd visit Castro's riverfront at sunset or sunrise to take photos of the palofito houses
I'd enjoy the sunset over Pacific on the west coast of the island
With camera in my hand, I'd head for a foggy sunrise at the east coast of the island
I wouldn't miss a visit to the pinguins reservation Puñihuil (from October till March)
I would enjoy more of the local cuisine, especial the Curanto - vegetable & seafood stew
I'd book accommodation in the typical wooden house called palafitos in Castro
And I would spend 1 night sleeping in a camp with a view of the drowned forest in Chepu
Looks to me like there is no other option, than to go back to Chile and visit these beautiful places again…
Gallery
Download a map with all the tourist places in Chile to your phone: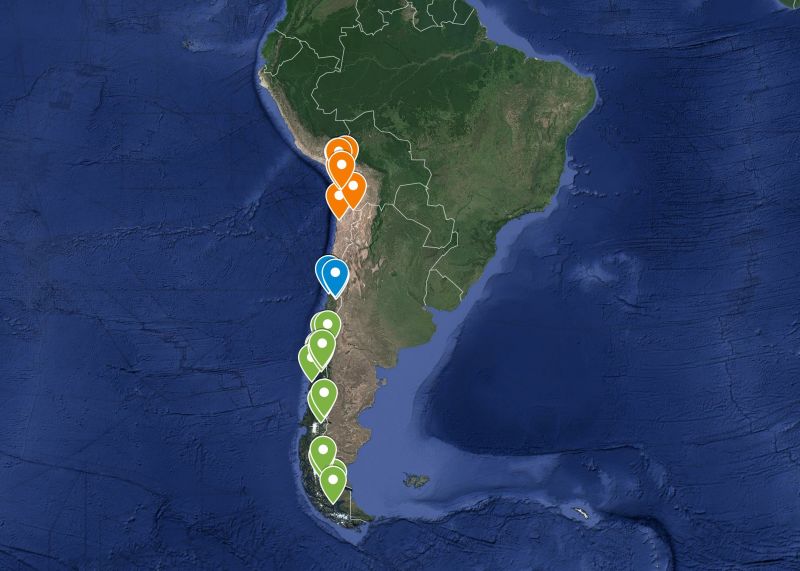 Planning a trip to Chile - how much will it cost
If you are planning a trip to Chile, you must be interested in how expensive it is. Chile is one of the richer countries in the South American continent. That means more people speaking English, nicer hotels, better roads, comfortable buses and in general good tourist infrastructure. But it also means a bit higher prices than you find in Peru or Colombia.
I found the prices in Chile very similar to east Europe: 40-50 € for a double room in a nicer hotel, 20-30 € for a hostel (private) room, 6-8 € for lunch menu, 15-20 € for nice dinner, 3 € for a beer or glass of wine. One-day tours 60 - 100 € (depending on the specifics of the tour, equipment needed, risks, etc...)
Travelling through Chile – how to
The absolutely best way of travelling through Chile is by plane. Chile has several low-cost airlines and the plane tickets from Santiago to other major cities can cost anything between 20 € - 120 €. Of course, the sooner you book the flight, the cheaper it will be. Check the prices for flights in Chile here>>
If you plan travelling around Chile by car, you can be sure the roads will be nice. There are also no corrupted policemen on the roads and the GPS is very reliable. Only one thing you have to watch out for – if you want to cross the borders to Argentina, you have to have special car insurance. Check prices of Car Rental in Chile here >>
Thanks to the nice and straight roads, also bus travel is quite comfortable and it's a good option if you miss the cheap flight tickets. We took a night bus from Santiago de Chile to Pucon, and later from Puerto Natales to Ushuaia. In South America, we usually booked buses with Recorrido.
When you cross the borders to Chile form another South-American country, be careful what food you have with you. Chile has a very strict policy about importing food – any vegetables, fruits, seeds & nuts, meat or dairy is strictly forbidden and you have to declare it, otherwise, you risk a huge fine. If you are unsure wheter or not you should declare something, ask the officers before handing in the declaration form.
Do you like this article or are you planning on visiting Chile?
Pin it to your travel destination board to access it later >>
Chiloe, a mystical island in the south of Chile