Brazil
2 days in Sao Paulo and 9 reasons why I love it
July 7, 2018
2 days in Sao Paulo was maybe short, but very sweet visit and deciding about what to see in Sao Paulo in one day was be almost impossible. But from loads of Sao Paulo travel tips, I managed to choose those few, to enjoy the city and still get some party at night.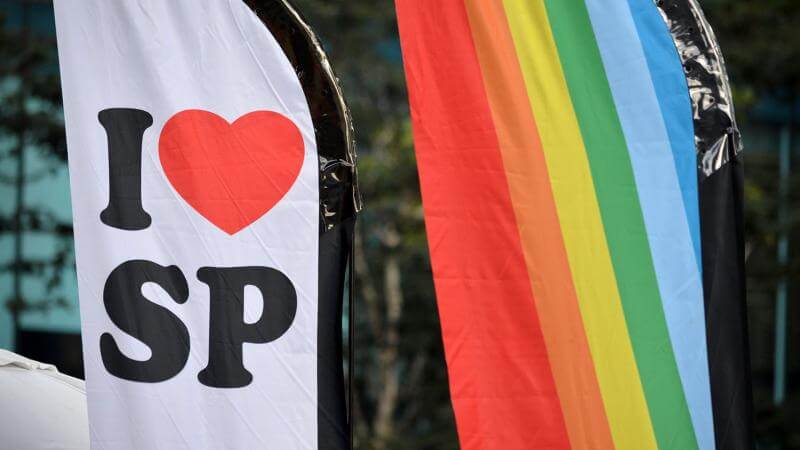 Sao Paulo is a huge international city in the state of Sao Paulo, the richest state in Brazil. Living in Sao Paulo must be interesting, hard and annoying, but I still would love to do it one day. The buzzing city of 12 million people is the 11th biggest in the world and the biggest one in South America and many tourists are concerned about how safe is Sao Paulo. We didn't feel much danger while walking down its streets, but read about it for yourself in the bellow article and find out about Sao Paulo travel tips, what to buy in Sao Paulo and were you have to be on Sunday.
Is Sao Paulo worth visiting? Definitely, and the Batman street in Villa Magdalena shouldn't be missing in your itinerary.
About Sao Paulo and my love on the first sight
Or I should say love on the first hearing? Ever since my teenage years and when I first heard a song by Morcheeba called Sao Paulo, I've been wanting to visit it. And it finally happened. On our way towards Brazilian beaches, we spent 2 days in Sao Paulo and I fell in love, instantly, forever. I might be a mountain girl and nature lover, but there is simply something about the huge cities what attracts me – Chicago, New York and now Sao Paulo are cities, which are engraved in my memory and destinations, where I would love to live, if only for few months or a year. What exactly is it about Sao Paulo what made me fell in love?
Gallery
#1 They have the Batman street
Yes, that's right, there is a street called the Batman street and it's one of the most popular and tourist places to go to Sao Paulo. At the beginning of the street is a graffiti painting of Batman and the rest of the street walls is filled with colorful graffiti of various motives. Every day this street is filled with tourists taking pictures with their favorite graffiti. There is also a small handcraft gallery and sell point next to it and a neighboring street filled with cafes and bars, where you can enjoy craft beer or caipirinhas.
What to see in Sao Paulo in one day - visit the Batman street with beautiful graffiti.
#2 They have Villa Magdalena
Villa Magdalena is a Boheme neighborhood filled with hipsterish shops, bars, and barbers. Yes, it's expensive. Yes, it's also in other cities. Yes, it's totally a place to be! Bars, restaurants shops, it's just the perfect place to meet your friends or get to know new people and spend a perfect Saturday afternoon with them over an overpriced alcoholic drink which will make your world spin. Moreover, Villa Magdalena is the neighborhood, where you can find the Batmans street.
Gallery
#3 They have the Ibirapuera Park
Just like New York has Central Park and Chicago has a Millenial park, there is Ibirapuera Park in Sao Paulo – the best place to relax, go jogging, have a date or meet cute Brazilians. A big green surface with loads of trees and grass areas, outdoor gyms, bike lanes and fish lakes – all surrounded by a skyline of skyscrapers. Oh and the sunsets, that's the reason for itself to visit this park.
Sao Paulo travel tips – the Ibirapuera Park is a must go place when visiting Sao Paulo.
#4 They have a card payment everywhere
And by everywhere, I mean literally everywhere. Even the street ice cream seller on Paulista Avenue and even the vegetable seller on Sunday markets – they have the credit card machine. No cash? No ATM? No problem! You don't have to worry about carrying your backpack or purse with loads of cash, all you need is to slip a credit card to your pocket and you are ready to go exploring Sao Paulo sights.
Gallery
#5 They have the Paulista Avenue
Not only this is the best place to do some chic shopping or admire the buzzing life of this huge city. This place is THE place to be on Sunday in Sao Paulo. Never have I seen something like this anywhere else. Every Sunday, the whole Paulista Avenue is closed for cars and there is a whole party going on. Musicians, street artist, dancers, ice cream sellers... it's like a festival where everybody can go for free, and every Sunday! People kissing, dancing singing, selling their clothes or handcraft. The atmosphere is unbeatable.
Where to go on Sunday in Sao Paulo - Paulista Avenue is a place to be every Sunday.
#6 They have gays
Ok, weird reason, funny maybe, I know, and it might be normal to you. But it was just so liberating and beautiful to see the love everywhere. Couples of the same gender holding hands on the streets, kissing, dancing. Few weeks before we came, they had a Pride parade and the Burger King on the Paulista avenue changed its name to Burger Queen (thanks to Diego and Lucas for this insiders info)! Call me a village girl if you like, but it is not normal everywhere and it's a pity because it's wonderful to feel the love in the air.
Gallery
#7 They have fruit and vegetable markets
These are usually held on Sunday or Saturday, and you can find there everything – juicy mangoes, soft avocados, sweet papayas, and all the other weird tropical fruit and vegetable I don't know the name for. Wondering what to buy in Brazil Sao Paulo markets? You don't have to, as soon as the sellers realize you are a tourist or foreigner, they will start cutting pieces of their precious goods and giving you to taste it, so make sure you come to the market before breakfast and soon enough to enjoy the freshest pieces. Oh, and of course you can pay by card.
What to buy in Brazil Sao Paulo – fruit and vegetable markets offer great variety of fresh tropical fruits.
#8 They have international cuisine
Of everywhere I've visited in Brazil, Sao Paulo has the best choice of international dining options. This makes sense, as the city is host to a huge number of Japanese and Italian immigrants, as well as a number from other countries. And not necessarily it comes with a high price, in every bigger supermarket food corner you will find numerous dining options where you can eat Japanese sushi, Italian pizza, Brazilian steaks or American hamburgers for less than R$30 (8€).
Looking for more tips in Sao Paolo? Read the Local's guide to the best things to do in Sao Paolo.
#9 Sao Paulo is safe
How safe is Sao Paulo you might be asking? Well, many people say its much safer compared to Rio de Janeiro, and I must admit I felt very safe in the city. Besides the crazy bus ride, there was no other situation I would feel threatened or endangered. Yes, we were in the better neighborhoods, but that's where most of the tourists usually are.
What do you think? Does it sound like a city you'd like to visit?
Do you like this article? Pin it to your travel ispiration board >>
2 days in Sao Paulo and 9 reasons why I love it