Slovenia
The most beautiful places in Slovenia and where to go instead
June 23, 2019
I'm sure Slovenia has already attract your attention with all its places to visit. In Slovenia though, despite of its size, you can find much more than just lake Bled, Postojna Cave and the seaside town Piran. Especially if you'd like to avoid the tourist crowds but still see all the beautiful places in Slovenia, you have to read this article.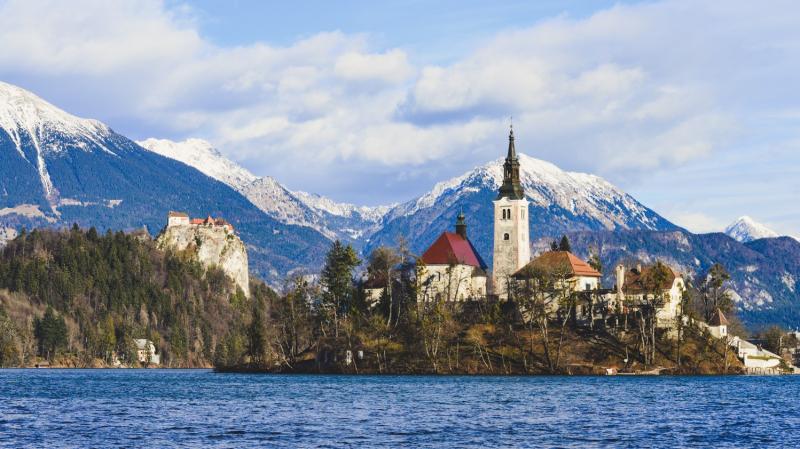 In the past years, Slovenia made it to the top of the buckets lists of many travelers and internet is bursting with advice on where to go and what to do in Slovenia. In most of the articles, you will find destinations like Lake Bled, Ljubljana, Piran and Postojna caves, which are truly beautifull, but will be also full of tourist and are hugely overpriced.
For the tiny country, Slovenia is, it has a surprisingly enormous number of breath-taking places you can go instead, and you can do most of them as day trips from Ljubljana. Having a chance to live in Slovenia for 9 years and explore the country from north to south and east to west, I can present you the best alternatives to the most famous places to visit in Slovenia.
No time to read it now? Pin it for later
Gallery
Mountain views and peaceful stroll around the lake
The photos of Lake Bled with the little church in the middle are worldwide known. The place is really picturesque, but what most of the visitors complain about is, how much  it's overcrowded and overpriced. But did you know, that not that far from Lake Bled is another lake? Bigger, peaceful and with much fewer tourists.
I know, you want to have your perfect Bled picture and you can also get it! Luckily for you, you have to pass Lake Bled to get to Lake Bohinj. The road there is non-stop in a traffic jam, so nothing will be easier than jump out of the car (or bus), take a quick photo of the church and the castle, and then continue your journey to enjoy the beauty of Slovene nature and mountain views at Lake Bohinj.
Slovenia places to visit: Lake bled & Lake Bohinj
Gallery
When you say Slovenia, I think of mountains
Slovenia is home to 3 mountain ranges: Julian Alps, Kamnik-Savinja Alps and Karavankas. Not only foreign tourists, but also Slovenes undoubtly love the most the Julian Alps, where you can also find Triglav National Park. Slovenia though has so many mountains and so well marked paths, that you can easily go anywhere and stay speachless on the top. You might especially want to avoid mount Triglav (2836 m) in the summer months, as it's jammed with eager hikers lining on the way to the top and often witness of unfortunate accidents. 
If peace and quiet of mountains is what you seek, you should head to Kamnik Savinja Alps. They are much less popular than the Julian Alps and Triglav National Park, but nothing the less beautiful. Their highest peak is mount Grintovec (2558 m), hich makes for a wonderfull one or multiple day hike, in which you can also conquer other peaks, among my favorites are definitely Skuta, Velika Baba and Jezerska Kocna, which differ greatly in dificulty, but all have amazing views. There is also no problem with sleeping in the mountain huts, which you could easily book just a week or two in advance.
Best of Slovenia: Triglav National Park & KamnikSavinja Alps
Gallery
The most gorgeous gorge hikes
Especially in the hot summer months, you will love these gorge hikes in the near distance of Bled and Bohinj lakes. The most popular and visited one is definitally the Vintgar Gorge near Bled. It's rising popularity can be easily meassured for example by the entrance fee, which in the past few years trippled (2019 - 10€). It's so crowded there, so you can easily forget about taking cool shots for instagram or beautiful long-exposure photos  - the wooden bridge will be all the time shaking under the feet of other tourists.
Amazing alternative to the Vintgar gorge hike is though the hike to Mostnica gorge, just by lake Bohinj. It's a beautifull hike in the nature on well maintained paths and if you have time, you can make it all the way to a mountain hut for an excellent mushroom soup and bottle of beer. Moreover, if you are lucky, you can take a picture of the heart in this gorge from one of the many bridges crossing it. Until recently, entrance to Mostnica goorge hike was free, now its charged by 3€.
Best of Slovenia: gorge hikes around Bled and Bohinj
Gallery
Escape from the busy center of Ljubljana
The capital of Slovenia is Ljubljana and yes, it's also the most beautiful city in the country. With its population of only 250 thousand people, it sure cannot compete with other European capitals, but its charm is winning above all of them. Ljubljana is so small, you can see it in one day and still find time to escape the buzzing center to rest in less touristy but not less fabulous areas.
After a walk in the center and visit of the castle, you sure will want to enjoy a drink and small bite in some of the cute bars by Ljubljanica river. Well, don't stop at the first bar you will see, instead, take a walk against the river stream (south) until you reach a bridge with cars, dividing the pedestrian zones of the center with the Trnovo city quarter – that's where you are heading. In this area are numerous bars and restaurants, with great atmosphere, filled by the local people. Here you can enjoy delicious food and drinks for much less than at the center.
Slovenia places to visit: the capital Ljubljana
Gallery
The perfect alternative to picturesque Piran
On that 43 km of seaside Slovenia has, lie a few cities worth the visit. The absolutely most beautiful one and as well most visited one is Piran. With its narrow stone-paved streets and old walls overlooking the city, it has a special charisma you won't find elsewhere. But the narrow stone-paved streets can be found also in other coastal towns and switch old walls with a white cliff overlooking the Piran bay and you have arrived at Izola.
Izola is one of my favorite cities, it's great for swimming and lying on the beach, enjoying the seaside city atmosphere as well as doing some hikes in the natural park connecting Izola with neighboring Strunjan. Nature Park Strunjan is the longest part of the natural seashore in Slovenia and connects both towns with an undemanding hike with great views. And you can still get your perfect picture of Piran from the Park, a unique one everybody will envy you!
Best of Slovenia: coast and seaside cities Piran, Izola & Strunjan
Gallery
The fame of Postojna Caves
Once you arrive in Slovenia, you can't overlook advertisement for Postojna caves, one of the largest karst caves in the world, which was so far visited by 38 million people. I will not blame you if you want to join them and increase this number, it is a remarkable one day trip from Ljubljana. But if you care more for an unique experience in peace and quiet without many people around you, head more south to Skocjanske caves.
This Natural park offers 3 different tours in the caves – 2 guided tours inside of the cave and 1 guided or unguided (free of charge) educational trail above the caves. Bring your picnic basket with you because you can easily spend here the whole day, being lost in the beauty of the Slovene nature. Skocjanske caves are also much more cheaper than Postojna caves.
For a little cherry on the top, head to the Lipica stud farm just few km away from Skocjanske caves, to spend the money you saved on entrance fee difference. You sure wont regref the visit in the crib of Austrian royal horses, used in the courts of Habsburg kings.
Slovenia places to visit: Postojna caves and Skocjanske caves
Gallery
What do you say? Did I convince you to forget about all the most touristical places in Slovenia and visit the alternatives instead? Or have you just decided to change your prolong in Sovenia from 1 week to 2 weeks instead? And if you've lready visited, do you have more tips on where to visit? I stil have loads of gems in my pocket and will share them with you in the next article :)
Do you like this article or are you planning on visiting Slovenia? Pin it to your travel destination board to access it later >>
The most beautiful places in Slovenia and where to go instead