Chile
Pucon – the Chilean paradise for outdoor sport freaks
July 18, 2019
With great surprise, my absolutely favourite part of Chile is not Patagonia, but the Lake District lying just above it. We've spent the most time in Pucon, hiking, biking and discovering national parks, trekking Villarrica volcano and enjoying other outdoor activities. Read more about them here….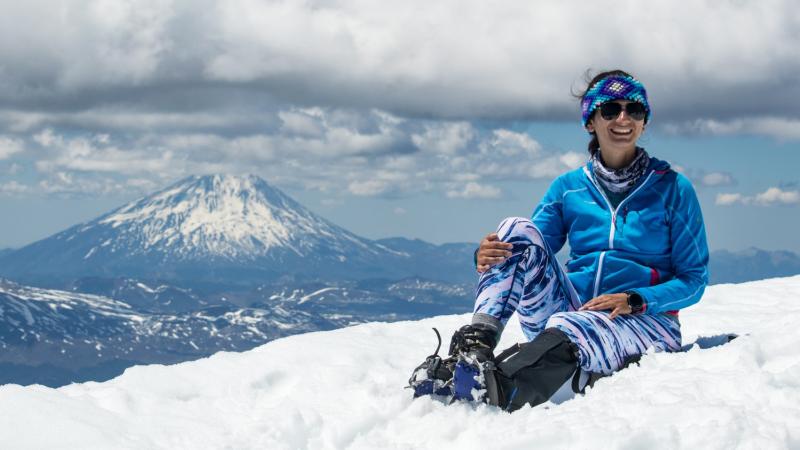 If you had told me a year ago, that I'm gonna have a great time in Pucon, I would be like Where's that? My idea of our visit to was to pass through the unnecessary stops as fast as possible to get down to Patagonia as soon as possible. I'm really happy that we didn't do that, because Patagonia, as much as is beautiful, is actually quite an unpleasant place to stay for a longer time, but more about that later…
The only thing I've regretted after we took the bus from Santiago to Pucon was, that we didn't have our car there anymore. The distances to some national parks are quite big and prices for guided tours are unlike in Peru and Bolivia very European. And that was the reason we've skipped some of the places we wanted to visit. Nevertheless, we had a great time there, so keep reading to find out more about this not so well known region of Chile.
Wondering what to do in Pucon?
Pucon is a small town which lives from tourism, especially from outdoor activities tourism. Things to do in Pucon varies from rafting, cycling, hiking to relaxing in hot springs or on the beach of mountain lakes with surprisingly warm water. So what are the things to do in Pucon:
Climb Villarica Volcano
Or just visit Villarrica national park
Catch a sunset at the lake Villarica
Or bike to the Cabargua lake
Visit some of the amazing waterfalls
Visit the Huerquehue national park
Go rafting or try hydrospeed in Pucon
Relax in the hot springs
Hiking to the top of Volcán Villarrica
As soon as I found out Villarica is a volcano that can be climbed, I knew I wanted to do it. The fact that Villarica is the most active volcano in Chile with the last eruption in 2015 (watch here) with lava spitting as high as 1 km, was just a tiny little detail that made me want to do it even more. (Mum, don't worry, they have an incredible security system and won't let people go up if there's even the smallest sign of increased activity). Primož was not so excited about it, but as usually he would never let me do it alone…
After a little research and a recommendation from a friend, we've booked a tour with Chili Kiwi hostel. Together with another 20 people, our journey started at 7 a.m. Villarrica Volcano hike is a quite popular activity in Pucon, it's not physically very demanding, it's "only" 2800 m high, so the altitude sickness is not severe, and the Villarica National Park is only 30 minutes ride from the Pucon town. Which makes it a great target of massive tourism (unfortunately).
Gallery
Although it was Monday, we started the climb to Villarica Volcano together with another at least 200 people. The summer season has just begun and at the time of our stay in Pucon, there was an iron man race happening, so it was really crowded. After 1 hour of hiking on gravel, we made it to the snow level and put on the winter equipment we got in the hostel – crampons, gaiters and ice pick. Besides these, there were few more parts of winter equipment in our backpack, promising a great ride down – shovel sledge!
It took us another 3 hours to get to the top, where we got a great view at the other volcanos around – Volcan Lanin and Quetrupillan. We had a little time to walk around, take a look inside of the smoking volcano and even start a snowball fight! But what everybody was eagerly waiting for was the ride down.
One of the reasons why Volcan Villarrica hike is so popular is the fact that you don't have to hike down, instead, you slide down on your ass! Well, not directly on the ass, but on a plastic shovel sledge. From the top to the bottom of the snow line are created snow channels, so these slides are fun and safe at the same time – though it takes a bit of an effort to stay inside of the snow track. From 4 hours hike up, it was only a 30 minutes ride down…
Watch how it looks when hiking a Volcan Villarrica, Chile:
Sunset at lake Villarica with the best views
After getting back to Pucon from the Volcan Villarrica tour, there was really not much more energy left than to have a dinner and take a stroll on the shores of Lake Villarica. The hostel Chilli Kiwi is right at the lake shores, very close to a street with all restaurants and bars, So once again we were really happy about booking the tour with them, as it was not only cheap and safe, with friendly guides, but we got back right to the centre of the town.
And right in front of the hostel was a harbour with the absolute best views at the top of the snow-peaked volcano and sunset just over the lake – couldn't wish for a better end of the day.
Gallery
Biking trip to Cabargua lake
One of the best things to do in Pucon is definitely renting bikes and discovering its amazing places on 2 wheels. Our choice was a one day trip to Cabargua lake with several stops by various waterfalls. The area around Pucon has not only many national parks, but it is also a place with one of the most beautiful waterfalls I've ever seen (well, not counting Iguazu falls, nothing can beat those).
So one day morning, we headed to bike rental, got a pair of nice mountain bikes and started our 50km ride towards lake Cabargua. There are two ways to get there – on the main asphalt road alongside the cars or on a side gravel road in the middle of the woods. Yes, it wasn't hard for us to decide which one to choose:-D
The plan was to stop by Ojos de Cabargua, beautiful waterfalls with the bluest water I've ever seen. Ojos de Cabargua is quite a popular place and people usually come to these waterfalls by car, but I think biking there was the best thing do to, as alongside the road we've discovered several other small waterfalls, with not a single soul around. For us, just a perfect place to sit, have a snack and a little rest before continuing towards the Cabargua lake.
Gallery
It was quite hard to bike on the gravel road, the terrain was very dynamic and we were all the time riding up and down. With making so many stops, it took us the whole day to get to the Cabargua lake, with last few kilometres riding on an asphalt road.
Once we got to the lake, there was no energy or time left for anything else but a quick jump to the water to wash off the dust and head back to Pucon – this time mostly riding down on the asphalt road, so it only took us a bit over 1h.
Other waterfalls you can sea near Pucon, Chile:
Salto Claro – nearby Pucon town, luckily for us only 2 km from our Airbnb, admission free
Salto el Leon & Salto la China – privately owned waterfalls 1h drive from Pucon, small entrance fee
Salto Truful Truful in Conguillo National park – both combined make a wonderful one day trip, though a bit far from Pucon (2,5 h drive)
Gallery
Huerquehue National Park - walk among thousands of years old trees
A visit to Huerquehue National Park was recommended to us by a hostel owner in Santiago de Chile, who worked in the past as a tour guide in Patagonia and Los Lagos region. It lies very nearby the Cabargua National Park and hourly buses are driving from Pucon, so it's very easy to get there.
Huerquehue National Park is actually a great place to go for a multiple-day trip as well, as there are many campsites in the park, allowing people to enjoy its solitude and raw nature. But as we didn't have our camping gear anymore, we've decided that one day trip will be just enough.
There are several hiking routes available in the Huerquehue National Park, but the most suitable ones for a one day trip is the Sendero San Sebastian and the Siete Lagos (Seven lakes) route. When we headed towards the bus station in the morning, our intention was to hike the Sendero San Sebastian, which leads through the forest to the top of Cerro San Sebastian, offering amazing views over the whole park and the lakes and mountain peaks around. Unfortunately, it was very cloudy that day, so instead, we've decided to take the Seven lakes route.
Gallery
Huerquehue National Park, as well as the whole southern part of Chile and Argentina, is famous by Auracaria Araucana trees (Monkey puzzle tree or Chilean pine). These trees are often called also living fossils, as they can live up to 4000 years, grow up to 40 m. They only grow few cms a year and need decades to start giving seeds so other trees can grow nearby…
Walking among these trees was something truly magnificent and I fell in love with them immediately. They carry a note of mysticism of old days, majestic nonchalance and melancholia in their tall solitude and longevity. I can only imagine the ancient times this tress can remember. You can imagine my happiness when the owners of our Airbnb gave us as a goodbye gift several seeds of Auracaria Araucana. Hopefully, soon enough, they will be growing in Slovenia too…
As we were "lucky" for foggy weather, the atmosphere in the park was remarkable. Fog rolling over the surface of the lakes, the invigorating music of waterfalls hiding by the path and tenths of meters tall Araucana trees in their overwhelming calmness. In the end, we sat by the shores of the seventh lake, Primoz took out his Peruvian flute so we could finish the day with a sweet melody reminding us of simpler times a long time ago…
How to get to Pucon, Chile
If you want to try hiking volcano national park, then you simply should start planning your visit to Pucon. Getting to Pucon is rather easy - the best option is to fly from Santiago to Temuco, then catch a bus to Pucon. There are low-budget flights and you can find a ticket for as little as 30$ if you plan well ahead. Check flight prices on JetSmart.
If you are more of a last-minute planner just like we are, a good option is an overnight bus. The roads in Chile are well maintained and without many turnings, so the night bus from Santiago to Pucon is actually quite comfortable and costs as little as 30$ even if you buy it last minute. Great page for booking bus rides is Recorrido. Pucon is also easily reachable from Argentina - by bus from the city San Martin de los Andes.
Do you like this article or are you planning on visiting Los Lagos region in Chile? Pin it to your Travel destination board to access it later >>
Pucon – the Chilean paradise for outdoor sport freaks