Slovenia
Slovenia - coast and seaside cities you must visit
September 23, 2019
If you head for a vacation to Slovenia, beaches might be the last thing you think about. But actually, Slovenia lies on the Adriatic coast and has several beautiful seaside cities you should definitely pay some attention to. Read about the best of them here.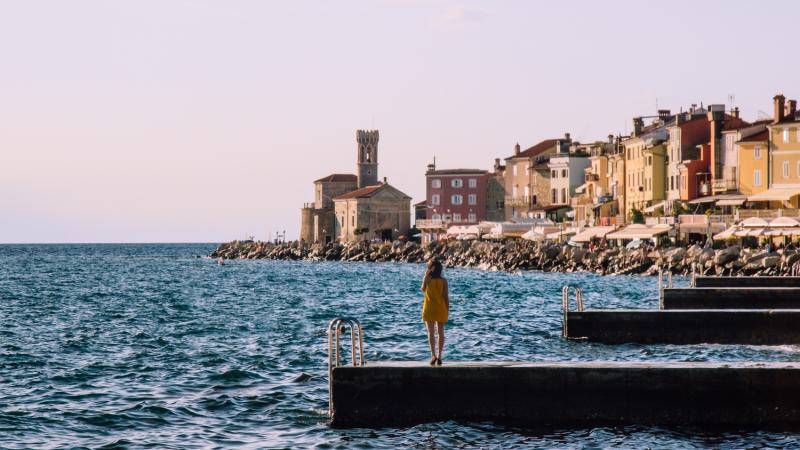 Slovenia beach holidays – where to go?
Although the Adriatic coast in Slovenia covers only short 46 km, there are several coastal towns worth the visit and each of them has their qualities. I've visited most of them several times and still love returning there, while in some of them one visit was more than enough.
My absolute favourite is Izola with a small-town atmosphere and a beautiful Moon Bay beach, and Piran with unique architecture and history (though probably the most touristy town). A fair share of my love is also devoted to Koper, which is often overlooked and therefore still has a nice local atmosphere and friendly prices.
Picturesque small towns are also Strunjan and Ankaran, perfect for an afternoon coffee or meal in a local fish restaurant. Probably my least favourite of the seaside cities in Slovenia is Portorož, which is very commercial, full of casinos, party places and fancy hotels, restaurants and cafes.
Gallery
Where are the best beaches in Slovenia
Before I started writing this article, I asked a few of my Slovene friends, where they think are the best beaches in Slovenia. Most of the times I've heard back – there are none. Well, the thing is, most of Slovenes go to the seaside to Croatia. And honestly, the Croatian beaches are better than the Slovenian beaches.
But since not only the Slovenian but also Austrian, German, Italian, Czech, Polish, Slovak and Dutch people are heading to the Croatian seaside every single weekend, the queues at the Slovene-Croatian borders are getting bigger every summer (yes, there are still border checks, though Croatia is in the EU now, it still isn't in the Schengen area).
Therefore, if you devote only a day or two on your vacation to visit the Adriatic coast, staying on the Slovenian coast might be your best option. Moreover, the Slovene seaside cities are really beautiful, and if you know where to go, you can also get some amazing beach time. So keep on reading to discover the best beaches in Slovenia.
Gallery
Izola and the Moon bay Beach
For me the absolute winner, the number one place to be for some beach time in Slovenia. Izola is not only a nice example of a cute small Istrian city, it also is home to 4 of the most beautiful beaches in Slovenia  - the Lighthouse beach, the San Simon Bay, the Belveder beach and the Moon Bay.
Slovenia is probably the most known for the Moon Bay beach. It's one of the most searched places in connection with Slovenian beach holidays. Peculiarly enough though, this place is not crowded! The Moon bay beach is a pebble beach located inside of the Strunjan Nature reserve, just between the towns of Izola and Strunjan, and you can only reach it by foot.
To get to the Moon Bay beach you have two options – park by the Belveder beach then head south walking on the rocks until you reach a pebbled Moon Bay beach. The second option is to park at the Belveder camp (above the Belveder beach) and walk through the forest and down on the White cliff to reach the Moon Bay beach.
Gallery
The picturesque town of Piran
Piran is, in my opinion, the best town to discover the rich culture and history of Slovenia. For a long time it was a part of the Venetian republic, therefore it has a nice Italian atmosphere. The view at the small peninsula is the best from the town walls (2€ fee), rising majestically above the houses and making the photos of the town even better. The centrepiece is definitely the monastery. Its tower was recently renovated and can be climbed (2€ fee) to enjoy a look at the town form the birds perspective.
More than worth it is to take a walk through the narrow streets, discovering hidden corners until reaching the Riviera and walking all the way to the harbour, which with the green and red entrance towers offer the best photo opportunity. There is no way to park in the old town centre, only the town residents can enter by cars. There were two big parking houses built for the visitors just by the entrance of the town and regular buses are driving to the centre.
Though Piran is the most visited seaside town in Slovenia, in my opinion, it doesn't have a nice beach. Piran has 2 beaches right in the centre – the Preseren beach is a gravel beach under the city walls and the Tartini beach is a concrete beach right at the Riviera. Both are good for a quick dip or if you love being surrounded by many people and restaurants. I myself prefer something quieter and rather enjoy the atmosphere of this beautiful town with a good Slovene wine in my hand and some fresh seafood on my plate...
Gallery
Koper, the biggest seaside city
Koper is the biggest of the seaside cities in Slovenia. Before WWII Trst (Trieste) had this prime, but then it was assigned to Italy by the western leaders and Koper was transformed into an important harbour and logistic centre for the whole country. This is quite a painful and controversial part of the Slovene history and many people still think of Trst as a Slovene city…
Koper is not a very touristic city, it has shopping malls, harbour, refined infrastructure but not so many attraction for tourists. This is what it makes it so interesting to me. The old town centre in Koper is just as nice as in any other coastal town. It has narrow cobbled streets, many cute cafes, and beautiful square with a bell tower, which can be climbed for some amazing views.
There is also a place called Koper city beach, which is a small beach right in the centre of the town, with all the infrastructure you can wish for – showers, changing rooms, toilets, bars and lifeguards. Though there is one disadvantage of this beach – it is situated right next to the industrial harbour.
A few years ago there was a speed-way tunnel made between Koper and Izola, which meant one great thing - the old road between these two coastal towns was turned into promenade and beach. Koper, therefore, got a great place for jogging, cycling, evening walk or a day spent on the sun by the Adriatic Sea.
Gallery
Potorož and its sand beaches
Portorož is definitely the most popular Slovenia beach resort. It's a place, where not only many Slovenes go for a vacation, but there are also many conference centres, casinos, and international events attracting foreigners. It is also the only place in Slovenia, where you will find a sand beach.
But don't be mistaken, the sand is not natural, the whole Slovene coast is rocky and the most common beaches are rocks, pebbles or concrete piers. The same is also in Portorož, with the difference, that sand fields are created for a beachier fee.
If your biggest interest is parties, shopping, fancy hotels and spas and spending all day long sipping a cocktail on the beach, Portorož is definitely the place for you to be. For me, the number one reason to go to Portoroz is the Cacao café with the best ice-cream in Slovenia…
Gallery
Strunjan and it's beautiful nature
Though the town of Strunjan is not very special itself, it makes for a wonderful one day trip or if you prefer accommodation in the peace and quiet and amazing nature around you. You will find both in Strunjan nature reserve, a protected landscape connecting Strunjan and Izola, with amazing views of the White cliff, Moon Bay, Piran and Izola towns and home to several unique species of birds and animals. This park has a path connecting both cities and thanks to the shadow of low trees, walk among these towns is a perfect half-day activity.
Strunjan is also a home of active salt mines, where salt is extracted from the sea by 700 years old technique, without using any chemicals to whiten it. One of the old houses was turned into a visitor's centre, where you can learn more about its history and production, while in the rest of the houses still live workers.
Seča and Sečovlje – home of the salt production
If a few moments spent in Strunjan salt mines were interesting and you want to see something bigger, head to Sečovlje. In the summer or winter, Salinas in Sečovlje are decorated by piles of white snow and it offers a complex package to its visitors. Beside souvenir shop where you can buy various salt products, you can also walk on the informative paths, head to the museum and exhibition centre or spend some time bird watching.
After seeing the salt mines, head to Seča for a fresh fish or sea fruits at restaurant Gostišče Ribič, then spend the rest of the day bathing, sunbathing or watching sunset over the Adriatic sea on the beach Rt Seča by the Ribič restaurants, a wild beach sweared by many locals to be the best one in Slovene Istra, which has been recently renovated and is connected to the Portoroz beach by a nice promenade.
Gallery
Marezige, drink wine and enjoy the views
Though Marezige is not a beach town as such, I've recently discovered this small town and it makes for a nice half-day trip especially for food & wine lovers. Since 2018, Marezige is especially interesting thanks to the wine fountain - a small viewpoint with wine boutique, constructed by the biggest Slovene wine producer Vina Koper.
It lies on a hill above Koper and beside wine, it also offers an amazing view of the bay and a local restaurant with great seafood nearby. For 3 glasses of wine including the wine glass, you pay 8€, and if you like it, you can buy a whole bottle in the wine store. Don't hang your head low when you don't have a car or don't want to drive there cause of the wine tasting, there is a red panoramic tourist bus leaving from Koper beach three times a day …
Anakaran, where the mountain path ends
Ankaran is probably the least known of the Slovenian beach resorts and I probably never would have visited, if it wasn't the last station of the Slovene trans-alps path. Yes, this is where ends the mountain path, that starts in Maribor and covers all mountain ranges in Slovenia. You can get a stamp in small café in Ankaran, so really, there is no hiking, but if you want to deserve it, at least go for a walk among the vineyards of the cape Debeli rtič from where you can see the Italian Trieste.
Well, besides that, Ankaran is also home of the biggest camper van camp in Slovenia, and several nice hotels and Spa with natural treatments and seawater. So if a peaceful vacation in the middle of nature and no city rush is what you seek, Anakaran might be just the right place for you.
Gallery
What to eat during your visit of Slovenian coast
It wouldn't be a vacation on the Slovenian coast if you didn't eat the local cuisine. Prepared from fresh fish that fishermen bring from the sea every morning, Slovenia has one of the best seafood I've ever eaten.
My absolute favourites are grilled calamari with garlic dressing and small fried fish (various breeds – anchovies, sardines, picarels) or other baked or fried fish. Very often, it's served with cooked potatoes with chard and fresh green salad, or French fries.
For not a big hunger but a big enjoyment, you can try squids in a tomato sauce or muscles on white wine (called buzzara) – order an extra bread, you will not want to leave any sauce on the plate. And if you are lucky enough, you will come across some local food festivals, that are especially frequent in the summer.
Gallery
What do you think? Is Slovenia your next destination for summer vacation?
Do you like this article or are you planning on visiting Slovenia? Pin it to your travel destinations board to access it later >>
Slovenia - coast and seaside cities you must visit