Slovenia
Hiking Slovenia – 2-days hike in Kamnik-Savinja Alps
September 9, 2018
Beautiful 2-days hike in Jezersko in Slovene Kamnik-Savinja Alps leads through rocky terrain and is full of demanding climbs and beautiful views. Be amazed by photos and get GPS track for your next hike in Slovenia. This hike covers: Češka koča, Mlinarsko sedlo, Dolgi Hrbet, Skuta, Koča na Ledinah, Velika Baba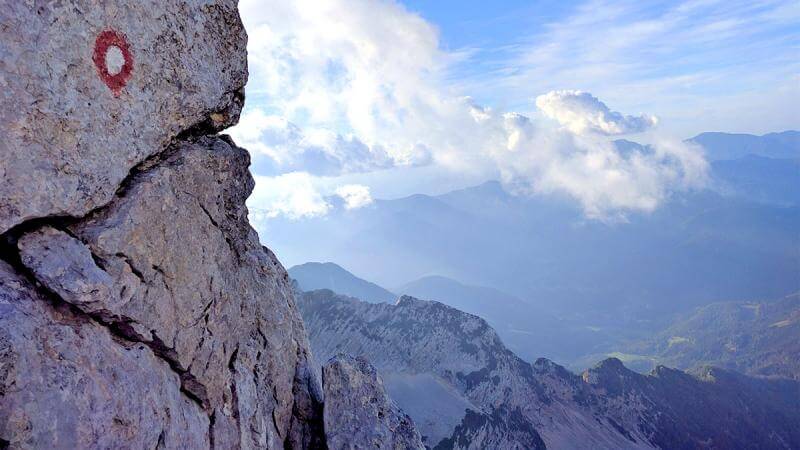 One of our first hikes with climbing in Slovenia happened in September 2016, right after my 30th birthday – obviously I needed to prove to myself that 30 means nothing. Me, Neža and Primož headed to Jezersko, which is full of beautiful 2000m peaks. Me and Neža where quite a newbies on this kind of rocky terrain and were very happy to have Primož with us, to stop us from jumping around like mountain goats.
Jezersko - Češka Koča –Dolgi Hrbet - Skuta
The plan was following: starting point at Ravenska kočna (980 m), hiking up to Češa koča (1542 m), and then following to Skuta (2532 m), spending the night at Češka koča and checking at the summit of Velika Baba (2127 m) the next day. Surprisingly, everything ran smoothly by the plan...well, besides the small detour and unplanned climbing on very hard mountain walls.
The first part leading to mountain cottage Češka koča is nice and not very hard hike through the forest, very nicely marked and secured (wooden steps and wires at more demanding parts). It took us 1h to reach Češka koča, where we have left one backpack as we planned to sleep here anyway. After Češka koča a harder part starts on a rocky terrain and scree (which I personally hate when going up) but offers beautiful views of the valley and surrounding mountains.
Photo credit goes to Neža and Primož. Click on the photo to see it full screen and swipe to list through the whole gallery.
Gallery
After another 2 h, we arrived at Mlinarsko sedlo (translates as Miller's ridge), where the path divides and goes up to Grintovec or to Skuta – either through demanding climb on top of Dolgi hrbet or under it. We met other hikes and after consulting with them, decided to follow the path through Dolgi Hrbet (translates as Long back). As I and Neža were first timers and Primož has respect for heights, we watched our steps carefully and hold the wires tight. On this climb is recommended helmet and climbing belt, from which we only had the first one but I personally didn't feel the need for a climbing belt, as there was a sufficient amount of iron steps and other security measures. After another 30 minutes, we have arrived at the summit of Dolgi Hrbet. 
Gallery
From Dolgi Hrbet, we already got a view of Skuta (translates as Cottage cheese), which was all the time covered in clouds and after another hour we have reached the top surrounded by mist. After a quick snack and putting a few more layers of clothes we started the descent, as the summit didn't offer any views we were hoping for. For the way down we decided to take the path under Dolgi Hrbet but unintentionally took a detour and after another 3 hours reached Češka koča just at the time of a sunset. At that time, of course, I already hated everybody and the hike down was painful physically and also psychically.
Gallery
Day 1 – 7h 45 min, 13,7 km, 2017 m elevation gain
Češka Koča – Koča na Ledinah - Velika Baba – Jezersko
The next day we started around 8:00 continuing to mountain cottage Kranjska koča na Ledinah, where we had a coffee and nice chat with the owner, with whom we discussed our path. Originally, we planned to go through the Austrian side, but when he heard we climbed Dolgi Hrbet the previous day, he recommended us to take the climbing path, so we did. Once again, we left one backpack here to make the climbing easier.
The climbing path up to Velika Baba (translates as a Big old woman) is very demanding, full of vertical walls including Rudijeva vertikala – 100 m wall secured with iron wires and iron steps. At one point I got a bit nervous, as we didn't have the climbing belt here, but that's why we were even more careful. I actually think that the climbing belt would slow us down a lot, and we would spend much more time on the wall which would be exhausting and consequently more dangerous.
One man once told us – "if you can climb a tree, you can climb the mountains, we all did it without any belts or helmets when we were young." I still stick to his advice….
Gallery
The summit of Velika Baba offers numerous beautiful views and a nice spot for a quick snack. We opt for the Austrian way down, which is longer but easier and goes on a nice grassy terrain. After descending back to Jezersko around 14:00, we had a nice lunch by the Planšarsko lake.
Day 2 – around 5h total. I don't have complete data due to an empty battery and the GPS also went a bit crazy as you can see on the map:
How do you like the pictures? Would you dare for a hike like this and are you already planning your trip to Slovene mountains?
If you like this article, pin it to your hiking board >>
Hiking Slovenia – 2-days hike in Kamnik-Savinja Alps