Brazil
How we were living in a Brazilian beach house
September 1, 2018
When we arrived at Ubatuba to volunteer in a Brazilian beach house, I didn't expect to enjoy it much and I though t I would be bored very fast. But eventualy we have stayed the whole month, enjoying the best beaches in Sao Paulo state. Read about our favorite beaches in the Brazilian surf capital here.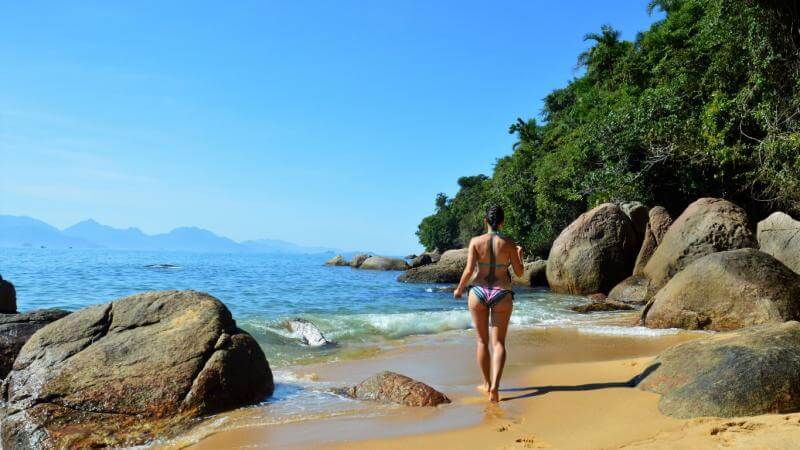 What did we do in Ubatuba
Well, there are not many things to do in Ubatuba beside surfing and lying on the beach. The city of Ubatuba has an aquarium and Tamar Project (more about that at the end of this article), but definitely not enough to spend the whole month there. So what did we do? Ubatuba was our second volunteering destination and we came here to work in a Brazilian beach house. I had no idea what to expect but it turned out to be another great experience. The work was easy, we learned a lot and still had some time to enjoy the beach and do some computer work…
When in Ubatuba, don't miss a chance for a boat trip - watch the video of our trip to Ilha Anchieta:
Ubatuba – beaches, volunteering and waiting for the rain to stop
Ubatuba claims to have the best beaches in Sao Paulo and is a popular holiday destination for people from the city. Luckily for us, we were there in June and all the beautiful Ubatuba beaches were almost empty. Unluckily for us, it was raining almost 2 weeks in a row so we didn't enjoy them as much as we wanted. Ubatuba is known for the high level of rainfall and that's also the reason, why Brazilians call it Ubachuva – "chuva" meaning rain in Portuguese.
Gallery
How does volunteering in a Brazilian beach house look like
Our boss Sergio and the owner of the house had a piece of land in Ubatuba, approximately 100 m from the beach and he decided to build an eco-lodge there. Since last year, he's been also inviting volunteers to help him maintaining the house and working on new projects. One of the new projects which we worked on was creating a garden inside a shower with a natural clay building technique, another one was building a new path in the forest next to the house which one day will serve as relaxing area for the guests. His house is available for rent on Airbnb.
Our favorite beaches in Ubatuba, Sao Paulo
When we didn't work and it wasn't raining, we were discovering the beaches Ubatuba has, and it claims to have more than 70 of them. I'm not sure if the presented ones are really the best beaches in Sao Paulo, but they are definitely the ones which we enjoyed the most:
Praia do Cedro - our number 1
Praia do Cedro was a very small beach 30-minute walk from our house. It was quite a long and hard walk including several small hills, but it was definitely worth it. Small, usually with very few people and a shade of palm trees where Primoz could hide from the sun. There was also a small restaurant where we could buy beers and snacks. Simply perfect. The only disadvantage was, that it was so hidden, that the sun disappeared behind a hill around 4 p.m.
Gallery
Praia Vermelho do Centro with all the surfers
This beach definitely isn't for swimming or lying around. The ocean is wild and the waves are high, which makes it a perfect spot for surfing, or in my case, watching all the cute surfer boys. Though I had my surf lesson in Ubatuba, in no way I dared to go to try my skills to this beach. So I've applied the technique of learning by watching
Praia do Tenorio for the perfect beach day
10-minute walk from our home, this beach we have visited most often. It was usually quite empty, it had some refreshment points and also some surfers to lie your eyes on. This was also the beach where I was learning surfing, the waves were strong enough to carry me, but not too strong to kill me. Though when Primoz saw me walking towards them, he said he thought I'm never getting out…
Read more about how I was learning surfing in Ubatuba
Gallery
Praia Grande – that's how you imagine a Brazilian beach
I must admit, this was not one of my favorite beaches, but it's worth mentioning as it's the most popular beach in Ubatuba. The center of all sellers – beachwear, ice-cream, coconut water, roasted peanuts… you can find there everything. You can also expect it to be very crowded, so it's definitely the best place to hit on hot Brazilian boys and girls.
Gallery
Praia da Barra Seca and the coolest beach bar
The first thing I wanted to do when we came to this beach, was to turn around and leave. Fishermen's nets scattered around, black mud in the water and no nice views, but then I saw the beach bar. Seriously, I didn't need anything else – sipping caipirinha and enjoying the sun while Primoz was drinking beer and listening to this podcasts. Another great thing here – the sun was not blocked by any hill and lasted till late afternoon.
Gallery
What is the Tamar project Ubatuba?
When we arrived at Ubatuba, I had no idea what Tamar project was, until our friends from Sao Paulo came to visit and told us. Tamar is an abbreviation of tartarugas marinhas  - sea turtles in Portuguese, and it's a project running all over Brazil for saving sea turtles. Besides having medical centers for trying to save turtles caught in fishermen's nets and injured by boats. They also have education centers for the public, teaching people what to do to help to save them too.
You can read more about Tamar project here.
Do you like this article? Pin it to your travel inspiration board >>
How we were living in a Brazilian beach house