Paraguay
The story of Jesuit missions in Paraguay in photos
September 12, 2018
The Jesuit Missions in Trinidad is one of the most visited historic places in Paraguay, yet, it was almost empty. The architecture of this place is breath-taking and Trinidad could easily be one of the most visited UNESCO sites, but it's actually far from that. Read the story of this magical place.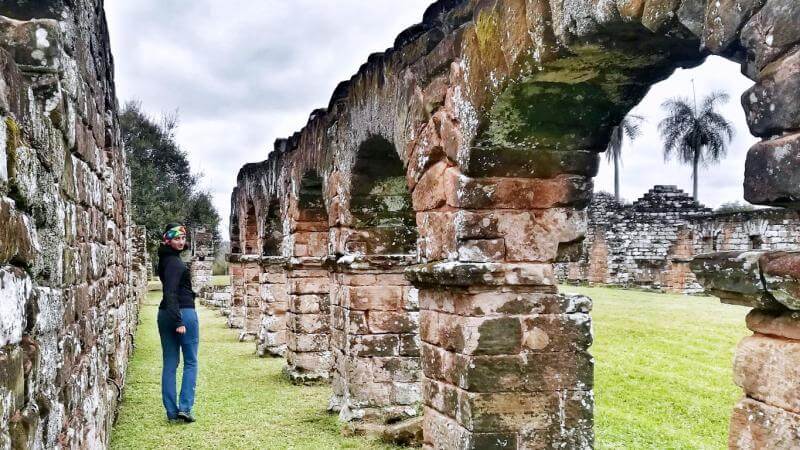 *This article contains some affiliates links to sites, from which I receive a small reward if you make a purchase from them.
Paraguay, the second poorest country in the heart of South America which till 1870 was on contrary the most powerful and rich country on this continent. Then they started a stupid war with Argentina and Brazil, lost half of their men population and until recent years fell deep into the rule of dictators. But I'm jumping too far, the story of Jesuit missions in Trinidad date way back, to the beginning of colonies in South America.
A brief history of Jesuit missions in Paraguay
Different sources tell a different story of Jesuit Missions in South America. I've read a lot of them – it's interesting how traveling in foreign countries wake up the curiosity in its history, political situation, industry and everything else we overlooked at school and took it as something we will never use in our lives. Try giving me the blind map now Mr. Petrjanos, I'll get it all right…
Who were the Jesuits and what did they do
Jesuits came to Paraguay in the 16th century. Some sources say they came to turn the indigenous people to Christianity and to protect them from exploitation and enslavement by the Spaniards, other say they were invited to educate them and turn them into a more efficient workforce. Believe whatever you want, the fact is, their stay in Paraguay was very brief and very efficient.
Gallery
Jesuit Missions – amazing historical places in Paraguay
Jesuits build around 30 towns in the lush rainforest stretching throughout modern Argentina, Brazil, and Paraguay in an architectural style mixing Guarani and European techniques and religious symbols. The Mission in Trinidad was founded in 1707 and is considered to be the most complete complex in the area. It is very preserved and speaks about how huge the Jesuit power was at that time.
Gallery
Jesuit Missions belong to one of the most famous landmarks in Paraguay
The power Jesuits gained is also by some sources claimed to be the reason they were expelled from Paraguay in 1767. Though some other sources say that happening in Europe had bigger saying in this. Whatever the reason was, it resulted in abandoning this place, which was dilapidated until modern days and year 1993, when the Jesuit Missions in Trinidad were added to the list of UNESCO world heritage. If you want to read more about the history, read this article.
Gallery
Jesuit Missions are the top tourist attractions in Paraguay
We have arrived in Trinidad on a gloomy day at the end of the winter. Besides us, only a French couple was walking through this huge area so we really had it all for ourselves. Hundreds of years old walls breathing with history showed us, how life must have looked 300 years ago. The central piece of this mission is remains of a church with back wall majestically rising above heads of small humans. It makes you wonder how they were building it without heavy machinery we use now.
Gallery
We spend here hours, walking among the huge ancient walls, taking photos, videos, discussing what served to which purpose and taking a good look at it from every angle. Unlike Machu Picchu, there were no restrictions here, no tourists, no guards to tell us off, we could walk everywhere and do everything. I must say, this is the reason I am fond of this place much more than Machu Picchu.  Amazing architecture, amazing history, no crowds, and price everybody can afford.
Gallery
The second Mission is located in Jesus and is much smaller but not less interesting. It was founded earlier, in 1685, but remained unfinished. The Moorish-inspired archways, the imposing interior columns, and carved sculptures are a great example of the final stage of regional architecture and only make you wonder, how it could look if they managed to finish it.
Watch my video of Jesuit missions in Paraguay:
How do you like this place? For me personally, walking among this huge ancient walls was one of the best moments in Paraguay. I still cannot believe this place is still not on the radar of all tourists visiting South America, but I'm sure it will get there soon. Trinidad ruins are definitely a reason for itself why to visit Paraguay. So plan your trip before it's too late, it will be worth it. Jesuits Missions in Paraguay might soon become overpriced and overcrowded.
If you are planning your trip to Paraguay, here is a great article about how to get to the Jesuit Missions in Trinidad and Jesus.
 
Do you like this article? Pin it to your travel inspiration board >>
The story of Jesuit missions in Paraguay in photos