Czechia
Beautiful places in the Czech Republic you have to visit
November 2, 2018
The Czech Republic, my home and the country in the heart of Europe, is full of beautiful places that many tourists omit during their only visit to Prague. Some of the travelers though decided to see the full beauty of the Czech country – I asked them about their experience from visiting Czech cities and the reasons why you should visit them too.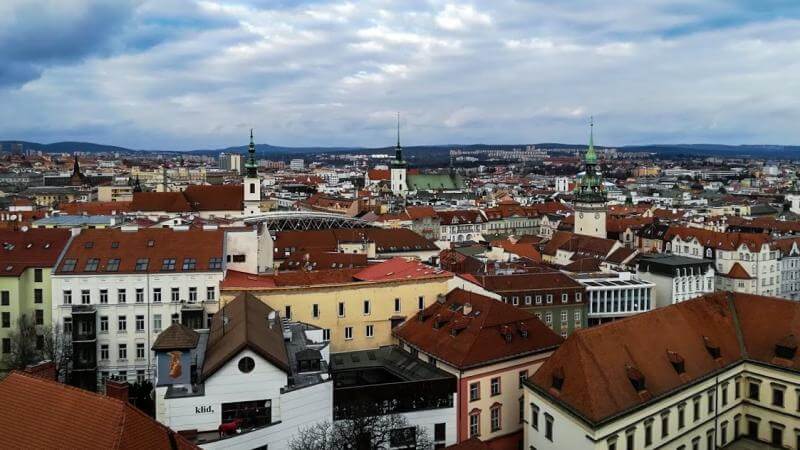 Though it's been a long time since I moved out of my home country, I know very well how beautiful cities in the Czech Republic are. Unfortunately, I cannot myself recommend the best places to visit in the Czech Republic, therefore I have asked travel bloggers from all around the world what is their opinion on Czech cities to visit.
Enjoy the vibrant young crowd in Brno
Brno is the Czech Republic's second biggest city. It is a university city with a population of around 400.000 people. The young crowd means the city has a lively, fun vibe. Brno is also one of the quirkiest cities I have ever visited. Where else can you see an astronomical clock that does not tell the time? Or a statue with a head that is too small for its body and another with six fingers? And what is it with that crocodile hanging from the ceiling?
Cities to visit in the Czech Republic – enjoy the young crowd in Brno.
There is history here too, with a lovely old cathedral and a castle. There is a labyrinth underneath the main square to explore and Europe's second largest ossuary. Brno is also home to Villa Tugendhat, the house known for being the first example of modern architecture. One of the best things about Brno is that tourism hasn't really taken off yet, so prices are all still at local rates and the people are friendly. It should be on everyone's Czech Republic itinerary.
Josie from Josie Wanders. Read more about her experience from visiting Brno.
Gallery
Taste great wine in Mikulov
Being home in the South Moravian region, I couldn't omit to mention one of the most beautiful cities in South Moravia. I am very ashamed to admit, that I only visited Mikulov for the first time when I was 25. This beautiful town only 30 km from my hometown has surprised me with its beauty and laid back atmosphere. It's also the one of the two most significant city in the wine region of South Moravia (the other one is Znojmo).
Cities to visit in the Czech Republic – taste Moravian wine in Mikulov
When in Mikulov, you cannot miss a visit to one of the wine bars or restaurants owned by a winery offering a great selection of the locally produced wines. If you plan your trip for September, there will be many wine stands selling samples on the main square too. The best sights in Mikulov is the castle and its giant wine barrel, the baroque chateau library, and a walk to the hill Svaty Kopecek offering a wonderful view of the city and its castle.
Gallery
Visit Znojmo, the Moravian jewel
Znojmo is a hidden gem only due to location, as it's too far for most tourists to day trip from Prague. As my friends and I were exploring the country by car, we decided to stop by this jewel of Southwestern Moravia. The best way to see the city is from above. Climbing the tower at the town hall offers amazing views of Znojmo. Latched windows surround the upstairs viewing area, and opening any one of them gives you a picturesque shot.
Cities to visit in the Czech Republic –live the history in Znojmo
From above ground to underground. Centuries ago residents dug tunnels beneath Znojmo for defensive purposes. You can tour this labyrinth and hear tales of local legends. My favourite stories involved a man cursed to be a rock face for eternity and a ghost who tricked Swedish invaders into death. Znojmo sits within the Czech wine country, and a bus picks you up in the city centre and shuttles you to various wineries for tastings. I liked the white and rose', but actually enjoyed the lush landscapes more.
Andre from Jagabond. Read about his experience from the city of wine.
Gallery
Step on the cobbled streets of Olomouc
I first visited Olomouc in 2010 after I heard about it from fellow travellers as a fantastic city to get off the beaten path while visiting the Czech Republic. Since that first visit, I have absolutely fallen in love with the city and have returned to Olomouc several times, always finding new attractions to explore.
Cities to visit in the Czech Republic – stroll aimlessly through the streets of Olomouc
Olomouc is undoubtedly one of the most beautiful cities in Central Europe and one of the reasons I love visiting is simply to stroll aimlessly throughout the winding, cobbled streets and marvel at the stunning architecture, large open squares and beautiful city parks. As a student city, there are also plenty of amazing cafes, bars, tea houses and restaurants as well as plenty of cultural events that ensure I never get bored when visiting! Finally, Olomouc is also a great base to explore some of the Moravian countrysides and I love having the option to enjoy a day trip into nature!
Michael from The World was here first. Read more about his visit to the Czech Republic.
Gallery
Go back in time in Cesky Krumlov
While the Czech Republic has plenty of hidden gems just waiting to be explored, there is one, small, medieval town that everyone needs to visit.  While you won't be the only tourists, you'll still feel like you are being transported back in time in the village of Cesky Krumlov. It's incredibly easy to get stuck behind a camera lens, seeing as every turn on the cobblestone streets or along the meandering river could not be more picture perfect.
Cities to visit in the Czech Republic – go back in time in Cesky Krumlov
If wandering is not your style of travel, there are plenty of outdoor activities like canoeing around the looming castle or taking a horseback ride as well. Of course, no stop in the Czech Republic is complete without some amazing food and drinks.  You can still find some great brews and delectable local foods in town, which is the perfect way to pair your day of window shopping for Czech products like crystal and children's wooden toys. No matter what you choose to do while visiting Cesky Krumlov, you'll be sure to want to return. 
LeAnna from Well Traveled Nebraskan.
Gallery
Taste typical Czech gingerbread in Pardubice
Pardubice makes for another great day trip from Prague. It lies on river Elbe, which flows through the centre and its beautiful historical centre. The most known facts about Pardubice is, that it's the city of gingerbread and horse races, but many people are surprised by its size and beauty. When in Pardubice, one shouldn't miss a visit to its historical centre, climbing the 145 stairs up to the lookout tower Zelena Brana, the city castle with a beautiful garden full of peacocks.
Cities to visit in the Czech Republic – find the gingerbread house in Pardubice
Worth mentioning is also the nearby castle Kuneticka hora. This beautiful castle stands on a high rocky hill overlooking the region and was endangered by rock mining. Fortunately, the castle was saved and reconstructed by Museums Association and is now opened to the public with several exhibitions and look-out tower. Try to find the gingerbread house in the surrounding woods, if you come early in the morning, goats and sheep will make you a nice company...
Admire beautiful architecture in Karlovy Vary
Visiting this little gem in the west of the Czech Republic had been a dream of mine for many years. The only thing I knew about Karlovy Vary is that it is a spa city where many Russians go to get medical treatment. Not a very appealing description, right? But I still wanted to go there, and when I was in Prague I did that. And I wasn't disappointed. Karlovy Vary is an absolutely stunning city with lines of beautiful and neat colourful buildings, huge parks and hills to climb.
Cities to visit in the Czech Republic – enjoy stunning architecture in Karlovy Vary
You won't see here old castles or luxurious palaces, you won't need them. Just take a stroll along its streets and admire the beauty of its architecture. Go to a restaurant and order traditional goulash or svickova, get a bite of oplatka, local variety of wafer sold in street kiosks. Take a stroll along its magnificent parks and climb the hills for incredible views of the city. If you come here in summer, aim for the famous film festival that takes place here every year and sees some really big names. And, as Karlovy Vary is a spa city, treat yourself with massage and relax to the fullest!
Marianna from Irma Naan World.
Gallery
Visit vibrant summer festivals in Hradec Kralove
We all know that Prague is amazing. What lots of travellers do not realize, is that there so many other awesome places to visit in the Czech Republic. Take Hradec Kralove for example, which is just an hour East of Prague and well worth a visit on anyone's travel itinerary. What I love about the city is the beautiful architecture of the old town, the abundance of events that happen all summer and that there is so much music everywhere that creates such a fun vibe. I love the city and so will you.
There are four must-see places any time of the year. One is the Cathedral of the Holy Spirit and the White Tower. The White Tower has renaissance style architecture and has not only amazing views of the city itself but also the peaks of the Krkoneše and Orlicke mountains. There are also audio-visual installations on the way to the top to enjoy. The historic cathedral is right beside the white tower and you can enjoy the Gothic architecture and music coming from the church.
Cities to visit in the Czech Republic – get off the tourist path in Hradec Kralové
Two is the East Bohemian Museum, which is a national cultural monument of the country. The museum shows reconstructions of what the city once looked like as a fortress, with pieces of recovered items from the history of the region and much more. Three are the urban forests of Hradec Kralove that are a must-see for a walk, bike ride or roller-skating adventure. It is a protected area of ponds, a field of wild pigs, a field of deer and just the graceful beauty of nature. If you want to pick mushrooms as the Czechs do, here is your chance.
And fourth, I would recommend that you take a stroll around one of the stunning parks in the city. The šimkovy sady park is lovely, especially when you end your walk at the Rotunda Lounge Café for a drink with nice scenery of a large pond with fish, birds and ducks. The second park is jiráskovy sady park, which has beautiful walking paths that lead to the confluence of two rivers. Both are peaceful and will not disappoint.
​Learn more about Brett's gluten-free journey here.
Gallery
There are much more cities worth mentioning, but I decided to leave it at you this time. Have you been to Czechia? Which city did you visited and what did you like the most. I would love to hear about it in comments.
Do you like this article? Pin it to your travel insspiration board >>
Beautiful places in the Czech Republic you have to visit