Peru
Hiking Saywa to see the sun-pillars of Incas
February 27, 2018
We chose the Saywa hill as one of our first hiking destination in Sacred Valley. Besides a beautiful view at the Chicon glacier, the top of this 3840 high mountain offers also an interesting Incas' archeology remains.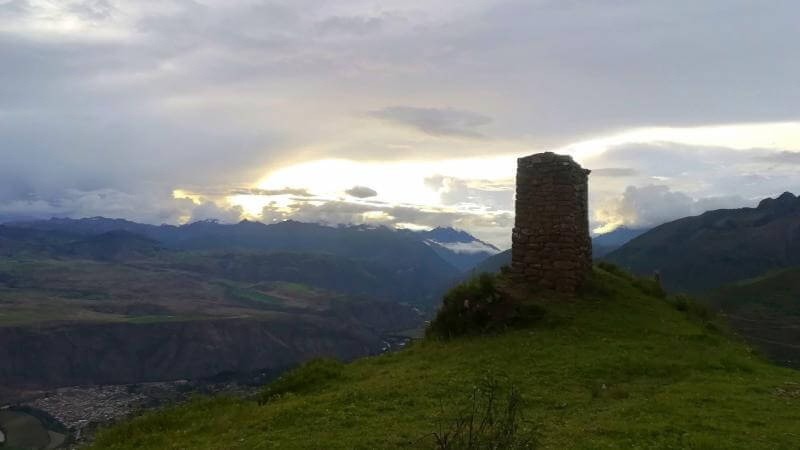 Hiking Saywa, a steep hill in Urubamba
We have discovered the Saywa archeological site during our evening walk around Urubamba and decided to devote one afternoon for climbing to the top and finding out what's hiding there. Shortly after 3 p.m., we started hiking, counting we won't need more than 2 hours to get to the top. As it turned out, we needed a little more time as this 3840m high peak is not so easy to conquer. Starting at 2900 altitude, we managed to get on the top we needed almost 3 hours.
It was interesting to watch how nature was changing on the way up. First, we were surrounded by flowers, small bushes, and various insect, but as we were getting higher, only grass and small flyes remained. During the climb on this steep hill, we also saw many cows grazing on the ancient Inca terraces – a common proof of Incas agriculture here in Peru.
Gallery
The proof of Inca's astronomical knowledge
When approaching the border of 4000 m, breathing became slightly harder and we had to stop more often to catch our breaths, but eventually, we managed to come to the top and a beautiful view on the snowy peak of Chicon glacier opened – our next hiking destination. On the top of the hill, we have first reached a little cross, then as well two stone columns on a small levered surface. At this time, the sun was already slowly disappearing, so we have hurried down not to be caught in the dark in the middle of the hill (it happened anyway, but at least we got a nice view at the night city of Urubamba).
Gallery
Whats the meaning of Saywa?
The saywas are large stone columns that served as astronomical markers to Inca culture. During the time when Spanish arrived (16th century), they were classified as wakas (heretical symbols) and were massively erased from the environment. In Urubamba though, maybe because of its difficult access, were preserved two saywas that served to record the winter solstice and to establish the beginning of the Andean New Year. To be able to appreciate this Inca astronomical precision, the Sun must mark an axis with the palace of Huayna Capac in the city of Urubamba.
Though the columns were partially demolished and a cross was put on top of one of them during the Spanish times, in the past years the original look was restored and the cross was moved a bit lower on the hill. Therefore, visitors can appreciate its original historical beauty.
What do you think? Is this small archeological site worth a demanding 3h hike? Would love to hear your thoughts in the comments.
Hiking Saywa to see the sun-pillars of Incas