Peru
Hiking the Chicon, a magnificent mountain above Urubamba
March 3, 2018
When we have discovered a way towards the Chicon Mountain, which most people admire only from bellow, it was no doubt we want to climb it. And so one Saturday morning, we have set to this demanding hike.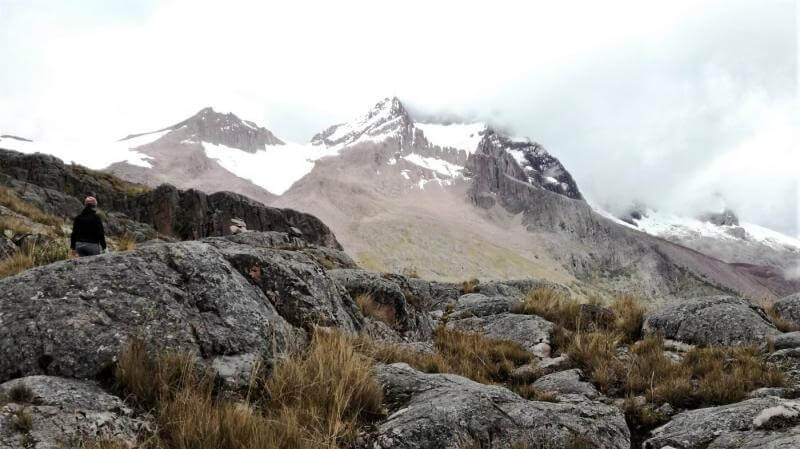 Chicon, a water source for the whole Urubamba district
Chicon lies at 5300 m altitude and is surrounded by snow and beautiful lagoons. We knew this hike is not gonna be easy, Primož studied all maps and GPS treks and hikes of other mountain lovers, so we knew that 5 km and at least 1500 m elevation gain is ahead of us. Normally, I wouldn't consider it such a big deal, but considering the starting point was at 3800 m altitude, I knew my lungs will make the hike much harder…
The plan was to start at 6 a.m., but as we are really bad at getting up early, we only left our house after 7. a.m., so our plan to make it to the glacier became endangered. The next slip was, that the road towards the starting point has suddenly ended. Well, suddenly, somebody put a locked gate there. We didn't have another choice than to park, and set on the road by foot. So we added another almost 2 hours, 6 km and 500 elevation m to our delay.
Gallery
When the morning is foggy and you are all alone
The morning has welcomed us with mist and fog but we haven't succumbed under the influence of this grim weather and merrily stepped forward. First two hours lead us on a nice dirt road, and the only obstacle was the river, which we had to cross, wade or jump over several times. Eventually, we came to a small plateau, where the road changed into a path and started to climb steeply on the hillside – this was our original starting point.
Another 3 hours we spend by climbing on the steep hill and catching our breath. Once we came close to the border of 4000 altitudes and higher, breathing became hard and we had to stop more often to get enough oxygen into our lungs. The ascending path seemed to be never-ending, every time we came to the top of the hill, I was expecting to see the lagoons, and instead, there was just another hill.
Gallery
Killers steep hills and wonderful flora
At one point we left the marked path to a smaller side path, which started to ascent so steeply, I almost had to crawl on all 4. At this very moment, Primoz had to motivate me with strawberries hidden in the backpack, or I would just sit down and not move anymore. As we found out later, this shortcut really paid off, otherwise, we would have to hike around the hill – first down and then up again.
But even when we were resting, we were not losing time. Behind us was a constant view of the valley and city of Urubamba and as soon as the fog disappeared, a beautiful view of the glacier opened. Besides that, around us was wonderful, to us unknown and interesting flora. Therefore, every minute we stopped we used for taking pictures.
Gallery
Blue waters of Juchuycocha lagoon
After endless 3 hours of suffering, we finally saw the blue waters of Juchuycocha lagoon – and all suffering was suddenly forgotten. The peaceful surface of the lagoon was changing its color based on from where we looked at it -  from turquoise green to royal blue, and around us was nothing but rocks and howling wind. Even the clouds have disappeared and the rain has stopped, so we could have enjoyed our lunch in this breath-taking place – looking at the lagoon at one side and the glacier at another.
It was really hard to resist the temptation of continuing the hike towards the glacier, but after lunch, we were only left with 4 hours of sunlight and therefore decided to head back down. Almost the whole way down we were looking at the plateau where we have started climbing, thinking about where we can cut the long path and slide down on the hillside. Eventually, we found it and saved at least half an hour of tedious descent. Yes, also going down is hard, those with knee problems know what I'm talking about…
Looking for more hikes in Peru? What about the Santa Cruz trek in Huaskaran?
Gallery
Do you think, there are piranhas there?
Eventually, we managed to get down in a record time, which made as regret a bit, that we didn't stay longer up there, didn't swim in the freezing blue lagoon or didn't continue a bit more towards the glacier. What do you think, is the water in the lagoon freezing cold? And do you think there are some creatures inside? I am a bit scared of water creatures, and that's the only reason I didn't go for a swim. Primož says nothing lives there, but I really don't buy it…
Our Chicon hike in numbers:
20 km, 8 hours, 1456 elevation gain, highest point 4686 m
Do you like this article about hiking the Chicon glacier? Pin it to your Travel inspiration board >>
Hiking the Chicon, a magnificent mountain above Urubamba