Bolivia
Huayna Potosi – an easy 6000 m peak, is it really?
April 19, 2018
Huayna Potosi is one of the white peaks surrounding La Paz and claimed to be an easy to climb 6000 m peak. In La Paz, there are many agencies offering climbing tours to Bolivian snow peaks, including one day course of ice climbing. As we wanted to climb this high since we came to South America, this seemed like a perfect opportunity to watch a sunrise from 6000m.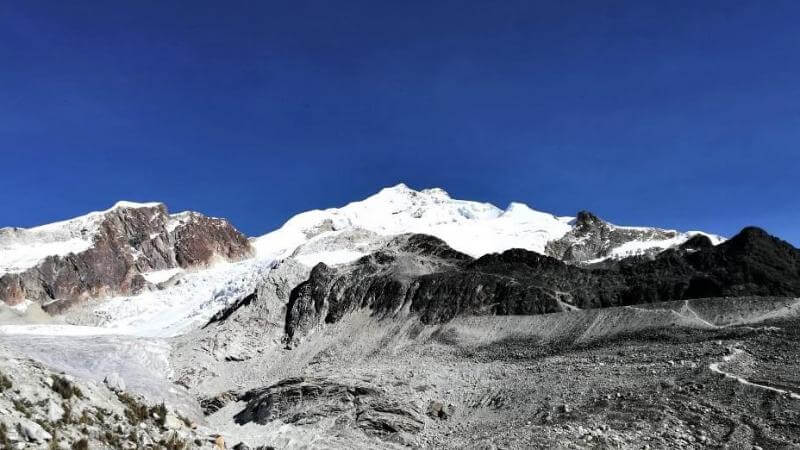 Bolivia as a climbing country? Never thought about that...
When we came to Bolivia, the last activity I would connect it with was climbing, usually Patagonia is the ultimate destination for avid climbers. But surprisingly enough, there are many climbing opportunities in Bolivia, besides rock climbing, seems like ice climbing is another big thing here. Huayna Potosi is one of the destinations, where even a complete beginner can make a summit to scary 6000m peak. For as little as 130€ you can go to a 3-day snowy adventure, where even breathing becomes a strenuous thing.
Learning ice climbing and how to use an ice pick
With Primoz we often watched videos of his friends from Slovenia, climbing on the frozen waterfalls in Logarska valley. Never thought one day I would hold an ice pick -one in each hand, trying to climb a huge piece of ice. But I must tell you, this was a huge fun. After a lunch in the base camp, we headed to the glacier. The weather was perfect – sun, blue sky and a wonderful view of the mountain we were gonna conquer the next day.
Gallery
First, we learned different ways of how to walk with the big crampons on, all 3 tight together for better security. Then Alex, our guide, took us to an ice wall, put a big screw deep into the ice and tightened the rope to it. Then I got an ice pick to each of my hand and he said: "Now you climb up". Whaaat, how am I supposed to do that? I don't really know how to use an ice pick! Well, it's not that hard, after all, just hit the ice with all force with the ice pick, to stack it inside and pull yourself up – great fitness, I'm telling you.
Getting used to breathing at 5000 m
The next day, our climbing tour continued to the high camp. Only 2 hours of hike, but with backpacks full of winter equipment and at the altitude of 5000 m, it wasn't that easy. Then, we had the whole day to rest, get used to the altitude and gather strength for the summit to Huayna Potosi. It was a beautiful day – clear blue sky, we could sit outside just in our jumpers, enjoying the sun rays on our faces while looking towards the peak. We went to sleep at 6 p.m. to get up for the summit at midnight. I had a slight headache and didn't feel the best, but nothing could stop me from climbing up to watch the sunrise.
How does it look at a Huayna Potosi summit?
Midnight, we had a breakfast, I think I drank liters of coca tea, but nothing helped to alleviate my headache. We put our gear on and started hiking up. After 30 minutes we reached the parts with permanent snow and put on our crampons, helmets and other necessary gear. Together with us, there was at least another 10 groups of 3, all going up the same direction. Highway to Huayna Potosi they should call it.
Soon it started snowing, the weather forecast said 3 cm of snow – not a big deal said Alex. Soon it started snowing more, and the wind came. When we walked I couldn't breathe, when we stopped I was freezing. "We are too fast," said Alex, "we have to slow down" – fine with me I thought. I still had a hope for the sunset on the top, though I couldn't see more than 1 meter ahead of me and the wind with snow was so strong it was hurting the small area of my face which wasn't covered.
Gallery
At one point, we left the group of others. Alex was taking us to the south wall to climb the summit, everybody else was aiming for the famous ridge. Probably just 40 minutes, but it seemed like an eternity. Wind and snow so strong, it made me cry and all I wanted was to go back to a warm and peaceful place. We were making chicken steps on a hill so steep, I was actually happy I couldn't see anything. At one point, just as I thought it will never end, Alex said: "Ok, this is the summit". Finally, we were at the Huayna Potosi summit, but I had no idea where I was, I just fall on the frozen ground and hid my face from the wind. It was still dark, but even if it wasn't, there wouldn't be any point in looking around, the snowstorm has hidden all the views.
How proud are you after climbing a 6000 m peak?
On the way down, we walked on the famous ridge – one meter wide and we had to pass by the others, who were still climbing up. There, at the end of the ridge, we stopped to see the sunrise – just for a few moments, the sky cleared out to let us see a little bit of light. Then it has hidden again in the snowy clouds and we rather continued our way back to the high camp, all the way hidden in a thick fog. I was so disappointed, all I wanted was to see the sunset, a big fiery ball appearing above the snowy hills. A view to remember for a lifetime. A view 5000 people get every year. All we got was a snowstorm.
Gallery
My disappointment lasted for another few days. Especially when Primoz started browsing through images on Google and videos on YouTube, all showing the wonderful views we didn't get. Then I just said fuck it! Be proud of yourself girl, you did what many people will never do. 5-7 thousand tourists try to reach the Huayna Potosi summit every year, only one-third of them actually make it. But how many of them will succeed in a snowstorm? We will! Always. All the heroes of Friday 13th in April 2018.
Our climb to Huayna Potosi on the map:
Do you like this post? Pin it to your hiking destination board >>
Huayna Potosi – an easy 6000 m peak, is it really?