Bolivia
El Choro trek - the most popular Bolivian hiking trail going bad
April 11, 2018
El Choro is one of the most popular Bolivian hiking trails. It starts at La Cumbre pass, at the altitude of 4600 m and slowly drops through the Bolivian forest into a lovely city of Coroico at 1750 m. While many people get to enjoy this lovely trek, watching the nature changing from high mountains to green jungle, we were not so lucky and our hike went completely different than we have expected.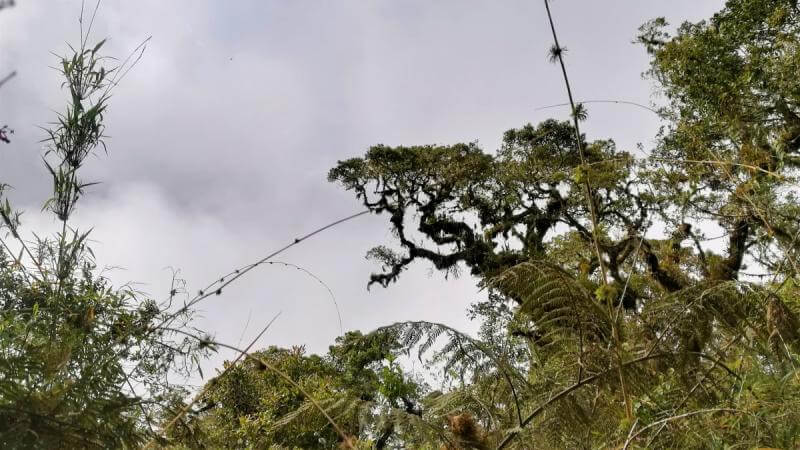 El Choro, one of the most popular hiking trails in Bolivia
El Choro trek belongs to most popular La Paz hiking areas thanks to its easy accessibility, stunning views, and varied scenery. Part of this trek is also an ancient Inca trail, but unlike in Peru, you don't have to book an agency or buy an expensive ticket to walk here. It starts in La Cumbre Pass at the altitude of 4650 m and only the first part requires walking uphill to the highest point of 4885 m, then it slowly drops through the Bolivian forest into a lovely city of Coroico at 1750 m.
How to prepare for hiking El Choro trek in La Paz
This trek requires 2-3 days, depending on your condition, so having camping equipment as well as enough food is essential. Many agencies offer an organized trek for the price a bit more than 100$, where mules are carrying all your heavy equipment, but supposedly it is quite easy to do on your own as well. We have decided for this option and on Friday morning took a bus to La Cumbre pass, where this hike starts. Right at the starting point with a map of the hike, we met two fellow travelers – a Czech guy and an Iranian girl and logically joined forces for this beautiful trekking.
Gallery
Already in La Paz, in one of the agencies, they told us we are quite lucky because the bridges were destroyed by the rivers, but since yesterday it is possible to cross them again. With this in mind, we fearlessly started the trek. After 1h of climbing up, at the highest point with wonderful views, there were 6 men waiting for us. Very kindly they ask us not to continue in this trek, because it's very dangerous to cross the bridges, that they are working on fixing them and have instructions from the government not to let through any tourists.
They also recommended us another trek, which Jakub had on his little tourist map and told us it's also very nice. We thought it through a lot and eventually decided to hike the El Choro anyway – if we see we cannot cross the bridges, we will just turn around and go back... Well, it just wasn't meant to be, a bit lower we met the men again, and they got really angry to see us again. Not wanting to risk a fight with 6 Bolivians, we rather decided to turn around...
Lucky enough to find an alternative Inca trail - Sillutinkara
After 3 hours of hiking, we were exactly at the same spot as before, at La Cumbre pass. Lucky enough to stop a bus in next 10 minutes, we asked the driver to take as to the start point of the other trek. On the way, we got a chance to see the death road, twisting like us snake on the hills below us. Not more than 30 minutes we were already at the beginning of the so-called Sillutinkara trek - one of the myriad trails that the Incas in Bolivia used to access the much larger Choro Trail. Excited we gonna hike the Inca trail, after all, we merely started trekking, keeping in mind then we don't have much more than few hours of light left.
Gallery
The first part of the path was nice, leading up on a grassy hill. It got a bit cloudy, but we didn't mind, because together with the altitude, also the temperature dropped (we went down by bus to 3300 m). It didn't take us more than 1h to get to the top, to a small camping area where we cooked lunch and rested a bit. The ground here was very wet and I was just hoping, the other camping areas marked on the map will look better. We started to decent into to the jungle, we couldn't see anything because of the clouds but it didn't matter, soon we were deep in the Bolivian forest, surrounded but tall green trees and different kind of vegetation.
How does trekking in Bolivian jungle look?
The path down was terrible – steep and slippery and quite overgrown with small bushes and grass. Looks like this Inca trail is not frequently visited. All the greenery was wet and so were we very soon. We walked slowly, it wasn't possible otherwise, we were checking every step otherwise ended up in an ankle deep mud. It looked like the jungle would never end, after 2h of hiking, we knew we have to find a camping spot, and we knew it's gonna be in the jungle.
Gallery
Our hope was one of the camping marked on the map, but when we got there, there was just a pool of mud. What were the options we had? Go back to the higher parts, where we saw some suitable spots, or continue and hope we will find something better. In no way I was gonna go back and then down again the next day, I was determined to walk the whole night if necessary, but luckily enough after another 20 minutes, we found quite dry and flat surface, where we could make our tents – looked like somebody was camping them sometime before us. We made a quick dinner and rushed to hide from mosquitos into our tents.
Our first hiking day on the map:
Rainy night and rainy day
It was raining a little bit the night. Our tent was so bad, the rain soon started dripping on my face and I felt that everything around me is wet. We got up quite early the next day, had a breakfast and managed to pack all our wet equipment just before it started raining again. This time we didn't even have our rain ponchos as we were expecting beautiful sunny weather just like in La Paz. Ahead of us were at least 3 hours of hiking in the jungle, in the rain, on a slippery and muddy surface. Soon we stopped watching out for where we step, we were all wet anyway.
After 3 hours of suffering, the sun finally started to appear slowly, and we have reached the spot, where Sillutinkara joins the El Choro trek. A perfect sunny spot, ideal for cooking some lunch and trying to dry all our wet clothes. It only took us another 2h of a nice sunny hike to get to our final destination, a village Choro, where we have spent a night in a local house and took a taxi to Coroico the next morning.
Our second hiking day on the map:
I guess this trail could be nice when you are lucky enough not to have rain. But as we were returning from sunny Coroico exactly in the area of Sillutinkara trail was raining again. Maybe, it's just raining here all the time?
Gallery
El Choro trek - the most popular Bolivian hiking trail going bad