Peru
3-days trek through villages in Colca Canyon, Peru
February 18, 2018
The Colca Canyon is perhaps the second deepest, but for me, it's the first most beautiful. During our visit, we went to the lower part of the canyon to hike in unspoiled nature untouched even by a Lonely Planet Guide.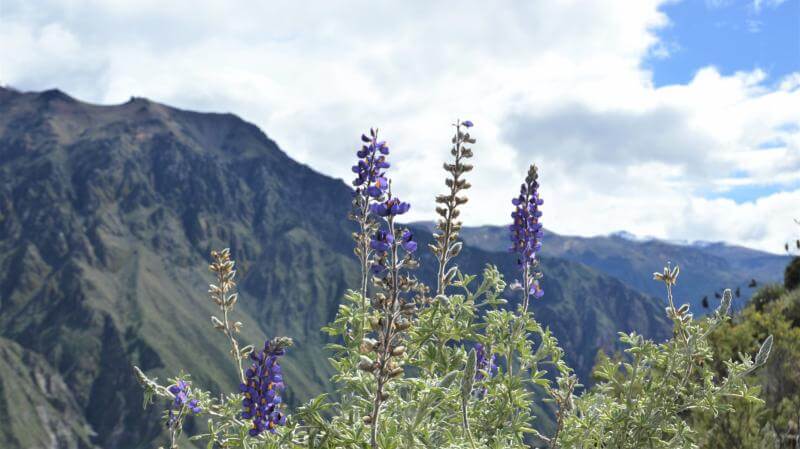 Planning is the basics
After our warm-up to hike to Oasis Sangalle, we took it a little more seriously. We've studied the maps, checked where are guest houses to sleep at, how much kilometers and elevation gain we gonna make every day and started our 3-day hike to the heart of the canyon.
Llahuar - thermal springs lodge
On the first day, we set to Llahuar, a thermal spring lodge right next to the river, as announced by a billboard on the main square in Cabanaconde. We kind of forget the fact, that we are in the rainy season, and were looking forward bathing in the pools. Anyway, 5 hours hike was ahead of us, so we manage to get up a bit earlier, had coffee and piece of bread and started the hike. During a pleasant descent, our company was made only by lizards, condors, and two lost dogs.
We arrived at Llahuar after 3,5 h of a faster walk with multiple stops for photo shooting, immediately chose on if the lower bungalows and went to check the hot springs. From 3 pools, only one was usable - water in the river was so high, that it flooded the lowest pool - supposedly the hottest, the biggest pool was full of mud, and the smallest one became occupied by me and Primoz. Pleasantly warm water was like a balm for our toes. Beside us, in this lodge were only another 10 tourists, most of them continuing back to Cabanaconde or to Malata and Oasis.
Day 1 - 3,5 hours, 11,5 km, 450 m elevation gain
Gallery
Hidden village with a beautiful waterfall
The second-day early morning we started hiking towards Fure, a distant village which can be reached only by foot. Promised  5 hours hike was done in 3. The first part was very pleasant and the path was zig-zagging on the hills moving between 2300 and 2500 m of altitude. Then we have gone down and crossed the river and the suffering started. Within 30 minutes we made an ascent to 2800 m. I have almost died, especially watching Primož walking lightly, sometimes waiting for me, watching me merciful from above.
No suffering lasts forever though and mine has ended the minute I saw the first waterfall, which in endless silver cascades was falling down to the Huaruro river. Right behind the waterfall was the village of Fure, where we have found accommodation in a family hostel, in humble but cozy wooden bungalows. We had a bread and avocado for a snack - our daily manna, and started a hike to another waterfall, 2h away.
The majestic Huaruro
After 15 minutes, the path to the waterfall ended up in a watery stream - a legacy of the rainy season. Luckily, some good soul has put a wooden footbridge few meters lower, so with a bit of adrenaline in our blood and wet shoes, we have managed to cross it. After that we have continued without problems, enjoying the view of multiple smaller waterfalls and Fure waterfall in its whole beauty.
After another hour, we caught the first glimpse of Huaruro waterfall - a majestic beast which now in the rainy season was spitting out an enormous amount of water. With every step we made closer to the waterfall, it looked bigger and scarier. Soon the path has changed into a mud, on which we barely managed to walk. Eventually, we came so close to the waterfall, water was everywhere in the air and we could enjoy a refreshing shower.
Day 2 - 6 h, 15 km, 1400 m elevation gain. (My Garmin got a bit crazy by the waterfall, so this is just a guess)
Gallery
Ghost city and our favorite Oasis
The third day we started early to reach Malata and catch an afternoon bus back to Cabanaconde to go deeper to the canyon to village Huambo. We were quite lucky and after 1 hour we have reached the main road, on which the bus to Malata was just approaching and I was telling to Primož:
"What if we go to Malata by bus?"
"I thought we gonna go back by bus?"
"Yes, but if we catch this bus, we can go to Tapay to 3000m...."
We continue walking watching the approaching bus, thinking about running or not to catch it...
"OK, sounds good, so we should probably start running!"
Sooo, we managed to catch it and saved ourselves 1 hour of walking. In the bus, we have also started talking to local Mauricio which told us, there is no bus on Sunday afternoon and that the first one goes on Monday morning. Ok, so I guess we walk through Sangalle again, hiking that terrible hill for the second time.
Malata was a real ghost town on Sunday, so we didn't spend much time and continued to Oasis, where we had a good lunch, beer and quality time by the pool, getting ourselves ready for the horrible summit. This time, we managed in nice 2,5 hours - looks like that three-day training had some effect.
Day 3 - 5 hours, 14 km, 1,700 m elevation gain
Gallery
When even planning can't save you
So excited about getting a hot shower again and setting on another adventure, we approached the hotel parking just to find the car with an empty battery... Sunday evening, dark, nobody speaks English, we don't speak Spanish and have a totally empty battery because of a stupid alarm, which starts to rumble every day at 10 a.m. ... 
Do you like this article? Pin it to your hiking destination board >>
3-days trek through villages in Colca Canyon, Peru