Peru
Hiking to the bottom of Colca canyon, Peru
February 15, 2018
On the bottom of Colca canyon lies a small hidden oasis with tropical fruits, palm trees, and refreshing pools. To get there we had to make a steep descent of 1200m, but the reward was worth it.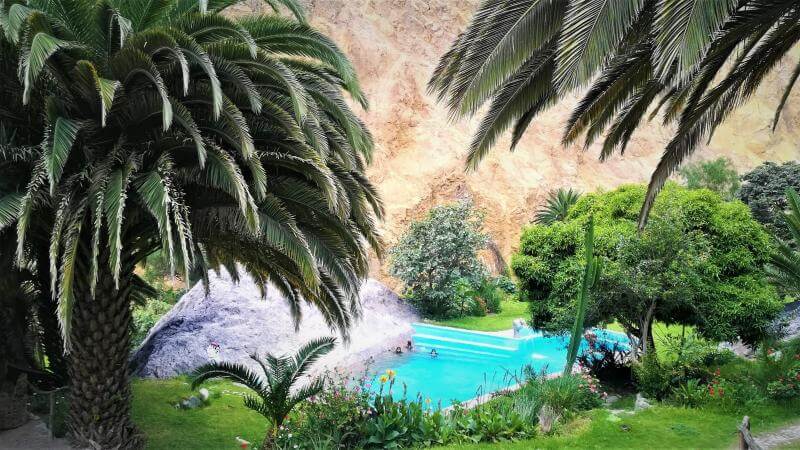 *This article contains some affiliates links to sites, from which I receive a small reward if you make a purchase from them. Because of this, I can run this blog easier.
First trek to stretch our legs
We have arrived at Colca canyon without any specific plan of how long to stay and what exactly to do, we just knew we want to hike, a lot. And so right the next day we left the city of Chivay towards Cabanaconde, a smaller city which is a great starting point for many hikes. The first day we wanted to take it easy, so Primož found a nice path to few km distant village Sangalle. On the map, this hike looked easy - just 5 km and nice descent. The reality was quite different...
The early bird can see the world
It took us a while to finish our coffee, find parking and pack our bags with hiking essentials - beer, chocolate and 3 l of water... So we only started from Cabanaconde after noon, having only 5-6 hours of sunlight... After 20 minutes of an easy hike, we reached the first viewpoint, where local mamitas were performing some ritual with scented sticks. Just the look at worn out tourists who just climbed up should have warned us about the difficulty of the path. Well, we were so enchanted by the beautiful nature, we didn't even pay attention to them.
Gallery
Endless descent
After approximately 100 pictures and necessary selfies, we finally headed down. The path paved by sharp rocks and horse shit was very steep and seemed to be endless. The small village of Sangalle was all the time right in front of our sight but was getting closer incredibly slow. It took us almost 2 hours before we saw the first palm trees from the close look and without thinking, we headed to the first pool which we saw.
Deserved reward
Besides an excellent vegetarian lunch, there was also a cold beer waiting for us by the pool. So yes, the one I was carrying, made a good second round (beer is surprisingly expensive in Peru, for small 0,3 l beer, we usually pay the same money as for lunch). Unfortunately, there was no time for hanging out at the pool, around 3 p.m. the sky became dangerously cloudy, a usual thing during the rainy season, so we rather started with the exhausting summit. We could have stayed by the pool, as the accommodation was roughly around 5€ per person, but we have already paid for our night in Cabanaconde - which was pissing me off greatly, I really wanted to stay by the pool...
At the end of the first day ...
The summit took more than 3 hours of great suffering and breath catching, yes, hiking at 3000 m altitude is not that easy. So this little hike to stretch our legs eventually took us 5 hours, 1100 steep descent, 1100 steep ascent and total of 11 km distance, making it into an awful muscular fiber the next day. Of course we were caught in the rain on the way back, but anyway, it was impossible to tell the difference between the sweat... Lessons learned? A bit more planning and research about the destination, and most importantly, if there is a pool, take a swimming suit!
How we continued hiking in Colca you can read here >>
And this is how rolled up according to my Garmin:
Gallery
Do you like this article? Pin it to your hiking destination board >>
Hiking to the bottom of Colca canyon, Peru