Peru
Paracas - home of wildlife and peaceful desert
February 9, 2018
One-day trip from Ica turned into a 3-day visit with sleeping on the beach, watching wildlife and enjoying the peace and quiet of a desert...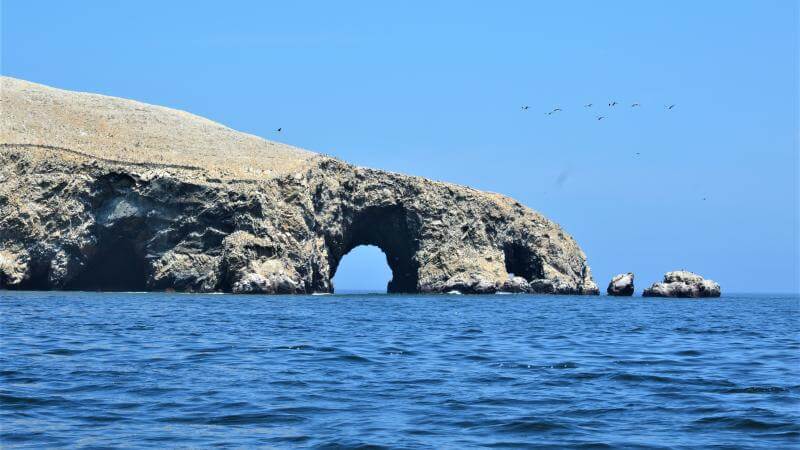 Two nights in Paracas, a popular weekend destination
Paracas is a small town 4 hours south of Lima, very popular as a weekend trip for many Limeños as well as international tourists. We as well had our Limeño Mauricio with us, who promised to show us off-road tracks and places without the tourist rush – and he did stand up to his word.
We have arrived in Paracas on Thursday evening and didn't have any problems finding a place in the hostel – with a beautiful rooftop terrace to enjoy an evening beer. For the next day was planned a morning boat tour to Islas Ballestas and then camping in Paracas National Reserve – I couldn't wait to sleep on an empty beach with beautiful palm trees, watching another sunset over the ocean.
A world-famous hallucinogenic creation
On Friday morning we got to a small catamaran to take us first to see the Candelabra – a prehistoric geoglyph on the shores of Paracas national reserve with unknown meaning. Many have studied the meaning of this 180 m big geoglyphs in this Peruvian region, some argue it is a navigation symbol for sailors, others believe it represents a hallucinogenic cactus and was drawn there by an ancient nation. But what it really means remains unknown.
Gallery
The stinking beauty
Right after getting a good look in the Candelabra, we went with a full speed to the 25 km distant islands, occupied by birds, sea lions, and even penguins. I did my homework before coming here, so I knew the precious guano – bird droppings is collected there every 8 years to produce an efficient fertilizer (over which there was even a war in the past century). But I absolutely didn't imagine how bad it's gonna smell there – and nobody on the internet mentions it! It's like, wildlife, awesome, loads of animals, great, but hell they stink…
Trying not to breathe deeply, we were able to get a really nice look at the sea lions colonies and even saw a penguin – from very far and basically we have just trusted our guide when he told us "Look, there is a penguin". I guess these guys in suits are rather shy, not like they showed us in Happy Feet.
Gallery
Five fresh fish for friends
After the boat tour, we went for a lunch to the street full of fish restaurants – they all offer mostly the same food, they all look the same, but there is like 10 of them next to each other. Hard choice, really, to pick just one. But eventually, we have chosen the one with the nicest tablecloth and enjoyed a delicious fresh fish – appetizer, main dish and drink for just as much as 20 sole (5€).
What is your idea of National reserve?
When we have decided to go to sleep to the National reserve, I had a very clear idea in my mind – deserted beaches, tall palm trees and romantic evening by a tent watching stars on a clear sky followed by a beautiful sunrise. Well, it wasn't exactly like this...The Paracas National reserve is basically a desert, a very windy desert! But to admit, besides palm trees we got it all – deserted beach (it was really windy there), star-watching evening (until we became cold, you know, night in the desert), and sunrise from the tent (I was running to toilet the whole night, I guess it was the fish). Moreover, we could admire colonies of flamingoes and even though they didn't let us get closer than 100 m before flying away, it was one of the unforgettable moment I will treasure forever.
Oh, did I mention we were in a desert? Meaning a lot of sand, and yeah, we didn't buy the 4wd we were checking the other day...so romantic evening by the tent was spent by trying to liberate our car from the wicked sand. But we had a lot of laughs while doing so, as well as while building the tent in the strong howling wind, which later, together with the sound of the ocean, gently swang us into the world of dreams... And these are the moments which make traveling so special and life worth living.
Gallery
I'm wondering if you ever got stuck with your car in the sand? If yes, how did you deal with it? I really would love to know if there is a more elegant way than ours.
Do you like this post about Paracas? Pin it to your Pinterest travel board >>
.
Paracas - home of wildlife and peaceful desert