Peru
Things to do in Colca Canyon - hiking, hot springs and watching condors
February 20, 2018
The Colca Canyon in Peru boasts the status of the second deepest in the world and the source of the Amazon river. Most people decide for a one day tour to Colca Canyon with an agency from Arequipa, which is a pity. From hot springs to hiking and watching condors, there are loads of things to do in Colca.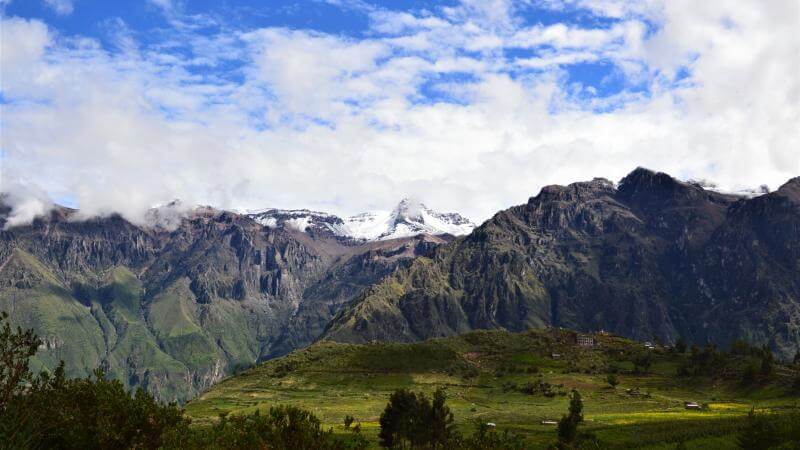 How deep really is Colca Canyon?
Based on Wikipedia, Colca is 100 km long and 3,4 km deep canyon (twice as deep as Grand Canyon), but this is measured from the highest point to the lowest point, and considering Colca is surrounded by 6000 m white peaks, it actually isn't that deep... That, however, doesn't change a fact, that it is a fascinating place - not only due to its size but as well due to its beautiful and varied nature, archaeological sites and the friendly people. This canyon is often visited by buses full of nature-loving tourists, going for a one or two day tours, but Colca canyon is worth so much more. We have spent here the whole week, still not being able to discover all its beautiful and hidden places...
Chivay - a city with wild carnivals and your place for hot springs pleasure
February might be the rainiest month of the year, but it's also the month of carnivals. And Chivay is wild during carnivals! Everyday people from the city and surrounding villages meet at the main square to dance, sing and drink till the morning, sometimes even till noon. Even without the carnival, it is a city worth visit - while walking down the main Plaza and markets you can admire typical dresses of the local women, buy cheap souvenirs and wool products and try delicious hot chocolate or tea in one of the street stalls. Chivay is also a great starting point for visiting the nearby smaller villages and thermal pools with hot springs, which are quite common in Colca Canyon.
Gallery
Cruz del Condor - most visited place in Colca to watch the fascinating flight of condors
The most famous place for watching condors in Colca canyon is approximately 1-hour drive from Chivay, on the way to Cabanaconde. It's also the place, where most of the one-day tour tourist buses stop, making it very crowded since early morning. Instead of going there with an organized tour, go on your own and stop at the earlier viewpoint Cruz del Cura, where is much fewer people and the condors can be watched as well. To see them though, you have to come early in the morning, the best is around 8 a.m.
Cabanaconde - the best starting point for hiking Colca canyon
Cabanaconde is a city right in the middle of Colca Canyon, today there is a nice road and also buses from Chivay, so you can come here on your own, not relying on tour agencies. It's a small city without ATMs and internet signal, instead, you will find here friendly people, beautiful environment and cute cheap hotels with pleasant coffee places. Cabanaconde is also a great starting point for shorter or longer hikes. Make a 2-day trek to the tropical oasis Sangalle at the bottom of the canyon, or go for a panoramic 3-day trek to the Llahuar lodge with hot springs or archaeologically charismatic Tapay.
Read more about the hike to Sangalle Oasis
Gallery
Llahuar, Fure, Malata, and Tapay - 3-day trek to picturesque mountain villages
Did I already mention that hiking Colca Canyon is awesome? There is a traditional trek through the small villages which you can do on your own and can be done in 3-4 days. The best thing about them is, that there are practically no other tourists, you can sleep already from 5€/person/night in cute wooden bungalows and eat for as little as 2,5€ (dinner - soup + main dish from quinoa and vegetable, breakfast - gluten-free pancakes, jam, tea) Our budget was 25€ for both for a day and for this peanuts we have enjoyed unspoiled nature, beautiful views, endless mountain paths and even had some beer now and then. If you want to know more, read my article about the 3 days hike in Colca Canyon.
Read more about the 3-days hike in Colca Canyon
Huamba - a volcano valley and blue lagoons
We wanted to spend at least two days in Huamba but didn't manage because of the problems with our car. The main goal was to trek through surrounding villages with smaller archaeological sites, check out the Mucurca lagoon with flamingos and other water birds, but mostly admire the Volcano valley, which promises incredible natural wonders and lava sculptures.
Tuti - caves and a trek to the Amazon spring
We have passed the Tuti village on our way to Cusco, but because of work responsibilities, we postponed the visit to next time. When we come back in October, we won't miss the visit of local caves, 2 days trek to the abandoned village from the 16th century and towards the spring of the Amazon river under the Nevado Mismi mountain. 
Gallery
As much as we love lying on the beach now and then, this is the real vacation which makes us relax and get ready for another computer workload. We already have a plan to come back here in October this year, when there is less rain... What do you say? Would you enjoy an active holiday like this one, or do you prefer tourist resorts, pools and beautiful beaches? Don't be shy to share your thoughts in comments.
Do you like this article about Colca Canyon? Pin it to your travel inspiration board >>
Things to do in Colca Canyon - hiking, hot springs and watching condors