Argentina
Cuevas de Acsibi and other beautiful places in northern Argentina
May 7, 2019
Salta the beautiful – this north Argentinian region is often overlooked by international tourists but very popular among Argentinians. Why? It's much cheaper, it's always warm there and there are some amazing places to visit – read about those we've visited when backpacking Argentina.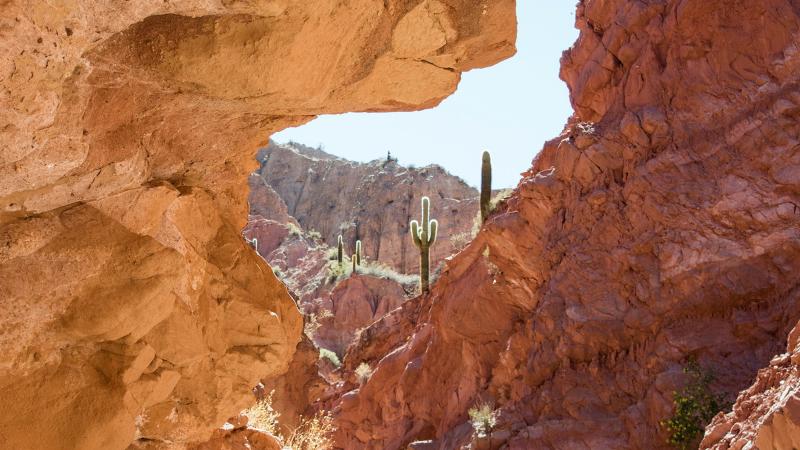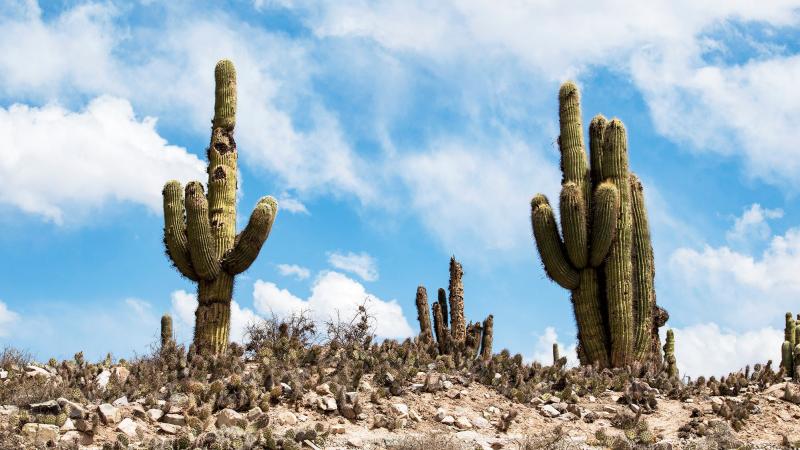 Salta is probably one of the most overlooked regions in Argentina. It lies in the north, close to the borders with Bolivia and Chile and not many tourists decide to pass through this area when backpacking Argentina. We had a chance to spent here a whole month on our way from Paraguay to Chile and Salta has charmed us with its wonderful hikes, rich history and good wines.
Salta, the capital of Salta province lies right under the mighty Andes hills at an altitude of almost 1200 m. We've visited in the winter during the dry season so everything was dry and yellow-brownish, though in the summer, during the rainy season, the hills around Salta become green and are promising wonderful views around. Visiting the Unesco city Salta was a great idea itself, but as we had time and a car, we also made some one day or weekend trips from Salta to surrounding places. Can't wait to tell you about our road trip to northern Argentina and about all the interesting things to do in Salta. Are you ready?
Beautiful places worth the visit in northern Argentina
Northern Argentina definitely isn't on the radar of people backpacking Argentina, which is a pity, as this region is hiding many gems and secrets that would make their jaws drop. So if you are planning your trip to Argentina thinking about things to do there, definitely include Salta in your itinerary – and here are the best ideas on what to do in Salta, Argentina to give you some additional motivation.
Argentina travel tips – places to visit in the north:
Cuevas de Acsibi – fascinating caves in northern Argentina
Quebrada de San Lorenzo near Salta - the perfect city escape
Cafayate wine region – enjoy wine and awesome views
Quebrada de las Conchas - a panoramic road from Salta to Cafayate
Salt flats Argentina – active mines of salt
Tilcara & Purmamarca – hiking in the Argentinian desert
The capital of Salta province - enjoy beauties of this Unesco city
No time to read it now? Pin it to read it later
#1 Cuevas de Acsibi – fascinating caves in northern Argentina
Cuevas de Acsibi was probably the most fascinating place we've visited in Salta. The caves are hidden in the middle of the desert and getting there without a guide and a good 4x4 vehicle could be almost impossible. So after some googling, I found a local guide doing tours to Cuevas de Acsibi and reserved our spot in a group of a few other people heading there.
Gallery
We've started our trip at 4:30 a.m. from Cafayate and already that long 4 hours' drive there was amazing. The old dirt road was not very comfortable to drive on, but the views around, especially when the sun started coming up, were breath-taking. It took us a bit longer to arrive at the small town Seclantas in the middle of Valle Calchaquíes, where our guide was located. But luckily, they waited for us and we headed to the desert.
Read also: Cuevas de Anzota, beautiful seaside caves in Arica, Chile
Long bumpy ride at the speed of maximum 30km/h took more than 2 hours, then it was another 2 hours walk to the caves Cuevas de Acsibi and suddenly I understood, why we had to start so early. Though the winter was ending in this region, it was hot! We were following a little stream, a little silver miracle in the midle of the desert. Around us were flying bees, above us wild birds and at one point, we even met a herd of cows.. At one point we stopped, and our guide showed us a trace of a puma – she came to drink at night...I just hoped she won't be thirsty also during the day.
Gallery
After 1 hour and climbing up some rock up the stream, meeting some cows, bees and luckily no puma, we've arrived at an area, which started to look like the promised caves – we were surrounded by red rocks glazed by water thousands of years ago. Contrasting the amazingly blue sky and high dry grass, it was a perfect photo opportunity. Another picture opportunity appeared, when we've finally arrived at the caves. Though there were not real big caves, more like rock formation which could be passed through some tunnels. And right in the middle of the "caves", our guides prepared a little picnic for us before heading back to the cars. A truly beautiful day spent in nature…
Argentina travel tips:
book your trip to Cuevas de Acsibi with Finca Montenieva, they also offer accommodation in the middle of that beautiful nature and some more trips around.
Quebrada de San Lorenzo near Salta - the perfect city escape
Just a few kilometres from the city of Salta lies a popular place among locals called Quebrada de San Lorenzo. Salta can get really hot and this is a perfect place to escape into the shades of trees and gurgling mountain streams. Getting there is really not that hard, as there are regular buses going from the city and though the locals come to mostly enjoy weekends in restaurants after a short walk in the Quebrada, we've decided to hit the hills properly and make it to the top to get some views.
Gallery
It took us about 2 hours to hike to the height of 2200 m, see the city of Salta from the top, have a snack and head down. The sun was again relentless that day and as soon as we reached the stream again, we happily kicked off our shoes and soaked our burning feet in the cold mountain stream. As surprising as it was meeting nobody besides few horses on the top, it was even more surprising seeing so many people once we got down again – it really was a popular weekend destination for saltenos after all. (check the GPS track here)
Read also: The most underrated archaeological sites in Peru
Quebrada de las Conchas – a panoramic road from Salta to Cafayate
Yes, we were lucky we had a car, but really, even if we haven't, north Argentina is probably the best place to rent it and go for a road trip – it's cheap and it's so worth it, as the views along the road are priceless. And so one weekend we headed for a road trip south from Salta to visit Cafayate and later also Cuevas de Acsibi. We've reserved basically a whole day for driving around 200 km. Why? Because Ruta 68 that leads from Salta to Cafayate was promising some amazing views – well if you are lucky and there isn't a bus full of tourist stopping just before you.
Gallery
So what is so special about Quebrada de las Conchas? It's a wild landscape of rich coloured sandstones and rock formations that were carved out by the River Concha and already from the car, the views were spectacular. As soon as I've learned the names of some viewpoints, we started to make frequent stops. Besides visiting places called El Sapo - the toad, Garganta del Diablo – the devil's throat, Anfiteatro – amphitheatre, we've also stopped several times alongside the road to take more photos of the peculiar landscape. There were also some artisanal sellers at each viewpoint with some really nice souvenirs.
Argentina travel tips: rent a car and head for a road trip south of Salta to visit places like Quebrada de las Conchas, Cafayate, Cuevas de Acsibi and small-town Cachi
Cafayate wine region – enjoy wine and awesome views
It wouldn't be us not take an opportunity to visit Salta's wine region, so one weekend we headed south of Salta to a small town Cafayate to visit their wine resorts. We took time heading south, as already the road was worth making several stops, so we've only arrived after 4 p.m. and to our surprise, all the wineries were already closed. Well, luckily, the restaurants were opened so we still got our desired portion of wine…
The next day though, instead of hitting the wineries, we went hiking again! I found out there was a beautiful hike following the Colorado River with several waterfalls, and that hike my friends was spectacular! We started early morning to avoid the sun, which was a great idea as the river bed is surrounded by hills and we were hiking in the shadow almost all the time. At one point, the path left the river bed, but we have followed it further and although at the start we had to do some serious rock climbing, few sweaty moments later, we came to an amazing waterfall.
Gallery
It was quite hard to get out of there then, as we had to climb again on the side of the waterfall, luckily there was a guy next to the fall who showed us how to get out, so we could continue and soon arrived at another waterfall and end of the hike. This one was much more accessible so we could even wash off the sweat and enjoyed some sun and a snack. And as we were leaving, other tourists started coming, so really, being an early bird paid of greatly ;) (check the GPS track here)
Now, if you are thinking, when comes the wine drinking part, it was right after the hike – we stopped in a nearby winery Finca Las Nubes and enjoyed the rest of the day with a wine glass in our hand and some delicious empanadas.
Gallery
Argentina travel tips: if you don't dare to go alone for a hike, there are local guides at the beginning of the trail offering their services, though it's quite easy to do the hike on your own.
Visit Salt flats Argentina – an active salt mines
It looks so close on the map, but the Argentinian salt flats are actually not that close to Salar de Uyuni or San Pedro de Atacama. Though we've visited both already, we still took one afternoon on our way to Chile to stop on the Argentinian salt flats, which are 4th biggest in the world. Definitely not big in a scale as Uyuni, there is another huge difference – these salt fields are actually still working salt mines, so free access is not allowed, but for as little as 5$ we hired a guide and a short tour through them.
Gallery
After visiting Salar de Uyuni it was a bit disappointing, but still, a nice place to spend an afternoon and do some fun photos, and for people who haven't visited any salt fields yet, this place will be amazing! For us though, the most interesting part was then driving further towards Chilean border, making some photos on the never-ending straight road and eventually also sleeping in the car at 4000 m altitude and watching the most amazing sunset and sunrise. Yes, it was freezing cold…
Gallery
Tilcara & Purmamarca – hiking in the Argentinian desert
These two small towns lie actually in another Argentinian province – Jujuy, and it's a very interesting place to visit. Though it lies at around 2500 m, there is nothing growing but cactuses, and also many houses or furniture are made of cactus' wood (called cardoon wood btw). We've first spent a few days in Tilcara, enjoying the peaceful atmosphere, eating local food and doing some hikes around the town. Then we headed to Purmamarca to see the famous seven colours mountain.
Gallery
On the way there we've also stopped in an old post/museum, which was founded by the first settlers and has a really nice exhibition about the history of that region with items form that time. From Purmamarca we've turned left towards Chile, to see the wonders of San Pedro de Atacama, but if we continued north, we would drive through Quebrada de Humahuaca, which also looks like a very interesting place to visit and eventually, the road would lead all the way to Tarija – one of my favourite cities in Bolivia and also its wine region.
Read also: The best things to do in Tarija, Bolivia
Gallery
The capital of Salta province - enjoy beauties of this Unesco city
Though Salta city and the whole Salta province is not very popular among international tourists, it is the most touristic place in northern Argentina – especial among Argentinian people and so it is a great place for a base to explore all surrounding. The first 3 weeks we've lived about 10 km away from Salta's city centre, but as soon as we found out how beautiful and cheap(!) the city was, after the road trip to the south we moved for the last few days directly to the centre. Salta, which is not derived from word salt as you might think and actually means beautiful (probably) in an old Quechuan language is really a pretty city and there are tons of interesting things to do in Salta, but I'll just list those, we've enjoyed the most:
Cool things to do in Salta the city:
Free walking tour in Salta
Almost always we go for a free walking tour, and this one was one of the best. Our guide was knowledgeable, funny and gave us great advice on what to visit next and where to go to eat. Another great thing – we met a really cool group of people and actually spent together the whole day, including dinner in one of the before recommended restaurants.
Gallery
Hike to Cerro San Bernardo
A small hill overlooking the city is the best spot for watching the sunset, besides that, there's not much to do up there. It's though the best way how to make your stomach ready for some juicy steak. Besides a cable car, there are also 1000 steps leading up – a great walk before dinner.
Gallery
Juicy steaks & delicious wine
Yes, I'm all the time rattling about how I couldn't eat vegetarian in South America, well in Argentina, I didn't want to. Because – true Argentinian steak? How often that happens? During this one month in Salta it happened quite often, the wine happened even more often, because, no remorse there right? Also, we've visited 3 top restaurants in Salta and dinner for two with a bottle of wine and side dish was usually around 25$! Really, it cannot be cheaper than that…
Gallery
Hiking to 3 Lagunas
From all the hikes we could do near Salta, I've picked the one leading to 3 Lagunas. I love hiking to lakes, there is no better way to make photos than with the reflection on a mountain lake. Unfortunately, as we were in the dry season, already the second lake was half dry and the third was not even there. Nevertheless, it was an amazing hike and we made it again to almost 3000m altitudes! (see the GPS track here)
Gallery
Visit the high altitude museum
This was probably the most interesting museum I ever saw. There are really loads of information about the life of the Inkas and mainly – 3 mummies which were found at the top of the highest mountains of that region. Their faces, hair and clothes are perfectly preserved and it was quite a weird feeling looking at them face to face.
So what do you think friends? Is Salta your next travel destination in Argentina?
Do you like this article or are you planning on visiting Salta? Pin it to your travel destination board to access it later >>
Cuevas de Acsibi and other beautiful places in northern Argentina