Bolivia
Salar de Uyuni – sunset & sunrise that will take your breath away
May 21, 2018
Salt flat in Bolivia that turns into a mirror just before dusk is definitely the star attraction for all backpackers in Bolivia, and this first place is well deserved. A chance to enjoy the beauty of Salar de Uyuni sunset and sunrise in a place often called the border between heaven and earth is something, everybody should get at least once in a lifetime. Enjoy my Salar de Uyuni pictures and start dreaming about your own adventure here...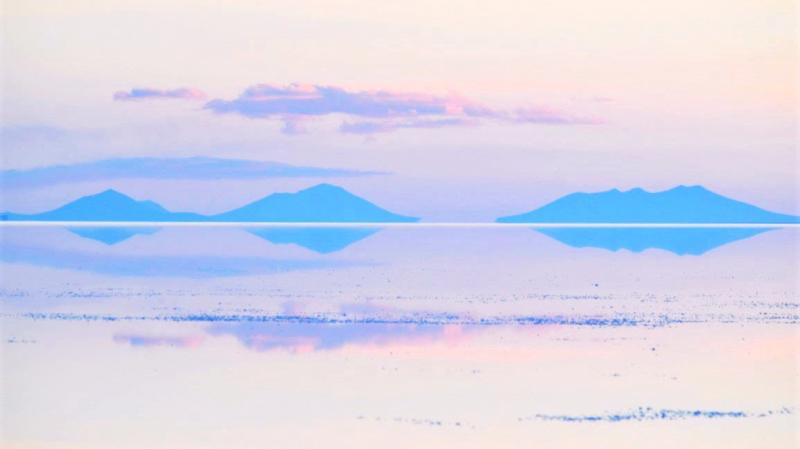 Where is Salar de Uyuni
Salar de Uyuni, the world's largest salt flat is located in the southern part of Bolivia, close to the borders with Chile. Bolivia's Salar de Uyuni spreads over 10 582 km2 and lies at an elevation of 3 656 meters above the sea level.
Tour to salt flat in Bolivia that turns into a mirror
A circuit through the salt flats from Uyuni takes you through absolutely unforgettable, literally breathtaking landscapes and is the highlight of many people's visit to Bolivia. There are plenty of options to choose from to suit time & budget possibilities of all kind of travelers, starting at a 1-day tour and ending with a 4-day tour for the most curious travelers. What connects all of the tours though is, that they always spend at least one day on the edge of the salt flat, which is flooded by water creating an amazing reflection. Therefore, everybody gets the opportunity to visit the magical part of the salt flat in Bolivia that turns into a mirror.
Read more about a 3 day tour to Salar de Uyuni.
The water surface is just a few centimeters, so its possible to walk on it without making your shoes all wet. And because you can walk on it, you can also make amazing pictures and play with the reflection. The first day, we arrived at the northern part of the salt flats a bit before sunset, which gave us enough time to make hundreds of photos with the reflection. I even pulled out my tripod and was running there and back and playing with the time shutter. Hard to do so at the altitude of almost 4000 m, but definitely worth to make all the awesome Salar de Uyuni pictures with reflexion:
Gallery
When the border between heaven and earth disappears
Hundreds of people visit Salar de Uyuni every day for its breathtaking beauty offering an unbelievable experience. Sometimes they call it the border between heaven and earth. Do you think its exaggerated? I thought it was too until I came here myself.
The second we have entered Salar I was doomed. I fell in love instantly. Ground covered with 10 cm of salt crust creates a white surface, which meets the most unbelievably blue sky, together creating a landscape that will stick in your memory forever. When we entered the salt flats, little did I know what's waiting for me and that later that day I will be enjoying one of the most incredible sunsets, coloring everything in shades of subtle pink and orange which will completely wipe out the border between blue sky and white ground.
The first day we caught the sunset at the northern part, just under the Tunupa volcano. I thought that the position was not the best at first, because the sun was hiding behind the hills, but in the end, this was even better. While everybody was watching the magical act of sunset, trying to catch on camera all the beautiful colors and its reflection on the water, I turned around and saw the most incredible and colorful scene. The white salt surface had a light blue color and clouds and sky above it were colored by the disappearing sun – a view I will never forget.
Gallery
Get more sunset views in this video:
Salar de Uyuni – sunset & sunrise to die for
This whole experience was so magical, that I decided to get up at 5 a.m. and go to watch the sunrise as well. It was really hard for me, it was still dark outside when I left our hotel and the temperature was close to 0. The beginning of the salt flat was about 15 min walk and on the way, I could enjoy a view of millions of stars. The sky was clear and promising a spectacular morning show.
As I was approaching the water, a light started to appear on the horizon and I noticed several flamingoes standing in the water quite near the road. As the sun started to rise above Salar de Uyuni, pictures were extremely easy to make, I must have hundreds just from that morning. The dark blue night sky was slowly turning orange and yellow on the edges, telling me the sun is close.
My fingers were freezing, but I had to keep them on the shutter. And in one moment, there it was, a tiny golden stripe becoming bigger every second. I could feel the warmth on my face and when I turned around, I saw the salt, water, and hills enlightened with fresh morning sun. I couldn't leave, I was hypnotized. I must have been outside for more than an hour and a half. And only frozen fingers and an empty stomach forced me to return to the warmth of our hotel, where breakfast was waiting for me as well.
Gallery
Sunset from the other side of Salar
With such a magical start of the day, it was not hard to presume that the best part is already over, but we did actually manage to catch another sunset before we left Salar. This time on the southern side with the open white field around us, creating a completely different scenery than the day before. With Tunupa volcano in the background, water under my feet and small hills far away from us, the nature of Salt flats offered us another of its masterpieces – soft pink and blue horizon, bleeding red sky and water reflection to doubling its beauty for us.
But what more will I tell you, check out the pictures I made during those two days – click on the picture to see it fullscreen with the description under it and browse through the gallery. And if you haven't done so yet, start planning your trip to Bolivia, just visiting this place will make it worth it, but there are so much more to discover...
Gallery
Do you like this article? Pin it to your travel inspiration board >>
Salar de Uyuni – sunset & sunrise that will take your breath away