Peru
Foreigners guide to buying a car in Peru
January 23, 2020
When we were thinking about how to get around Peru and the whole South America, we thought having a car would be the best option. So we went to the ordeal of buying a car in Peru, successfully got one, and decided to write the process for you, so you can save some stress...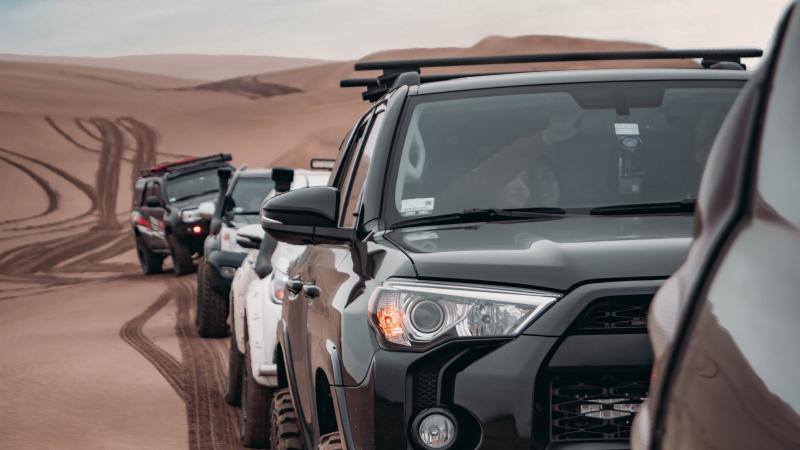 How to get around Peru - easily with a car
The internet is full of various advice about buying a car in Peru, but finding recent advice for foreigners is not so easy. I have only found a 5 years old article describing the process and a bunch of advice on forums like "not worth the trouble" and similar. Well, we decided to go through the trouble, trust the old article and follow it step by step to make our way how to get around Peru easier.
Step 1 for buying a car in Peru – get a stamp in your passport
"Get a stamp in passport from the immigration office, in the Breña neighborhood of Lima, which gives foreigners permission to sign contracts in Peru, and is called "permiso especial para firmar contratos para extranjeros".
So, finding the immigration office wasn't so hard, talk to the people there if you know around 50 Spanish words, 40 of those are names of food and animals  - not so easy. But we managed and after 10 minutes and "talking" to 3 different people found out it is done on the internet now – lucky us, right? Basically, we just needed to pay the fee of 16 sol and register on immigration website after this payment. Sounds like 15 min job, took us 3 hours...
First, we had troubles with registering and paying at Banco de la Nacion, then with registration at immigration website – first Primoz didn't exist, then trying to figure out which receipt numbers fit which field, then the payment didn't exist. Eventually, we gave up and went to the nice lady for an advice, show her mobile phone, and she just smiles and says: "something something medio hora something", hmm I guess it takes half an hour to validate the payment... OK, all good, we go for a walk to find a place to print the confirmation after we get it. The last problem – the downloaded confirmation got somehow lost in the phone, then was in a weird format and couldn't be opened, but after another 20 minutes we hold the printed confirmation in our hands – what now? "I think she says something about that we come with the paper and get the stamp in the passport..." So we go back, go to the nice lady again who was visibly ignoring us just to find out, there are no more stamps for passports – we are holding it printed in our hands! Victory is ours! (at least I hope we understood them right this time :-D).
Step 1 for buying a car in Peru simplified – go online!
So what is the first step process in the new digital world of Peru? If you ever find yourself in Peru wanting to buy a car, the first step can be done from the comfort of your home:
Register at www.pagalo.pe and pay the fee of 16 sol (only possible with Visa!).
Even though you get the payment receipt right away, wait 30 min
Go to www.migraciones.gob.pe, in the right menu choose permiso especial para firmar contratos, fill in all data and download and print the confirmation (there are 3 fields where you have to ad numbers - one of those is a date and that one is tricky as the system changes it automatically to a different format)
Tip: If you don't speak Spanish, rather do it on your computer where google translate works much better. Translating the whole page on your mobile is not so easy...Yeah google, we would really need some update here...
Looking for the best car in Peru
First, we were searching on the internet but we were not quite sure how to talk to sellers. But luckily, our CouchSurfing host Mauricio lived quite close to few second-hand Peru cars sellers, so we spent one day checking the cars there. We found some good cars which were an option, though all of them were from 1998 or older…
Eventually, we went back online to https://neoauto.com and filtered cars just from our neighborhood, in our price range and not older than 20 years. Then, thanks to google translate, sending sellers messages on Whats up (the whole Peru use just Whats up, as they have some special contracts with network providers). The best thing – next day we didn't even know what we were writing to them and had to translate it again… But guess what, we made a deal with 3 sellers to check out their Peru cars, all of them spoke very good English!
Cars in Peru are hell expensive!
If you arrive with an intention of buying a car in Peru in a reasonably OK shape for 2.000 €, well, nope, that's not gonna happen. For this money, you might find a 30 years old car, with 300.000 km, in need for a lot of reparation. The real wake up call for us was when we found the same model of car Primoz had in Slovenia and sold for few hundreds of euros, for sale for few thousands of euros. We didn't have to think much to realize, that if we will buy for more, we will also sell for more in a year, and increased our budget to get a slightly better car.
Deciding which car to buy in Peru
Having some favorites from the internet and car companies, we cross-matched them based on age, price, consumption, mileage, if some repairs were needed and quality of the test drive. And eventually chose the one we thought will be the best option – Hyundai Elantra in elegant silver color, with only 83.000 km and in a very good shape (though the year 2001). Eventually, we relaized it was a big mistake - we like driving of road and we bought a city car, which was very low! But this car turned out to be quite reliable and with a very strong motor handling well all the high altitude Andes hills.
No habla Espanol? Well, that is a problem…
Saturday morning, we headed to the notary, because thats where the selling-buying contract must be signed. First problem right away – as we didn't speak enough Spanish, we needed a witness, who speaks Spanish and English, to sign the documents together with us. Of course, we call Mauricio, of course, this big-hearted man came to help us, but, he didn't want to be the witness… Instead, he calls his friend lawyer to come to helps us. Ok, while we are waiting, we can as well figure out how we pay.
What will you need at the notary when you want to buy a car in Peru:
copy of your passport and driving licence (buyer and seller)
copy of the cars documents (seller)
copy of your permit permiso especial para firmar contratos para extranjeros (the foreigner - no mattter if seller or buyer)
cash to pay the notary fee (buyer)
Counting all the nickels we have
Another problem – we cannot withdraw the bigger amount of money from the bank, only from ATMs, which are limited to 200$. The international bank transfer might take up to 5 days, and nobody is willing to wait that long (we were really eager to leave Lima). So, we start running from bank to the bank taking as many dollars as they let us, after all, we think, the fees will be just a few more euros (it was much more, but let's not talk about that…). We were searching all pockets to gather all cash we had. But eventually, banks run out of dollars, our pockets were empty and we reached our daily limits on all credit cards - still missing 26$! Ok, Paolo the seller decides we are trustworthy, and we agree to send him this missing money to his bank account.
When we were selling the car, the easiest way then was opening a bank account and now I realize that might be the best way also when buying - open a bank account, make a money transfer and while you wait for the money to come, do all the research to find the car in Peru. When you find it, the payment is then make very easy with a bank transfer between two peruvian accounts. Having a Peruvian account will also save you loads fo money on bank withdrawals during your travels in South marica ;)
How many people do you need to buy a car?
All set and agreed, we are ready to sign the documents. Saying we I mean – the notary, the seller, Primoz, our lawyer who cannot speak English and his wife who can speak English – both being our witnesses. Me and Mauricio just standing nearby and watching :-D
Leaving the notary 15 minutes after they closed and after paying all the fees, we find last few Sol in the amount of 24$ to pay our debt to Paolo and agree on leaving it like that. Yes, we got an additional discount of 2$ :-D With keys in our hands, this requires a proper celebration – sushi and beer it is!
If you rather ship your car to Per, read about it here.
Foreigners guide to buying a car in Peru