Paraguay
Hiking Cerro Tres Kandu, the highest mountain in Paraguay
September 28, 2018
Though the highest mountain in Paraguay is only a bit over 800m, it was the most exciting thing we did in Paraguay. To our surprise, this hike is not as easy as it may seem at first. Another surprise was, that we were not the only one trying to reach the highest point in Paraguay.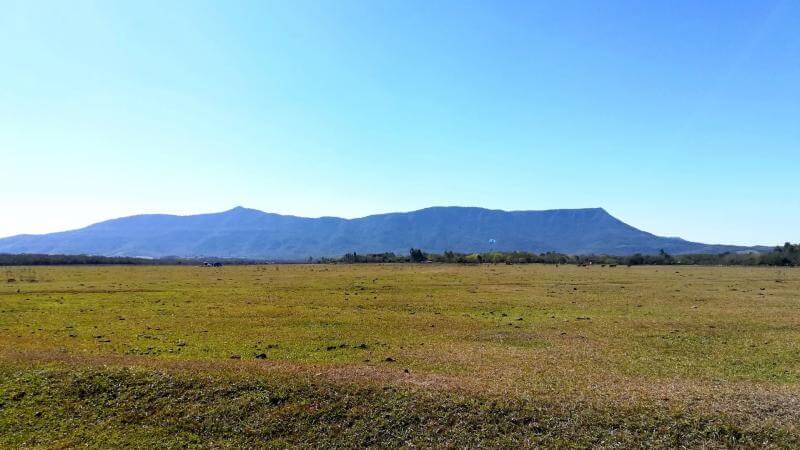 Where is the highest point in Paraguay
Cero Tres Kandu is the highest mountain in Paraguay located in Guaira Department in South of Paraguay, approximately 3 hours ride from the capital Asuncion. The altitude is only 842 m, and though this hike is not the easiest one, it's a popular weekend destination for many Paraguayans. No wonder it is, as this hiking to the top is one of the best sports activities to do in Paraguay.
When I was researching about things to do in Paraguay, the highest point of this country was definitely in my interest. We knew we won't do much hiking here, as most of the landscape in Paraguay is unbelievably flat. So hike to the highest mountain made it fast to the top of our list of places to go in Paraguay. I haven't found many English articles about this hike, so all we relied on was an online map.
How to get to the highest mountain in Paraguay
We were starting from San Rafael Nature Reserve, which already lies in the middle of nowhere, so getting too another middle of nowhere was quite a suffering. First, we had to ride on very bad dirt and gravel road, until we reached Ruta 8, the next point was a village with funny name Ňumi, where get of the main road and after another 20 minutes turned again to a dirt road.
It took us more than 5 hours to get there, though it was only around 250 km. So we knew we gonna have kemp there and I was relying, that the small dot on the map claiming camping is not lying. It wasn't, there was a small kemp run by a local family, which charged us more than what we paid in a nice hotel the next day. And for a shower and access to the toilet, we had to pay extra! Guess what we did? Yeah, no shower and sneaking to pee in the dark…
Gallery
Hiking to the top of Cerro Tres Kandu
The next day, after a really bad night sleep, because the family was obviously celebrating something, being quite loud and most importantly, keeping the lights on till very late night, we wanted to have an early start. And so did many other people. Around 7, the parking was already getting full of cars and around 8, when we were just starting the hike, there were at least 20 people already hiking to the top.
At the beginning of the path was an info board, claiming the prices for the hike. Yes, this hiking is not free. There was also an older man collecting the entrance, but either it was included in the price of camping, or he didn't see us when we started the hike…
Gallery
The coolest place in Paraguay
The path to the top of the highest mountain in Paraguay leads in the forest almost all the time, which is a great thing because Paraguay is insanely hot. First, the path is quite easy going a bit up and down, but after approximately 30 minutes it started to be quite steep. In the higher part are even wooden ledgers and steel ropes to help with climbing, which to our surprise, don't stop local people from climbing in moccasins and sandals while carrying their term flasks with cold water for terere – a herb tea they don't leave their house without.
There are 2 viewpoints on the way up, which gave us a nice idea about how flat this country really is. And when we have finally reached the top after 1 hour and 30 minutes, there was quite a crowd already there, and many people coming behind us. I guess, this really is one of the coolest places in Paraguay.
We stayed for a bit, had a snack and listen to the mixture of Spanish and Guarani which we didn't understand at all. The view from the top was incredible in a certain way, it gave us a perfect idea about how flat this country is. We looked towards the never-ending horizon of fields and we looked as far as our eyes let us. After a while, when the sun got unbearable we headed down to continue with our road trip through this flat country.
Gallery
What to expect from hiking to the highest mountain in Paraguay:
It's gonna be insanely hot! Light clothes, loads of water and sunscreen is a must.
During the weekend, this place is crowded.
The camping is expensive compared to what you get for it (8€ / person/night without shower)
The view from the top is quite disappointing if you are used to hiking in the Alps
It takes approximately 1,5 hour to get to the top, longer if you are not in shape
It isn't a very easy hike, it's steep and the terrain is quite difficult
You don't need a guide to go up, the path is nicely visible, but getting to the start point can be hard without a car.
Hike summary: 6,2 km, 2,5 hours, min. elevation 258 m, max. elevation 827 m, elevation gain 565 m
Do you like this article? Pin it to your hiking destination board >>
Hiking Cerro Tres Kandu, the highest mountain in Paraguay