Peru
Inca's ruins in Sacred Valley – the small & the big
March 14, 2018
Great Machu Picchu is the number one attraction in Peru, but there is so much more than that and I even dare to say, more beautiful places with much fewer people!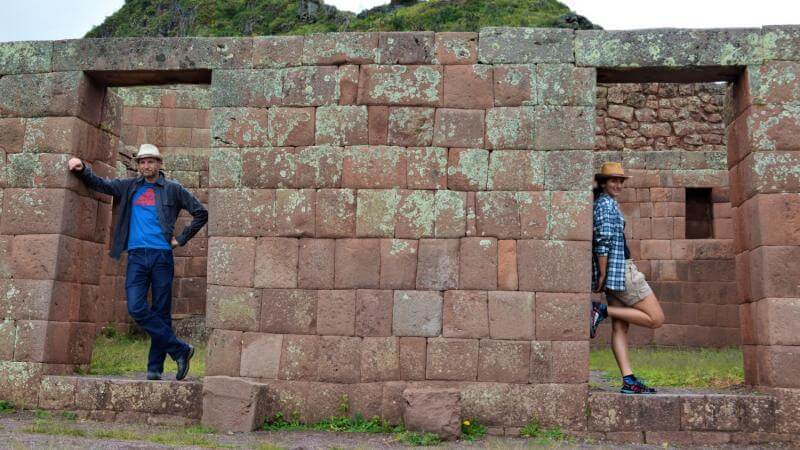 Sacred Valley is a beautiful place approximately one hour drive from Cusco, beside crowded tourist buses there is also good public transportation coming here. During our visit, we have chosen a strategic city of Urubamba for our 3-weeks base, from which we were making smaller and bigger trips to the whole valley. We definitely haven't visited all places we wanted, but from those we have been to, here are Incas ruins from smallest to biggest, which are worth visit.
Saywa – the sun-pillars of Incas
Saywa is an archaeological site on one of the hills above Urubamba. It is not very well know and we have discovered it by accident during one evening walk near our Airbnb. If you like abandoned places with the character like we do, then Saywa is a must see place for you. To get to the top of this 3800m high mountain, we needed 2,5 hours. On the top were waiting for us 2 stone pillars, used by Incas for astronomical purposes, and beautiful view on sunset.
Admission: Free
Cachicata – the Incas Quarry
Cachicata or Inca Quarry is a site close to Ollantaytambo at 3500 m. It is believed to be a place where Inca's where mining stones for the great temple in the city. And also during the hike up, you can see many nicely carved huge pieces of stone, which never made it on their place – probably due to the attack of the Spanish army.
To get to Cachicata we needed roughly 2 hours. The place is not marked, but we knew right away we were there – a huge amount of stones, small and big, were lying everywhere. Some were piled in nice rows, some were just scattered around, which made us wonder if this is how the Inka's left it, or some modern human was playing with the composition. Close to the quarry are also some Inca ruins – my theory is that those were serving as an accommodation for workers in the quarry.
Admission: Free
Gallery
Inti Punku – the Sun gate
Continuing further from Cachicata, we came to Inti Punku – a Sun gate. It takes another 1,5 h to get there and due to the higher altitude (3900 m) this hike is quite difficult. We came here later in the afternoon, hoping for the clouds to tear apart and show us the majestic Salkantay and Veronica snow peaks behind the gate. Though the weather was much better, we didn't get lucky enough and saw only clouds, but even the cloudy view is very spectacular.
From Inti Punku you can see really well all 3 sides of the valley. There is also a road continuing towards a peak above the gate, which was most of the day hidden in a fog and could be quite interesting to explore – next time we will start sooner and go to check that misty peak. Up at the Sun gate is quite windy, so we were really happy taking with us softshell jackets and gloves.
Admission: Free
Ollantaytambo – a place of the great battle
Ollantaytambo is a small village located on the way to Machu Picchu – which kind of makes it mostly a transfer station. Here is also one of the train stations to Machu Picchu, so this city is very touristic. The ruins in Ollantaytambo are quite popular, consisting of a temple and a fortress. One remarkable thing in this place are 4 huge stones, each of 50t weight, which are making a wall of the temple.
Ollantaytambo is a place of a great battle between the last Inca Manco and the Spanish invaders, one of the few, which Inca's won. Though not for long, Spaniards returned with the greater army and Manco Inca was forced to escape to his jungle stronghold in Vilcabamba. That is why the temple was left unfinished and the reason why there are so many rocks on the way to the quarry – they call them Piedras cansadas - tired stones. We have followed this article for more info about Ollantaytambo ruins.
Admission: 130 sole for a 10-days ticket, including 9 other sites and 4 museums in Cusco or 70 sole for 2-days ticket including 3 more archaeological sites in Sacred Valley
Gallery
Moray – the Inca's laboratory
What to Europeans looks like amphitheater is actually a laboratory for plants. Moray is quite a fascinating place with circular terraces, which are now believed to be Inca's laboratory, though the real meaning cannot be certain. Each step of the terrace has a different temperature, from top to bottom it's up to 15°C difference and scientist suppose, that Inca's were testing here the best temperature for growing various plants. Though on pictures this place looks big, it's not worth to spend more than 1,5h here. We have followed this article to get more info about Moray.
Admission: 130 sole for a 10-days ticket, including 9 other sites and 4 museums in Cusco or 70 sole for 2-days ticket including 3 more archaeological sites in Sacred Valley
Pisac – ruins with a pink Sun temple
Pisac is a place of all the spiritually enlightened expats and also a huge Inca's ruins. The city has really a lot to offer and the ruins are just a cherry on the top. Though it is stated that 2h is more than enough to walk from top to the bottom of the site, we needed more than 3 hours and still haven't seen it all. The upper part of an urban area and Inca's cemetery burst with tourists, which usually, and luckily, don't make it further than to the first viewpoint. But under this viewpoint, the real treasure is hiding – after another hill and a narrow tunnel is a sun temple made of pink granite, a spectacular architecture jewel we could enjoy almost only for ourselves. Further on the way from the temple to the city of Pisac are another few ruins and views worth the trouble and steep descent. We got more historical information about Pisac from this article.
Admission: 130 sole for a 10-days ticket, including 9 other sites and 4 museums in Cusco or 70 sole for 2-days ticket including 3 more archaeological sites in Sacred Valley.
Gallery
Chinchero – the place of pink rainbow rocks
For me, Chinchero is one of the most beautiful places in Sacred Valley. Beside the fact, that it's not that touristic, it also combines colonial architecture, with Inca's ruins and natural wonders. The Colonial church at the Plaza was built on an Inca palace, which is believed to be the birthplace of Inca Tupac Yupanqui and it was a fresh change after visiting so many Inca's ruins. For more historical information about Chinchero, we followed this article.
But for us, the real treats were the natural wonders at the right side and the bottom end of the archaeological site. Wonderful pink rocks with mysterious carved steps and other shapes make you wonder, what was their original meaning. At the very bottom is also a beginning of short Inca trail which leads to a wonderful waterfall.
Admission: 130 sole for a 10-days ticket, including 9 other sites and 4 museums in Cusco or 70 sole for 2-days ticket including 3 more archaeological sites in Sacred Valley
Gallery
If you are in time pressure and cannot afford more than 1-day visit in Sacred Valley, I highly recommend to visit Pisac and Chinchero. Rather than with tourist buses, try it on your own. You can take morning bus from Cusco to Pisac and then on the way back in the afternoon stop in Chinchero. You won't regret it, because these places are definitely worth longer visit, than 1 hour – and that's what you get with the tour agencies. In case you have more time for your visit, I recommend Urubamba for your base - it's a peaceful village in Sacred Valley right in the midle of all the points of interest.
Do you like this post about Sacred Valley? Pin it to your Pinterest travel board >>
Inca's ruins in Sacred Valley – the small & the big