Peru
Salkantay Trek and Machu Picchu in the rainy season – would I do it again?
March 20, 2018
Walking in rain is not fun. Walking in wet shoes is not fun at all. Walking in rain and wet shoes for 5 days is simply awful. And this is how our Salkantay trek to Machu Picchu looked like. Was it just about the rain or were there also some shiny moments on this trek?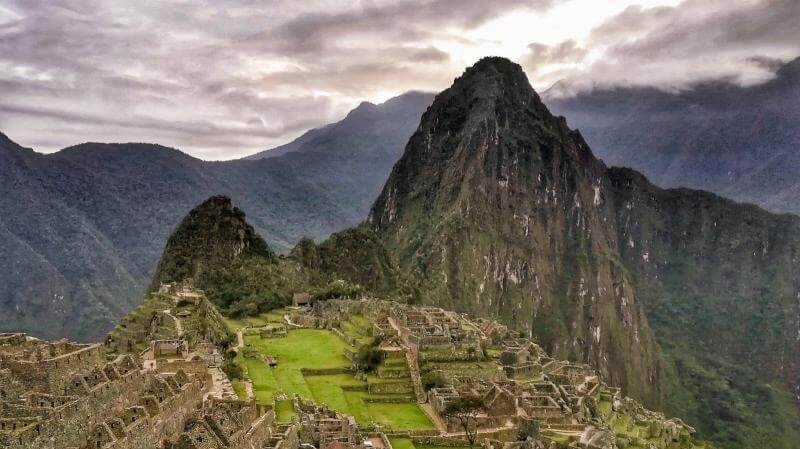 There are several ways how to get to Machu Picchu, you can choose from short one day visit or go for a longer guided hikes. We were deciding between the Inca Trail and Salkantay trek. Considering the rainy seasson, I was not willing to risk paying so much money for being on the rain for five days on the Inca trail, therefore, Salkantay won and we booked our tour for 15th March. Well, it was not the best date, but definitely good decision regarding the trek -  we got 5 days of rain and fog and mud and mosquitos – but those are there all the time. Knowing this, would I do it again? Let's see what was happening these 5 days, and then I will tell you if it was worth it or not...
Check out the advantages of hiking with a guide in this G Adventures Peru review.
Day 1 – the beauty of the Humantay Lake
Get up at 4.30. Get in the car with another 20 people. Drive 2 hours to the middle of nowhere to have breakfast there and then another 1 hour to finally start the trek. Get there and see all the mud on the way up scattered around by boots of tourists and horses and another 3 groups of 20 people going the same direction – oh God, what have we got ourselves into?
We bravely stepped into the mud and headed the same direction as another hundred before us. Our group was full of young people, probably majority of them younger than us – Argentinians, French, Germans, Dutch, and Americans. All energetically stepping up, making their way on the slippery road. Only hour and a half and the view to Humantay lake opened in front of us – and it was spectacular. No matter there was another hundred people there, everybody took a slow turn in making selfie at the most instagramable stone by the lake. I soon left the group and took another 10 minutes to hike a bit up, to find a peaceful place for my photo creations.
How much more beautiful can it get here?
What brought me back was the sound of flute – Americo, one of our guides, turned out to be a master flute player and my god that was beautiful. Everybody stood in a silent awe, enjoying the sound of Peruvian flute and the view at the lake. Right at this moment, raindrops started appearing on our faces – just in time to hide the tears coming from our hearts that were touched by this Peruvian beauty.
The moment is over, it's time to go. The slippery way down made sure many asses got rapidly black – including mine. Well, that's when you focus on speaking Spanish to Argentiños chicos rather than watching the path. Another hour and a half brought us to our base camp at 4000 alt. m. We had lunch, visited a nearby waterfall, then tea and snack, then dinner – my god, do they wanna make us fat during this trek? Just before dinner, we were getting to know our fellow hikers when guides call us to get up on the hill and presented us with another beautiful view – on the Salkantay Mountain. Just 30 minutes before the compete dark came – the first and the last chance we got to see this majestic beauty. No need for any words, Americo took out his flutes again and we were silently enjoying this wonderful moment…
Gallery
Day 2 – The Salkantay pass
5.00 a.m. – wakeup call in the form of hot coca tea. We slept in everything we had, even gloves and warm hats. It's so hard to let go of the warm sleeping bag and get out to the dark and cold to get our breakfast. But we did and after the breakfast hard climb towards the Salkantay pass started, we will reach our highest point today – 4600 m. Our group is surprisingly fast – or it's just the rain and cold that pushes us to go faster. Our second guide Aurelio tries to motivate us and scare us at the same time – "Just one more little hill and then the last one – we call it gringo killer, let's see what it does to you". Well, I didn't notice any gringo killer, but maybe that was because of the fog which didn't allow me to see further than 2m…
We manage to complete this promised 3h hike on the top in only 2 hours, I guess there is usually a break for some photo shooting, well, everybody is hiding behind the biggest rocks trying to escape from freezing wind and rain. We rather set our way down – ahead of us is 6 hours of hiking downhill and I just hope the weather will get a bit better in lower spheres. 1 hour lower on a small platform, we are supposed to have lunch, but we are too fast and the cooks arrived at the same time as us, so instead, we got few cookies and decided to continue to the base camp. It's still raining, but thanks God for another hour or two the weather gets better and we can finally start enjoying the view of surrounding green hills. Few minutes on the sunny grass at the base camp, then another dinner, another card game and off to sleep. There is a third rainy day ahead of us…
Gallery
Day 3 – landslides on the way to Santa Teresa
So apparently there was a huge landslide during the night and cars which were supposed to come for our bags won't be coming. So, the horses stick with us for a bit longer, until we come to the huge landslide, blocking the whole road. "Sorry guys, you gonna have to carry the bags from here, it's just another hour". Seemed like an eternity, me and Primož had packed this really unpractical duffle bag – who knew we would be caring it. If I knew, I would definitely take only 1 book, not 3…
We follow the river on the third day, usually, the path goes on the other side of the river, but because of the heavy rain, that path is destroyed and we have to take the car road.  There are several landslides we have to climb through. At the biggest one, Aurelio takes a rope out of his bag and with the help of our 2 strong Argentiños, they are slowly helping people to get down. I and Primož rather take the hard way – sliding down on rocky hills was our biggest fun in Slovene mountains.  Well, I thank god for the landslides – without them, this road would be extremely boring. After the last landslide, there is already a car waiting for us, taking us to the last basecamp and then to the thermal pools – what a wonderful feeling to feel a warm water on my skin for a change.
Today is also the last evening we spend with our chefs, and they prepare a real feast for us. The food on this trek couldn't be better, I haven't eaten so well the whole time we have been to Peru. We also get a music and bonfire, but everybody is so devastated, we make it to the tents shortly before midnight.
Gallery
Day 4 – Zipline and Aguas Calientes
Today we will arrive in Aguas Calientes and sleep in a bed again, but first, we go to zip line! Promising one hour of adrenaline slides turns into kind of a slow pace sliding not that high above river and tree lines. The candy for me comes at the end when I ask for the condor fly, which is truly amazing and makes me laugh and cry at the same time…
There is still some walking waiting for us, but just 2 hours by the train track to get through the jungle from Hydroelectrica to Aguas Calientes. The mosquito bites from yesterday start to show up and we can expect some more today. I wonder how I haven't seen a single mosquito here. Soon I found out – they are invisible, small black flies which you won't notice flying anywhere or even sitting on your skin, just the next day the hellish itching starts. The walk through the jungle is quite nice, I find some bananas – they are good, and we can see Wayna Picchu almost all the time above us. If only it didn't start raining again…
Gallery
Day 5 – one of the seven wonders Machu Picchu
Get up at 4 a.m., so that at 4:30 we can be waiting in line for the bridge to open. They are late and the guard is flirting with every girl making the process of checking tickets even slower, and me even grumpier. Finally, we can cross the bridge and start hiking those famous 2500 stairs. We have a time limit – must come up till 6:15, or they will start the guided tour without us. I manage just with few minutes left and behind me last few from our group. We are ready to see this wonder!
Aurelio keeps rushing us to the top – "Fast guys, just this last time before the city gets crowded with people". I hate him for this but eventually, I love him for this – we really manage to get few shots before this ancient city gets covered with the rest of tourists and eventually clouds as well. Then we can in peace listen to the story of Machu Picchu. Two hours run out in seconds and it's time to say goodbye. But we are not ready, our little group decides to make another small hike towards the Inka's bridge. Then I and Primož must go to catch our window for Wayna Picchu, but not without a group photo first!
Gallery
In the end, everything is good
The day goes by as we are used to - it gets cloudy, it starts raining, there is no view from Wayna Picchu, we are wet and tired and cold and hungry and eventually decide to go down, even though I wanted to spend here the whole day. Of course, Mr. Murphy is ready and as soon as we get down it gets sunny again. I don't care anymore. I'm tired. I want some dry and good smelling clothes. And a hot shower. And a big comfortable bed. And chocolate. I'm thinking if this is it, this is my visit to the greatest of the great, the biggest of the big Mr. Machu Picchu? Yeah, that's it. You saw it, now only 6 more to go. Not sure I want to cope with the myriads of tourists and prohibitions again. But I know I will, I know I want to see it all…
As I sit in the Peru rail train on the way back I'm thinking about this little adventure we had. All the rain and mud and the views we haven't seen. If only we went one week later, it all could have been different. Would I change it if I had a chance? Not sure I would. What made this adventure unique was the shared suffering of 20 wonderful people, we were all in it together, making fun of our misery, playing cards, sharing stories, creating friendship which may or may not last forever. If we went later, there would be no Aurelio with endless positive energy and no Americo to play the flute for us, no Adam who is getting lost all the time, no Mike to give us special tour to Inka's bridge, no Camille to fly like a condor with me, no Laetitia and Estella to go to party with in Cusco, no Laura to join is on a trip to Copacabana and no Argentiños to visit Argentina. So thanks guys, you made this trip to be one unforgettable story for me and you are the only reason why it was worth it, walking 5 days in the rain...
Do you like this article about Salkantay trek? Pin it to your hiking inspiration board >>
Salkantay Trek and Machu Picchu in the rainy season – would I do it again?