Peru
Lima, the city of many faces
January 31, 2018
Our time in Lima was not so touristic, we have spent one week there mostly to buy a car, and thanks to this, we got to know more Lima districts then an average tourist does.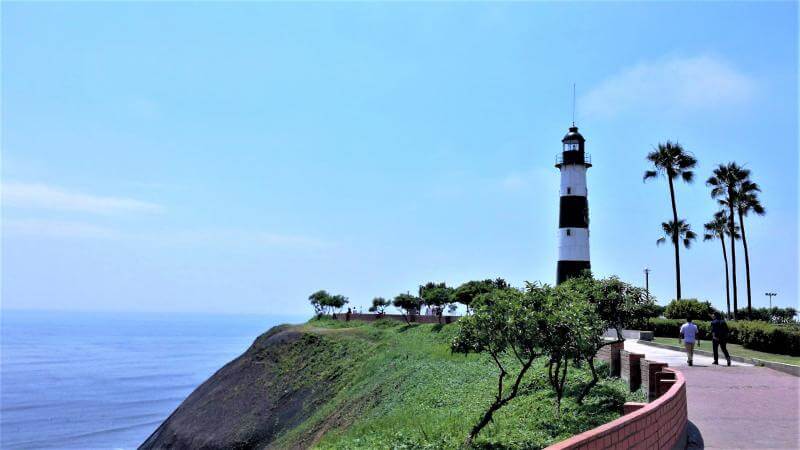 Lima is a city of almost 10 million people, which makes a 1/3 of  Peru's population. It grew so much in the last 70 years (from half a million to 10 million) when due to poverty and armed conflicts in the Andes, people came to the capital with a vision of better life. Often you will see native Peruvians – men, women, and children, on the jammed roads, cruising between cars with baskets of small souvenirs, sweets, and chewing gums, trying to sell them to drivers and passengers. Then, after the whole day under the hot sun, they return to distant districts or the slams scattered on hills surrounding Lima, hidden behind a tall wall.
From many Lima's neighborhoods, we got to spend some time in 6, seeing the diametric difference between rich and poor.
One of the native Peruvians in their typical dress, selling sweets on the street.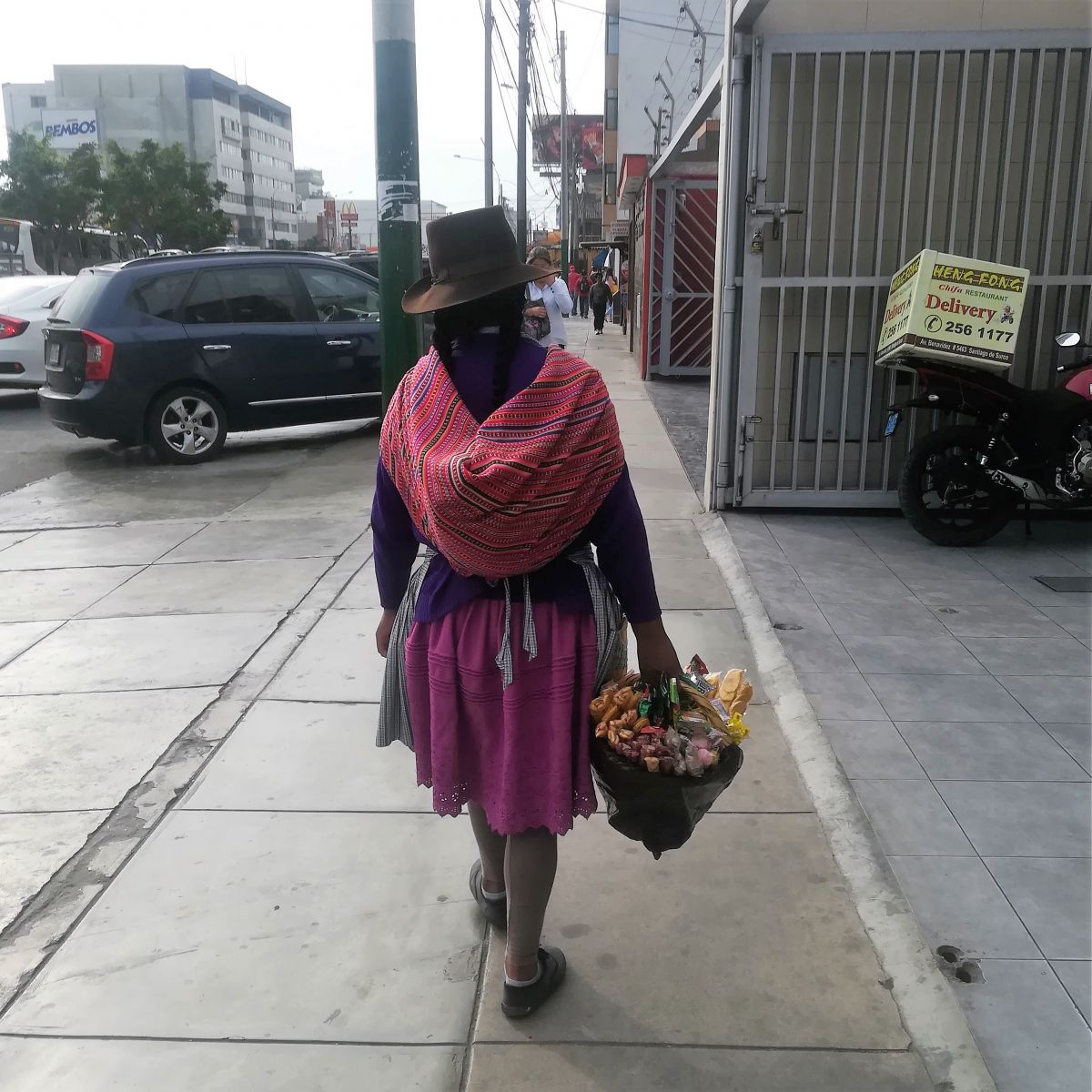 Los Olivos – experiencing the true Lima
Los Olivos was the first Lima's neighborhood we stayed in, and it wasn't much different from crowded cities Primoz had visited in Asia. For me, it was a first time being in a place like this, quite a cultural shock I must admit. Noisy streets full of cars, driving as they like, horning all the time, crowds of people on the street and smell of piss everywhere. It wasn't until later we found out that the hostel where we stayed 3 nights was in one of the most dangerous neighborhoods. To admit, we didn't feel any danger there, just bad smell and trash everywhere...
If I got a chance, I wouldn't change anything and I would still book a room in that Tampu Machu backpacker's hostel. The owner was a very nice lady with great English, giving us plenty of information and everything we needed for start. And it was a great experience to travel by overcrowded local buses and experience Lima as the majority of its population does.
Evening buses were so crowded, we have decided to walk the last 20 min by foot.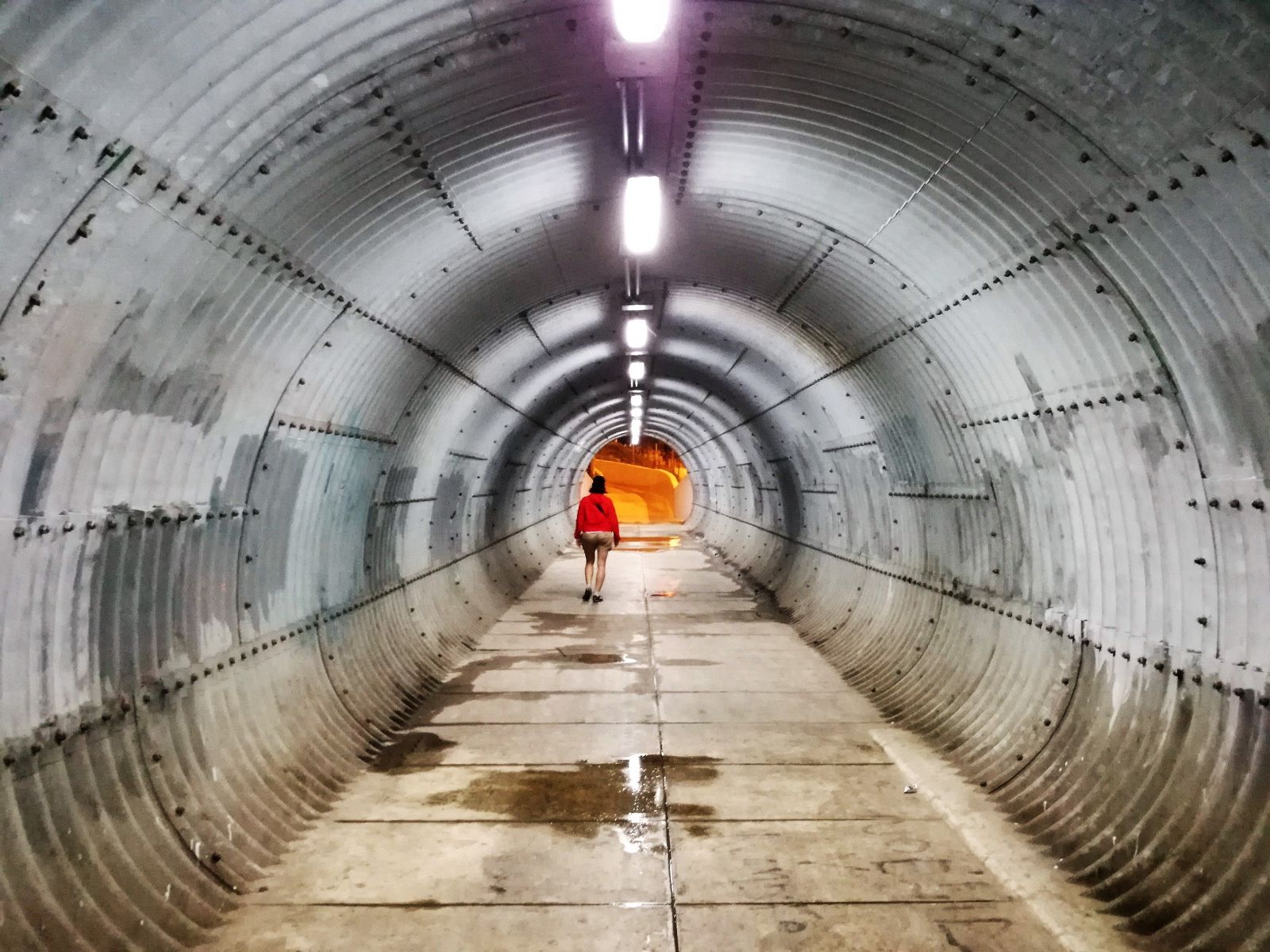 These are not streets of Los Olivos, its one of the rural Lima districts. But Los Olivos looks similar, just with less sand and more trash.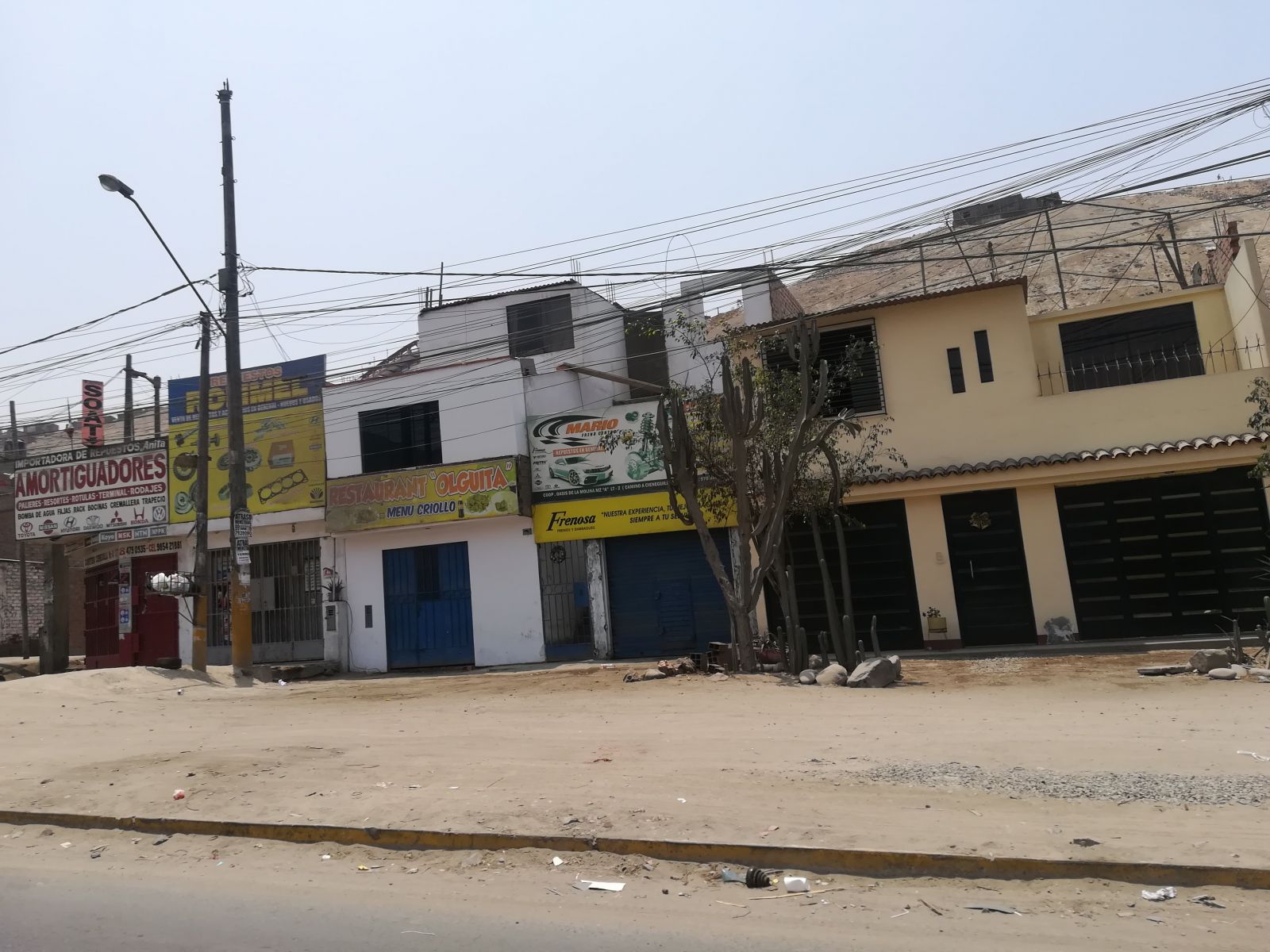 Lima Centro – one day visit for all Lima's tourists
Right the morning after our arrival, we headed to the center. Partly also because close to there was an immigration office, where we needed to get a document to buy a car. You can read about that here. To get to the center we had to spend almost one hour in two very crowded buses, where most of the people only paid attention to their smartphones.
In the center, we basically only took a walk from Plaza San Martin to Plaza Mayor/Plaza de Armas, seeing the most touristic promenade Jiron de la Union. Beautiful colonial buildings with faded glory now mostly host expensive clothing and shoe brands and American chain fast foods, which are very popular in Peru. For many, walking on this promenade checking out stores and shopping is a pure happiness, for us, it was mostly suffering and we couldn't wait to get from there to more peaceful place.
A fancy restaurant at Plaza San Martin where we had a beer.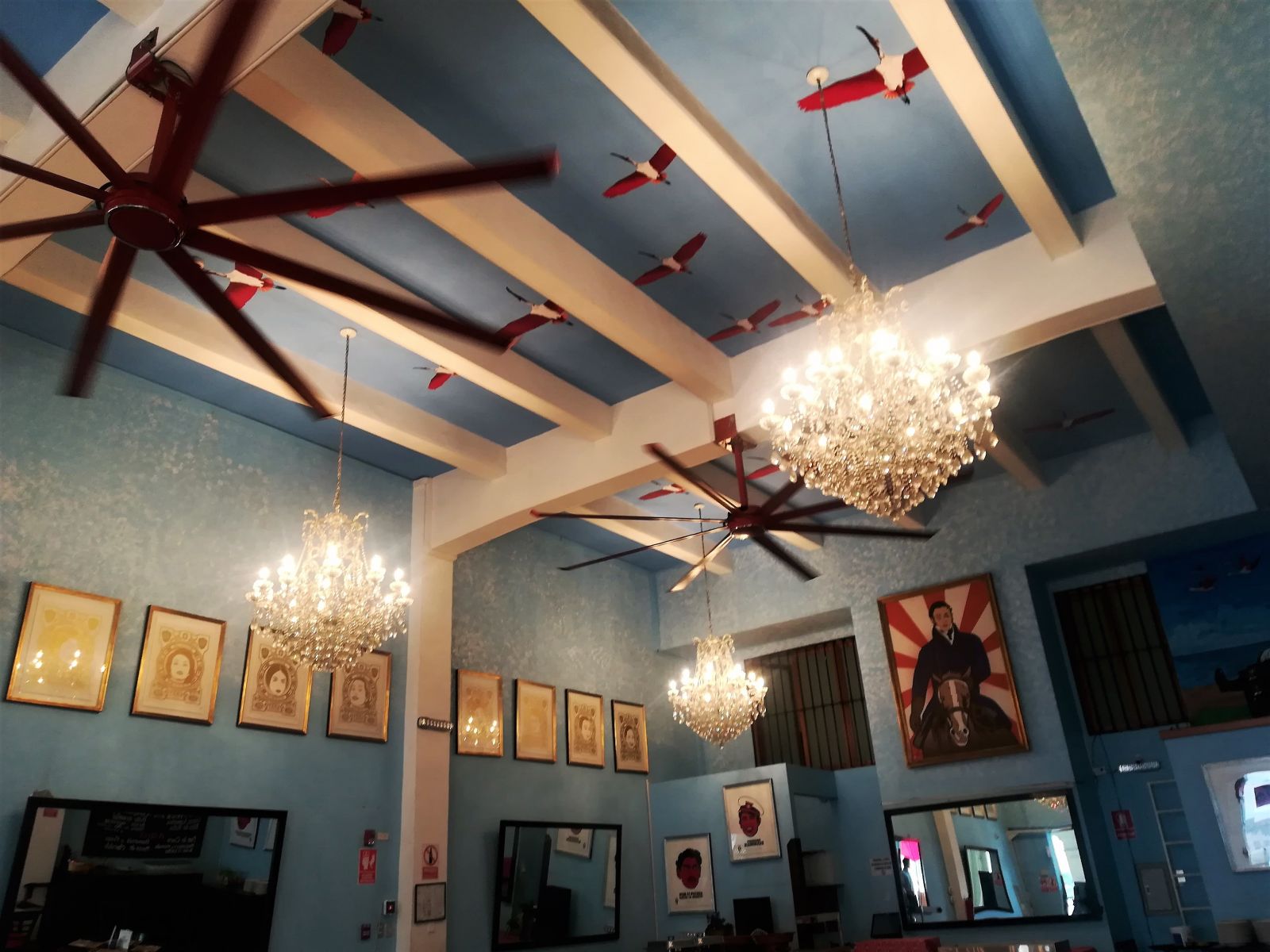 La Catedral de Lima at Plaza Mayor.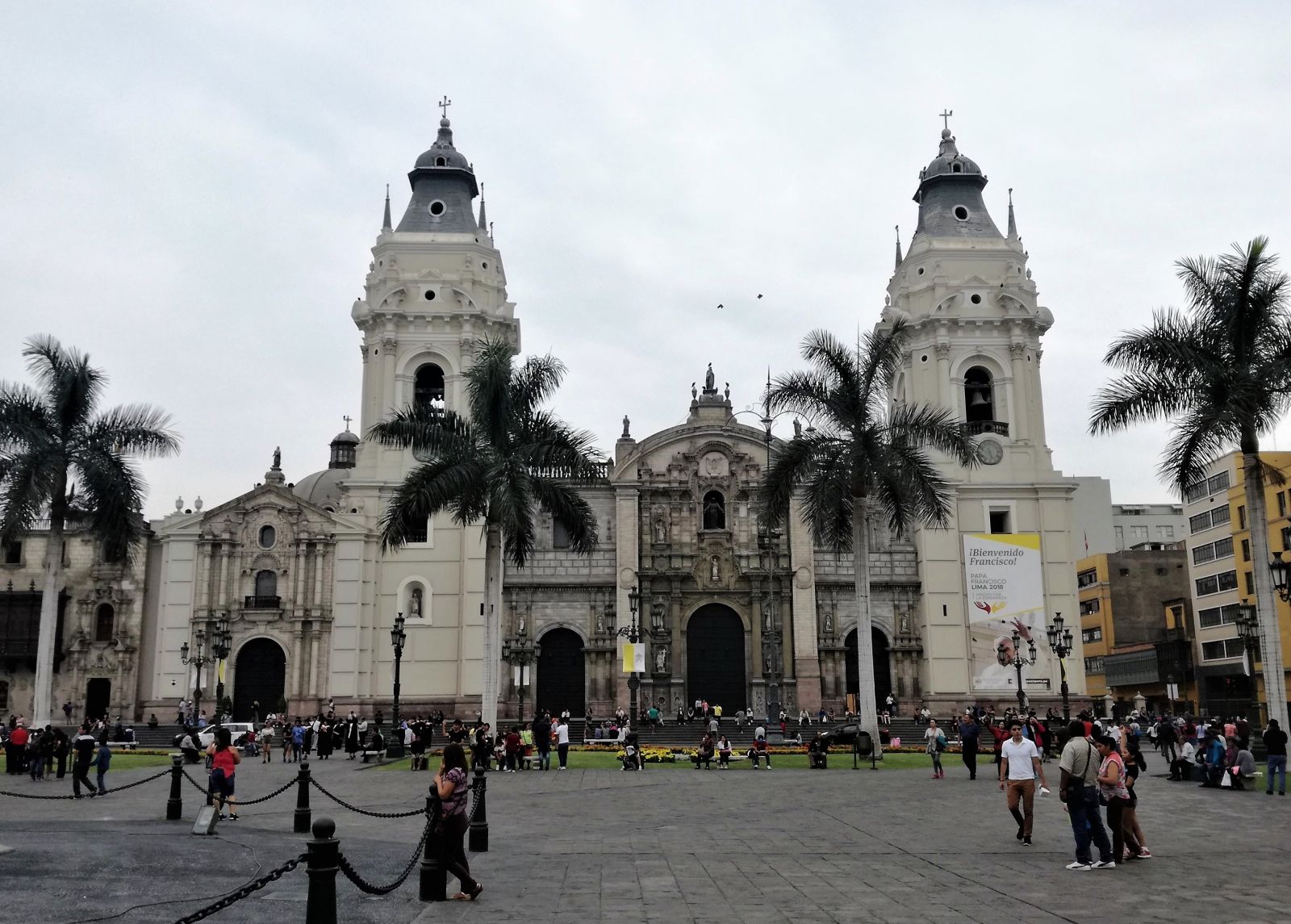 Colonial buildings at Plaza Mayor

Miraflores - favorite place of tourists
On day 3 we headed to Miraflores for a peaceful day at the coast. The difference between Miraflores and Los Olivos and Lima Centro was huge. Clean streets, beautiful parks, and expensive restaurants and bars, you could see on a first sight that this place is made for tourists. We headed to the coast and then following the coastline to the lighthouse where we met with our CouchSurfing host.
"These tall shiny buildings grew in the past 20-30 years", was explaining Mauricio, whom we grew to like very fast. "Before there were beautiful small British-like houses, my grandfather used to live in one of those". We continue our walk towards Barranco, learning a lot about Lima, its history, and life here…
Fancy bars with overpriced drink and food by the Kennedy Park.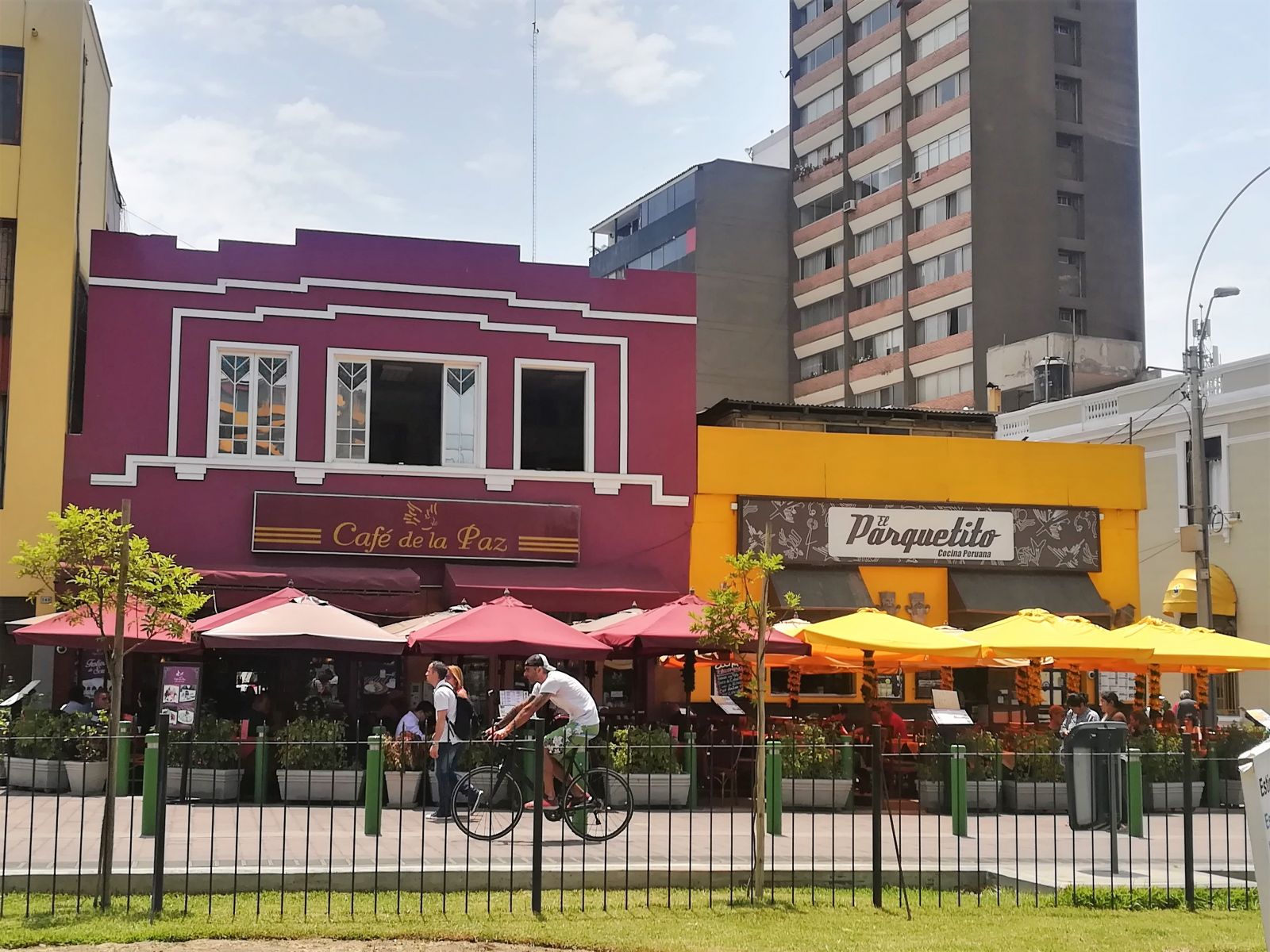 View from Parque del Amor / Park of lovers towards the beach full of surfers.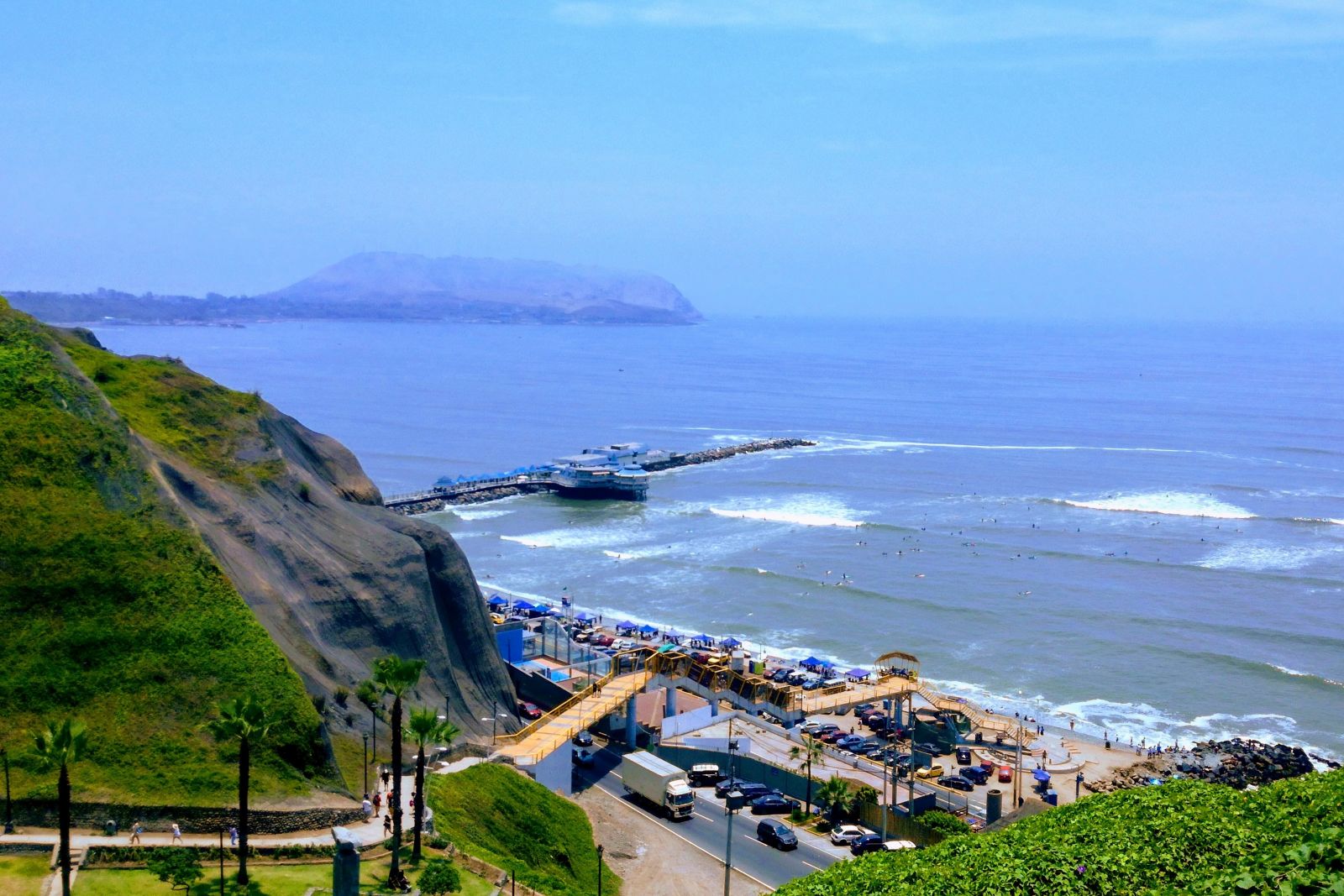 Lighthouse where we have met with our CouchSurfing host Mauricio.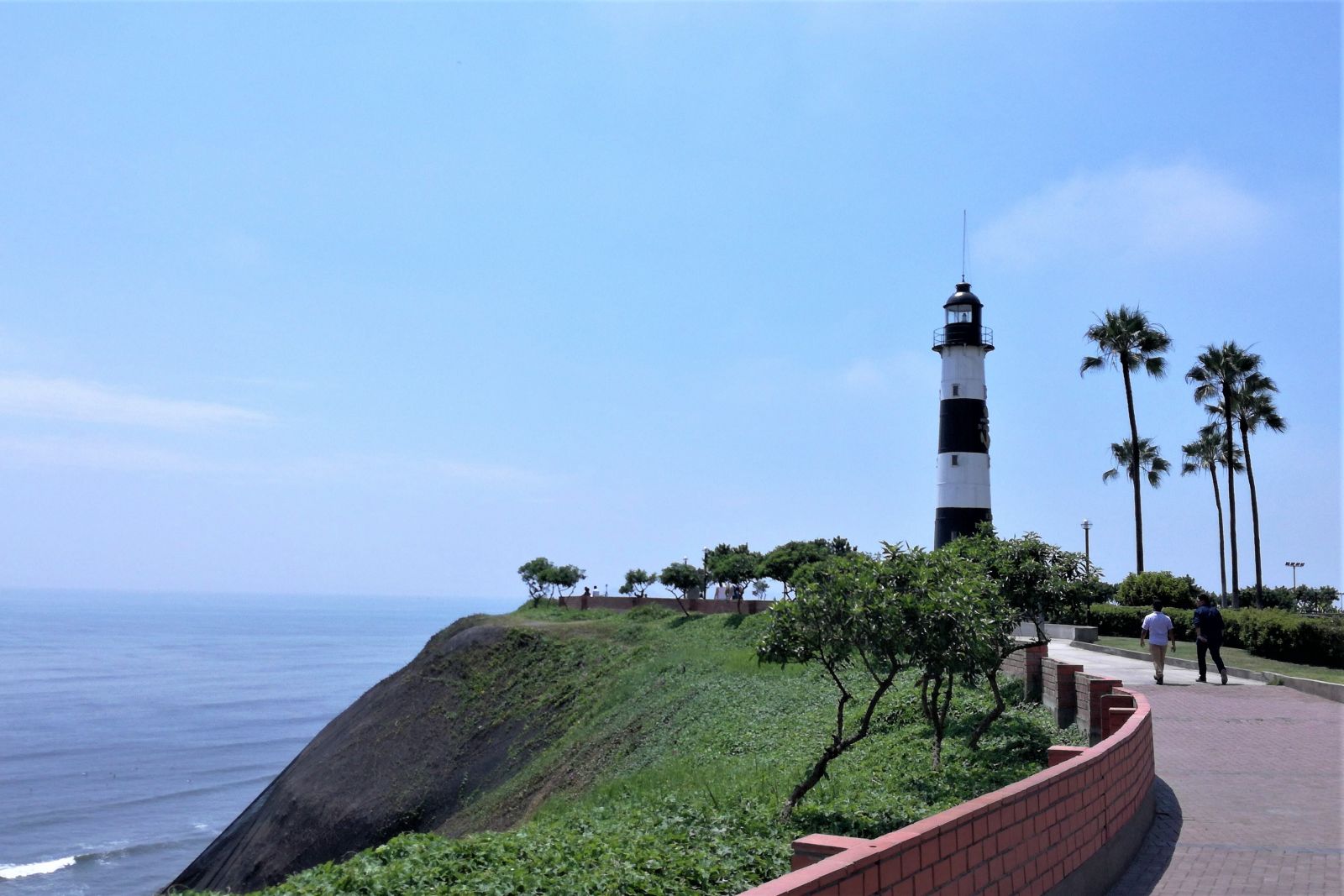 Barranco - a bohemian place to be
Barranco is the center of the bohemian lifestyle, full of hipster's bars, cafes, and hostels it is definitely a place to be. We have spent one evening here with Mauricio and his German guests, walking around a bit and then going to a Chifa – very common Chinese-Peruvian restaurant. (In Lima is now 1 million Asians, and they make a great part of the culture mixture). Barranco is definitely a place I would like to discover more if I ever come back to Lima.
One of the cool hipster bars in Barranco.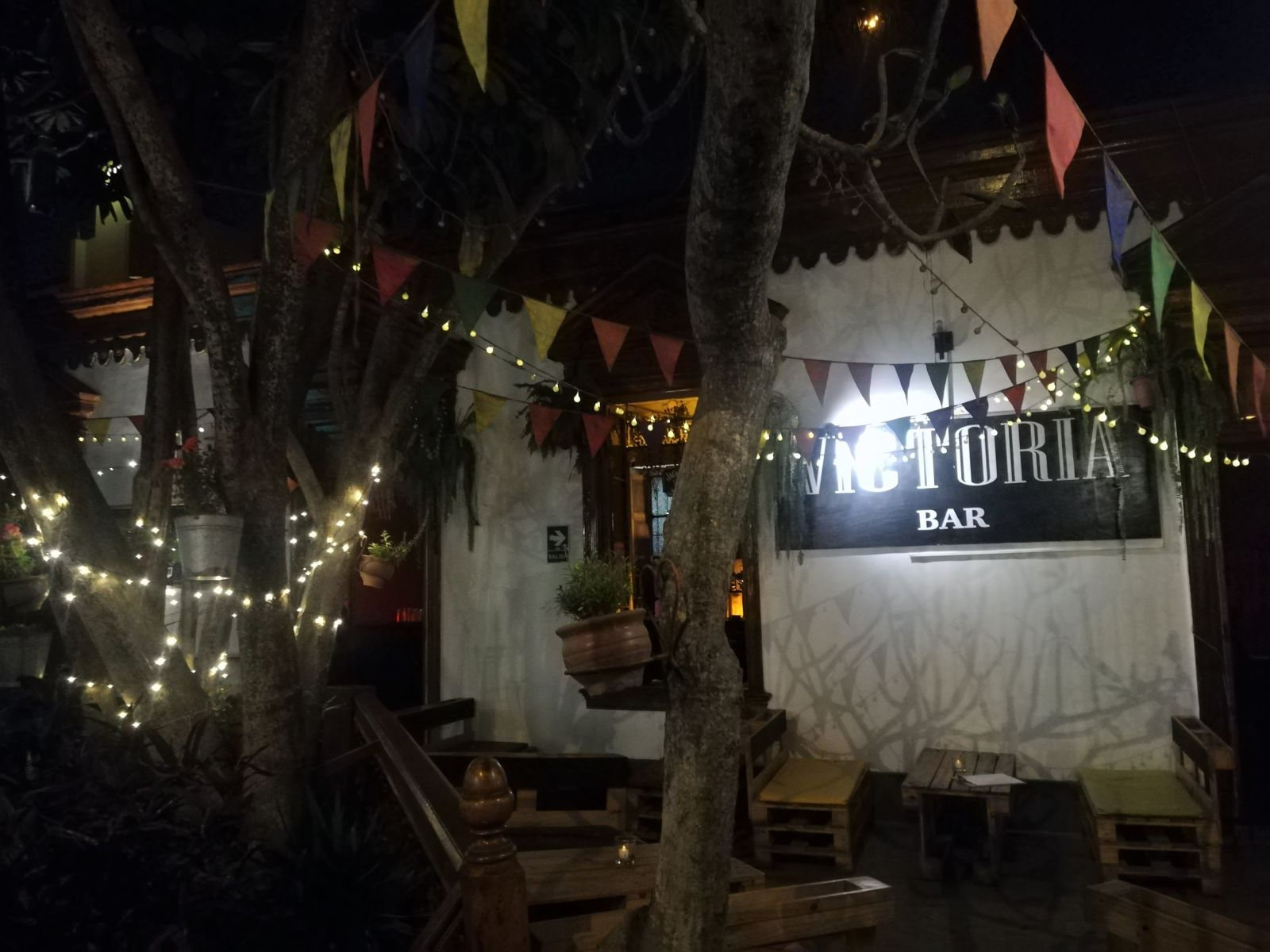 Restaurant with live music by the coast.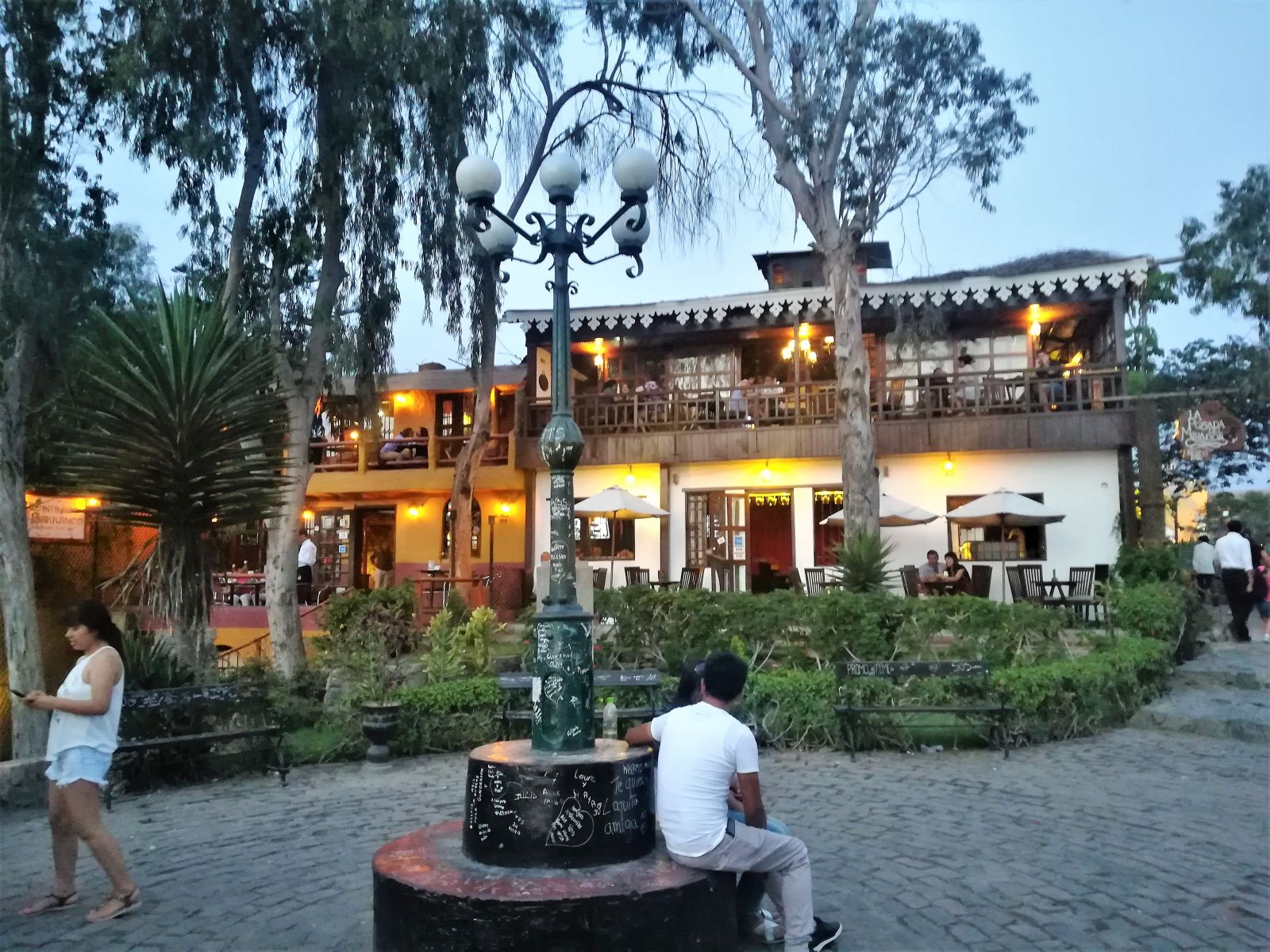 Street art in Barranco.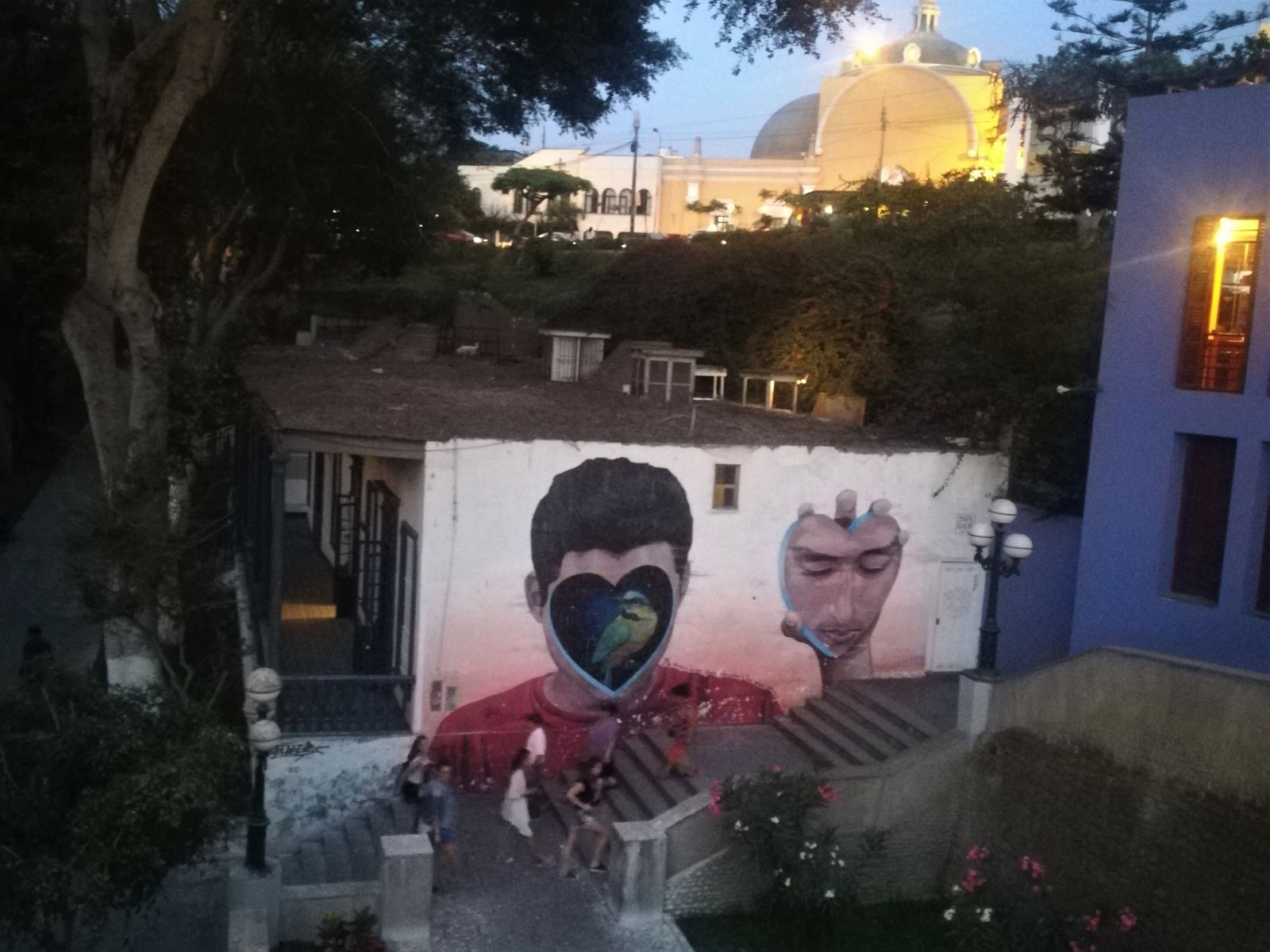 Surco - the residential paradise
Surco, a neighborhood where we stayed 5 days at Mauricio's places and where we were also searching for the car (you can read about it here) is a nice residential neighborhood with clean streets and beautiful parks. The residents of Surco even pay 2 soles (0,5€) a month to keep their parks nice. Being far enough from the coast not to attract tourist and pickpockets, but close enough to get some fresh air from the ocean, it really is a perfect place to live. Though view on the slams on surrounding hills is a constant reminder of brutal reality.
"I live in a bubble", admits Mauricio, who is also explaining us, why the tall wall was built between the rich on the hill and the slams. "The rich were here before, poor people starting coming like 20 or 10 years ago with a vision of better life, first everything was OK, but then the robberies started, so they have built the wall. Maybe cruel but true reality, the rich just want to protect what is theirs."
One of the beautiful parks in Surco.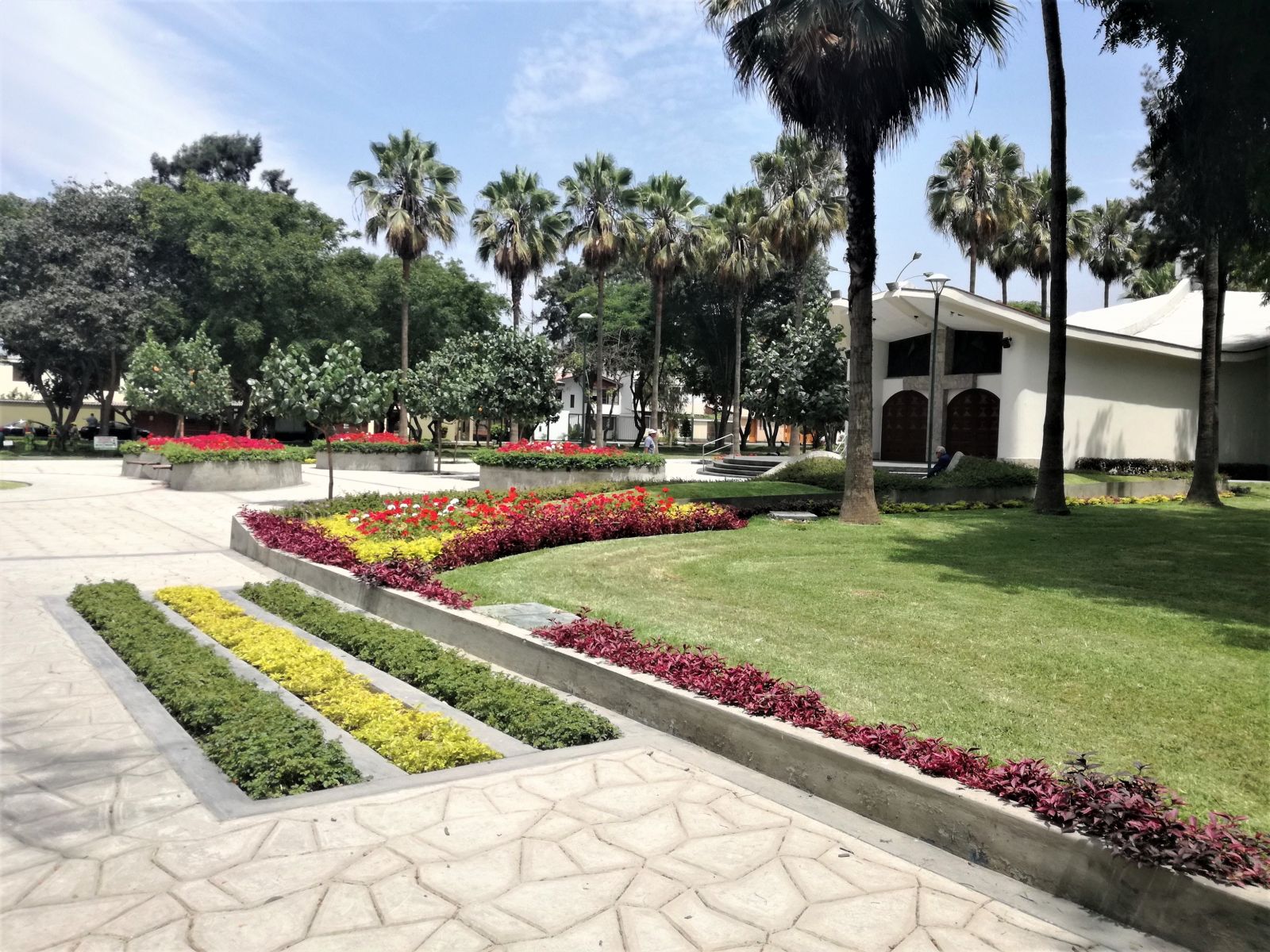 Park Ecologico Loma Amarilla with a view of the whole Surco neighborhood.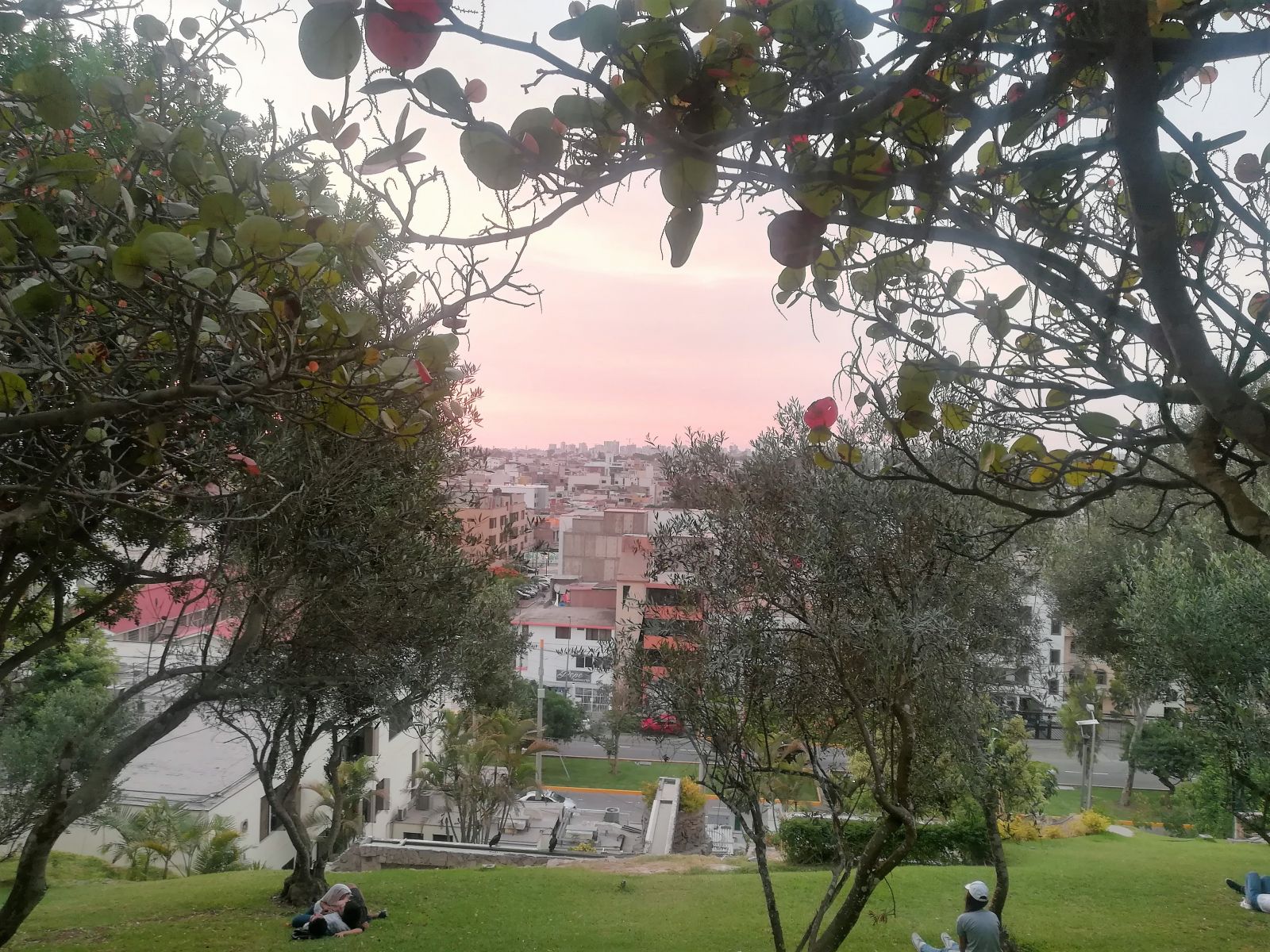 We came just in time for a beautiful sunset.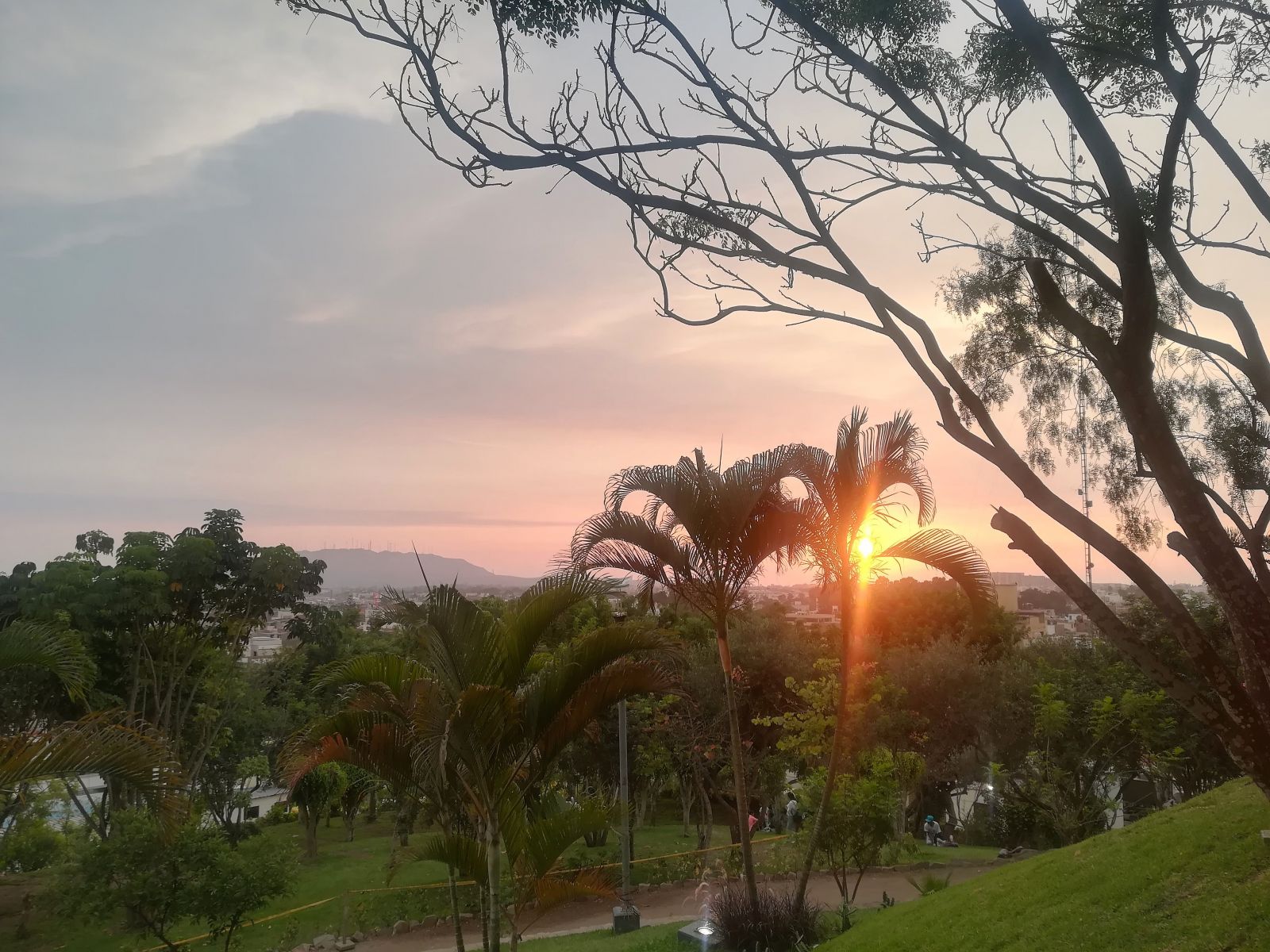 San Isidro – place with beautiful houses and security wires
One of Lima's richest neighborhoods and bank districts, we went here to visit the Czech Embassy so I could give my vote in our presidential elections, then we took a walk towards the coastline to see another beautiful sunset. Just from looking at cars and houses in this neighborhood, you can tell people might not even know what poverty means. But same as in Surco, houses are protected by walls, electrical wires and sometimes even video security – may be a heritage from past years, maybe a justified reason because of a bad experience.
Walking through many beautiful parks, where blond children of diplomats and foreign bankers were playing, we got to the coast just in time to enjoy the sunset. Looking down on the coastal road, you can see exactly where San Isidro ends and another, poorer neighborhood, starts...
The visible difference between San Isidro and another neighborhood.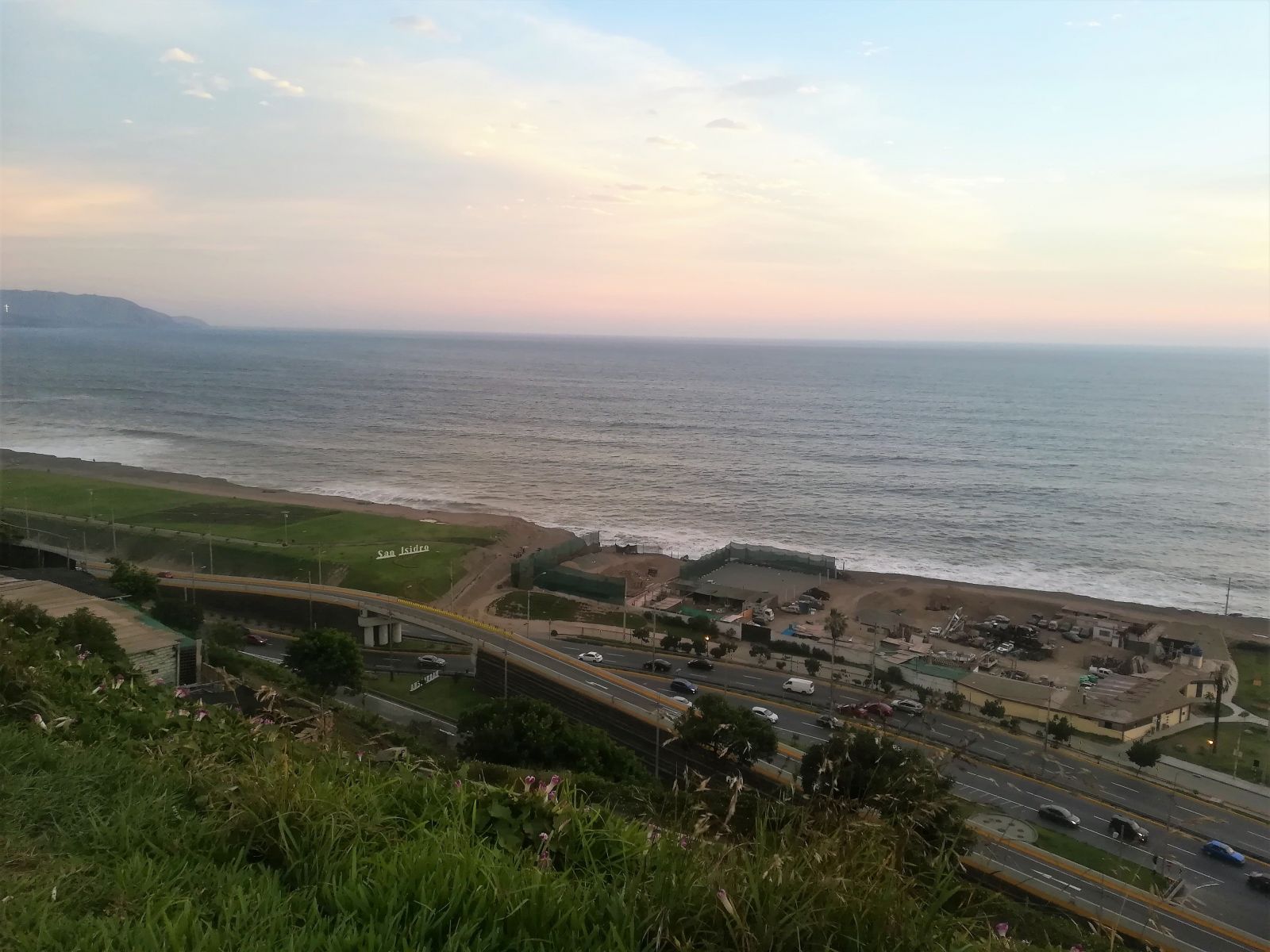 Beautiful houses and expensive cars in this neighborhoods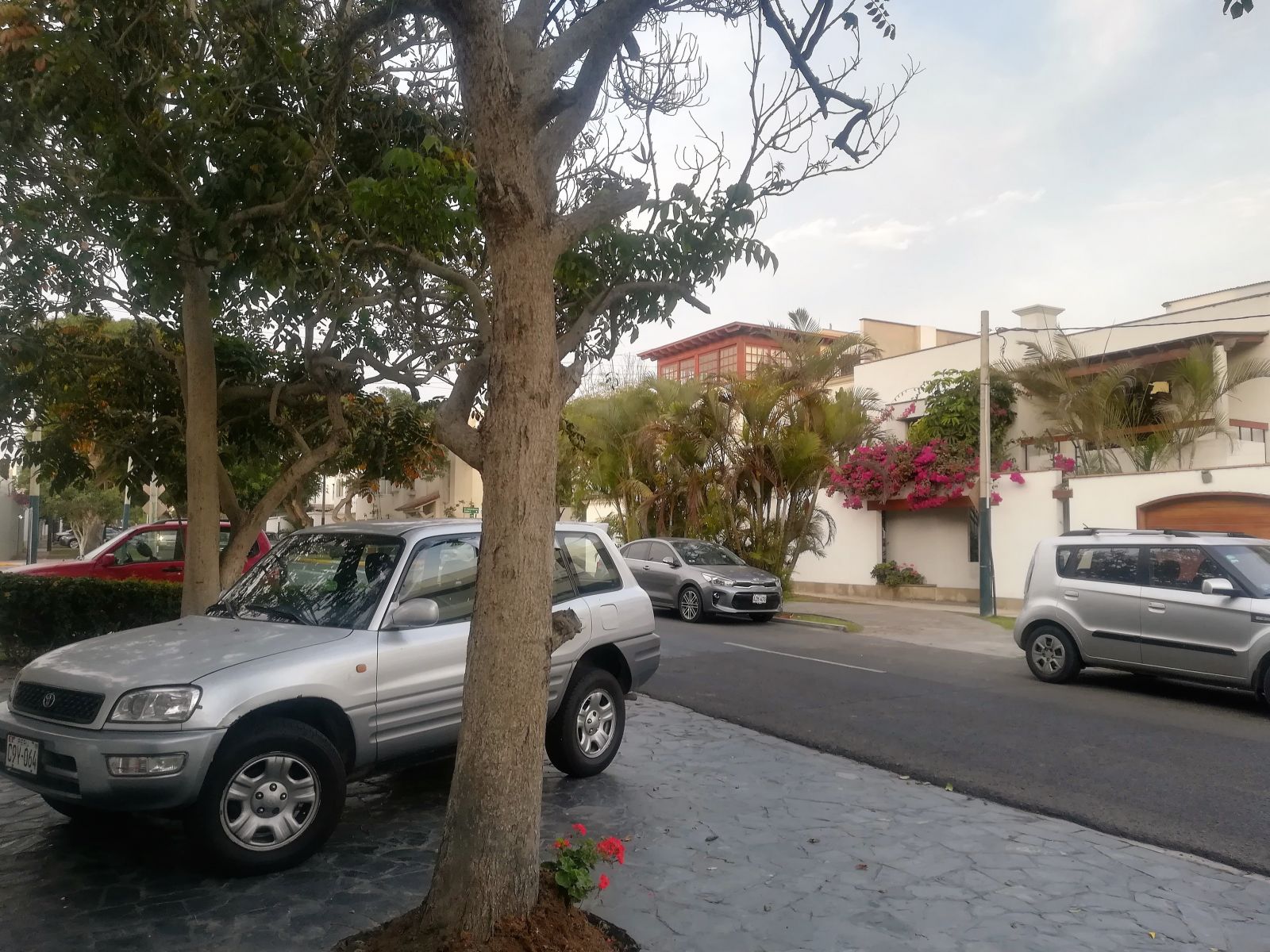 Our opinion? Beauties of big cities are not for us…
As beautiful as Lima and similar big cities might be for many, we both agree it is not the right place for us and that we will try to avoid capitals on our travel. At least most of the time, we will try to stay in less touristic places admiring beautiful South American nature.
Check the photo gallery from Lima here >>
Lima, the city of many faces