Chile
San Pedro de Atacama – all in one wonders of South America
May 25, 2019
My thoughts and feelings of Sand Pedro de Atacama are very mixed. It's been recommended to us by so many people and it truly is an amazing nature phenomenon. Yet, I would hardly put it on the list of my favorite places in South America. Why is that? Read more in this article.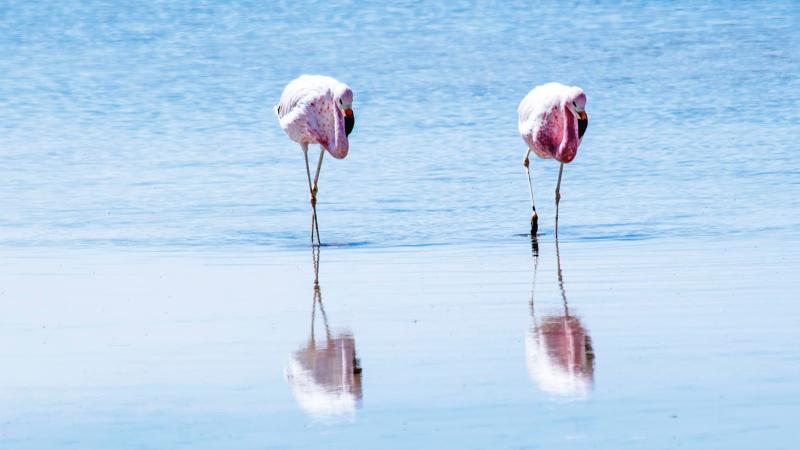 You have to visit Atacama desert
It's amazing! That's what I've heard multiple times when I spoke to people about our plans to travel through South America. Without any further research, I've put San Pedro de Atacama on my travel list and surprisingly enough, our path truly took us there. After spending several weeks in Salta in northern Argentina, we've headed towards the Chilean border to visit this place so many travellers were talking about.
As we often did, we didn't book any accommodation in advance, after all, we've only planned to spend a few days there. That was the first mistake, actually, two mistakes. We should have booked accommodation in advance, we should have planned more days there and most importantly, I should have googled what to do in San Pedro de Atacama. Cause there are so many things to do…
Gallery
No time to read it now? Pin it to read it later
The joy of booking a tour in San Pedro de Atacama
Not only there is an enormous number of things to do in San Pedro de Atacama, but there is also an enormous number of tour agencies and an unbelievable crowd of tourists – and we were visiting in October, the shoulder season!
San Pedro is a small chilean town at the borders with Argentina and Bolivia. It's basically a village, which lives only from tourism. All the buildings there are low and built from concrete, mud and sand. Sand is also on the ground – there is no asphalt or pavement. Streets are made for everybody – people, cars, dogs, street sellers... and they are full all the time.
Gallery
When we've arrived, we went to take a walk to the centre, to find a place to eat with Wi-Fi and check the hostels around. Immediately tour agents started to jump at us, offering tours – 3 for this price or 6 for that prices. When we shook one off, there was another one waiting at the door of the next building… we rather quickly hide off in one pizzeria (and luckily it had a Wi-Fi, which as we found out later, is not a standard in San Pedro)..
Soon we found out, it was not gonna be easy to find a place to sleep – everything was booked or abnormally expensive. I mean, we've just arrived from Paraguay and Argentina, where we paid maximum 30$/night, here it was more than double! Eventually, I made my peace with the prices, we booked a reasonably nice room without a window near the centre and went out again to check the tour offers.
Finding the things to do in San Pedro de Atacama
The plan was to visit a few tour operators, to see what options we have and which places we can visit on our own. I really didn't make any research in advance. I had a few tips from a friend from Santiago de Chile about some must-visit places, the rest I left to the agents to tell us.
It wasn't a big surprise when we've realized, all the agencies offer the same things for very similar prices. Some tours were half day, some were the whole day and all agencies offered individual tours or combined packages of more tours for a special price.
The only thing left was to pick the ones we will do and to choose, where we will drive on our own. As it turned out, we did an exact opposite – booked tours to places easily accessible by car and drove to places which were better to visit with a tour.
Gallery
San Pedro de Atacama - what to do on your own:
High altitude lakes Miscanti and Miniques
Salt lake and Piedras rojas (Red rocks)
Laguna Chaxa and flamingoes reservation
Atacama salt flats and Ojos de Salar
Valle de la Luna (Moon valley) a Valle da la Muerte (Death valley)
One day hike to Cerro Toco (5604 m) - if you have experience with similar hikes
San Pedro de Atacama - what to do with tour guides:
Two days hike to Licancabur volcano (5920 m)
Stargazing tour
Hot springs and laguna Cejar
Sunrise at Tatia geyser
Multiple day trip to Salar de Uyuni in Bolivia
Morning ride to high altitude Lagunas
Our first day in San Pedro de Atacama, we headed on an organized whole day tour packed with activities and 4(!) places to visit. Together with us, there were another 10 people, which was a relief as we were not a terribly big group. When we were booking this tour though, we haven't realized, that lower price with many places to visit comes hand in hand with very little time in each individual place. Luckily, that was the only thing which was bad about this tour…
Our first stop was at Lagunas Miscanti & Miniques (both over 4000 m elevation). 30 minutes on a really nice asphalt road, with few last kilometres on gravel, before we arrived at the entrance and I started to regret that we didn't take our car. For a small fee, we've entered the protected nature area and past Miscantes lake to arrive directly to Miniques lake, where we had a snack and listened to our knowledgable guide telling us interesting facts about nature there. We were not allowed to go nearby the lake shores, as some endangered birds were nesting there, but it was not needed, because the views around were more than enough.
Soon, we left towards the entrance again and made a short stop by the Miscanti lake to take photos. I was really sorry we didn't have more time there to walk around as other tours, especially as there was a perfect photo spot with a view at the Miscanti and Miniques mountains we've just past by, but there was still a lot ahead of us and not much I could do about it…
Gallery
Spectacular view over Piedras Rojas
Our next stop was famous Piedras Rojas nearby the Argentinian border. It was probably another hour on a really nice new asphalt road, which was built just a few years ago and a reason, why Piedras Rojas is no more available to walk at and the access to the lake was limited. Why? This area is extremely windy and one silly tourist simply decided to go kite surfing on the salt lake. Of course, the locals, for whom the lake is sacred, didn't like it, and restricted the access to it…
It's a pity, this red volcanic landscape, which gained its colour from oxidation of the iron, is truly mesmerizing. I saw many photos of people walking on the stones and on the shores of the lake. Not sure, if those are individuals not realizing that this sacred place is not meant to walk at, or older photos from days, when the road was bad, visitors were scarce, and the access was still possible…
Gallery
Flamingoes & Laguna Chaxa
If you are dying to see a life flamingoes, San Pedro de Atacama is the place to be. Just 65 km from San Pedro de Atacama and our 3rd stop on the way back from Piedras Rojas was the Flamingo nature reserve and Laguna Chaxa. Three out of five flamingo species can be spotted at this breeding station and though we've already seen many flamingos during our year in South America, never we've seen so many of them at one place.
Luckily, I've had my zoom lens with me and long 45 minutes to make as many photos as my heart desired. And they were merily posing – flying, standing, walking, showing the beauty of their feathers from all angles possible. The Andean flamingo with black wings is the rarest among all of them. Besides those, there is also Chilean and James flamingos, which are a bit harder to distinguish between.
Gallery
Atacama Salt flats & Ojos de Salar
After lunch in one local restaurant, our last two stops on this tour was the Atacama Salt Flats and sinkhole, where the bravest ones could jump in. Now, if you imagine similar Salt flats as we've visited in Uyuni or northern Argentina, you are wrong. Here is no driving on the salt fields, making funny photos or camping, the Atacama salt flats is a protected nature area with many protected bird species including flamingos, but that doesn't make them less spectacular.
At the Flamingoes breeding station, we could walk around and besides admiring the beauty of these pink birds, we could also admire the view at the surrounding mountains and volcanoes. It was hard for me to leave this place and continue on the tour towards the sinkhole, and I couldn't wish more to be independent on this trip instead of taking the tour… I was 5 minutes late for our ride back and was talked down like a 5-year old, which didn't make my mood any better.
The fact that just 10 minutes later we've arrived at Ojos de Salar, 2 sinkholes with icy cold water where we could jump in and wash of the desert dust did cheer me up a bit though. I don't think we would find this place on our own, so kudos for that at least.
These 2 sinkholes are really interesting. Two small, perfectly round, freshwater lakes that open up seemingly in the middle of nowhere are of unknown depth and connected somewhere on the bottom. And they grow wider every year, still keeping their perfectly round shape. From the air, they look like eyes – hence the name "the eyes of the salt flats".
For me, it was a great challenge to jump in, I'm not exactly a water lover and the thought of unknown hiding deep inside is very frightening to me – especially since I knew, it's connected with the other lake and who knows how deep…
Gallery
Visit the Moon Valley and the Death Valley
San Pedro de Atacama is a small town lying in the Atacama Desert – hence the name. It is also the driest place on the Earth. There is a place nearby called Valle de la Muerte - the Death Valley where you could place a coffee mug and it wouldn't fill with water in hundreds of years (not counting in the evaporation). Though this year, it was raining there and it was a big flood catastrophy – somebody still wants to argue against the climate change we are going through? (Read more here or watch on YouTube about the floods in San Pedro de Atacama 2019)
Anyway, right next to the Valle de la Muerte is the Valle de la Luna – the Moon Valley. If you think it got its name because it looks like on the Moon, you are right. This place is so close to the town San Pedro de Atacama, that you could literally walk there, the entrance is approximately 8€ and includes also the viewpoints alongside the main road. Somehow, we've managed to visit it for free…
Our second day in San Pedro, I went to splurge to a spa&massage centre, and in the afternoon we decided to do some more splurging in the hot springs around 70 km from the town. What we didn't know though was, that the hot spring place closes at 4 p.m. and that the road there is absolutely terrible.
After 15 minutes when we covered very little from the total distance, we simply turned around and decided to visit the Moon Valley instead. And as we saw a sign to the side road, we simply turned there and thought we would visit it from the other side. Soon we arrived at a closed gate… What did we do? Parked the car and went for a walk to the desert. Totally worth it if you ask me – nobody around and we had the whole Moon just for ourselves.
Gallery
One day hike to Cerro Toco
The last day in San Pedro de Atacama, we decided to do some hiking on our own. It must have been a one day hike, reachable by a small city car and doable without any special winter equipment (if you don't count warm clothes, we had plenty of those…). Primoz downloaded a trail on Wikiloc, and early morning we headed on the road. We parked nearby an astrological station at the altitude of 5100 m and bravely started walking towards the peak of 5600 m. Besides us, there were just two more cars parked a bit higher.
After already 10  minutes of hiking, I started doubting my decision to do this hike. Freezing wind and air so thin, I couldn't get enough of it. I was breathing deep, but it didn't help much.  One foot in front of the other, slowly, step by step. At such altitude, there is no place for speed records. The body is producing more red cells, blood is getting thicker and it's necessary to stop often to drink to avoid a headache. No matter how slow I walked, my heart was racing and I was breathing like I just sprinted 200 m.
During such hikes, we don't talk, but there's plenty of time to think. Many thoughts were sneaking in my head, but there's one repeating more often than others - why am I doing this again? Luckily, there was not much time at this hike to come with an answer of deeper meaning - in 1,5 hours, we were already on the top, and the simplest answer arrived - I do it for the pictures :-D.
Gallery
Two days hike to Licancabur volcano
Licancabur is the volcano majestically rising above San Pedro de Atacama, right at the border with Bolivia. With altitude 5920 m it would be a nice collection to our high altitude hikes. But after already spending a fortune in San Pedro de Atacama, we were not ready to pay another 160$ for this 2-days hike and didn't have the equipment to do it on our own. Therefore, this time we were only enjoying the view at it from below, and from the top of Cerro Toco.
During the sunset, Licancabur gets nicely enlightened by the falling sun, and there is a nice spot to enjoy it nearby the town on the road towards the Moon Valley. I also managed to catch the sunrise here – huge effort to get up. Though I must admit it was a bit disappointing and definitely couldn't beat the beauty of the sunset…
Gallery
Other things to do in San Pedro de Atacama
As I mentioned in the beginning, I was sorry I didn't book accommodation in advance to find it for a better price and longer time, cause there really is a huge number of things to do in San Pedro de Atacama. Here are a few from those we didn't manage to do but wanted to:
Sunrise at the Tatia geyser
This one was especially hard to miss, as I'm sure I could have done some really amazing photos there. Though the fact, that the geyser was 3 hours drive away and all the tours were leaving at 4 a.m. did make it a bit easier.
Puritama hot springs & Laguna Cejar
Yes, those we headed for before turning and visiting the Moon Valley instead. Puritama hot springs are really famous and crowded and laguna Cejar is a bit hidden, harder to get to and with much fewer people sweating in it. Its a lake with so salty water, you can float on it without any special effort. 
Gallery
Stargazing tour
Atacama desert is a place with the clearest sky in the world and home to a numerous astrological stations (including NASA). Therefore, stargazing tours are very popular in San Pedro de Atacama. We have booked one for the very first night, but it was too cloudy and the tour was cancelled. Unfortunately, it was cloudy for the next two nights too and we couldn't wait longer and got a full refund of the tour instead. I was really sorry. I was looking forwards to do some really cool night photos and the guide promised us even some photos of the planets out there with the telescope.
Uyuni Salt flats
Since Salar de Uyuni in Bolivia is right across the border, you can easily book 3-4 days tour there. It will be much more expensive than in Bolivia, but it will be definitely worth it. Salar de Uyuni is one of the places in South America, which will shock you with its beauty and one, you will never forget. For me, it's definitely one of the most beautiful places we've visited.
Gallery
Why is San Pedro de Atacama not my favourite place?
I realize after writing this article, that I am actually pretty excited about all the amazing places in San Pedro de Atacama. So why it isn't among my favourite places in South America? All the San Pedro attractions are truly beautiful, but after spending 10 months travelling through various South American countries, I got a feeling, that I simply saw it all before and didn't have to pay for entrances and tours.
All the tours in San Pedro de Atacama are attracting many tourists and I really don't like crowds. I rather don't go somewhere than having to share it with tenths and hundreds of other people. During our travels in South America, I've learned to appreciate more the local culture, peaceful views of nature, enjoying lunch in places where locals eat instead of chasing tourist attractions and splurging in some expensive and fancy restaurants.
Though if you only have a few weeks in Chile, San Pedro de Atacama is definitely the place, where you can see all the wonders of this special continent in a very short time. If you decide to visit Atacama dessert, you won't regret it. I sure don't.
Few useful things for your visit in San Pedro de Atacama:
It's a very touristic place so if you travel with limited budget book accommodation well in advance so you can get cheaper one with a kitchen
Finding a restaurant with a Wi-fi is quite rare
Many restaurants don't allow you to have just a drink without ordering some food
Prices are quite expensive, even for Chile – expect middle European-like prices in the restaurants and hotels 
It's a dessert, so the weather is good for most of the year, though with the climate changes of past years, it could rain there (February) and then there are floods – rather check the weather before you go
Though it's a dessert, it's at 3000 m altitude, meaning quite cold at night, but warm enough for shorts during the day.
Do you like this article or are you planning on visiting San Pedro de Atacama? Pin it to your travel destination board to access it later >>
San Pedro de Atacama – all in one wonders of South America