Peru
8 amazing things you should do in Ica, Peru
February 10, 2019
On the way to Machu Picchu lies a city Ica. What to do there besides visiting the famous Huacachina lagoon is no-brainer and we could easily spend here a whole week, exploring Atacama desert. Also, did you know that here lies one of the oldest wineries in Peru called Tacama? Ica surely has a lot to offer to every nature and wine lover.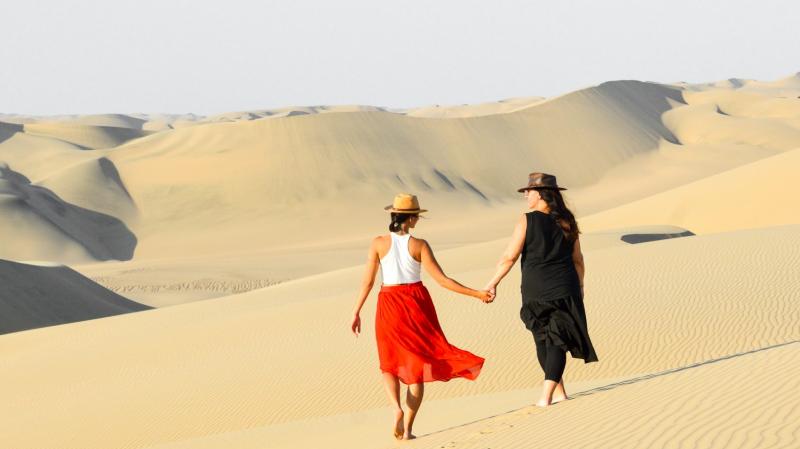 Where is Ica?
The city of Ica lies 5 hour bus ride from Lima. It lies in the region of Atacama dessert and it is a popular destination of Limenos, as well as other tourists who come here to admire beauties of Huacachina oasis and Paracas natural reservation. From Lima, it is quite easy to get here, as several companies run frequent buses, the same buses you can then use to continue your way to Machu Picchu.
#1 See the magic of Huacachina lagoon
Yes, the truth is that Huacachina lagoon is definitely the biggest reason people are coming to Ica. What to do here is quite easy to say – you can go for a walk to the desert, have a drink in one of the many bars and restaurants or enjoy a wild ride on dune buggies or sandboards – the most popular activity here. While the oasis is quite beautiful and photogenic, its glory of past decades has now faded and unfortunately, as is often in Peru, trash can be found everywhere – on the streets, in the water and even on the sand dunes.
We came here on Friday evening, hoping to have few drinks and find some party. If nothing else, we were hoping for scattered groups of backpackers drinking beer by the pond. To our surprise, this place became a ghost town in the evening. Well, we still enjoyed some pisco sours on one of the rooftop bars while watching the sunset over palm trees and sand dunes... 
Gallery
#2 Discover fossils and the lost Canyon de Los Perdidos
Canyon de Los Perdidos is a newly discovered canyon in Atacama desert, and it literaly means "the lost canyon". Our host born and raised in Ica offers besides accomodation also amazing tours to this canyon, so when Luis from Waranqu offered us the tour to Canyon de Los Perdidos in his jeep, we didn't think about it twice and said yes. Our 3 hours drive started on Sunday morning and because Luis spent hours in the desert as a young boy, instead of driving directly to the canyon, he was showing us all the interesting places, we otherwise wouldn't see. Including some amazing huge fossils!
When we have arrived to the Canyon de Los Perdidos, I couldn't believe my eyes – I have never seen anything so beautiful and magnificent in my life. The fact that beside us there was absolutely nobody else was just a little addition to otherwise perfect day trip. If you are planing your trip to Peru, I highly recommend you to book the tour to Canyon de Los perdidos with them, you can do so on their website Waranqu. Don't forget to mention Czick on the Road during your reservation, to get 10% off of accomodation and all dessert tours.
Read more about my experience from the tour to Canyon de Los Perdidos
Gallery
#3 Go sunset watching and photoshooting in the desert
As we've enjoyed our stay in Ica so much the first time, I couldn't but take my whole family there the next time we visited Peru. And as I was singing glory about our stay in Waranqu BnB and their amazing hospitality and desert tour to Canyon de los Perdidos, it was a clear choice for our second stay as well. This time Luis has surprised me with a more various offers of desert tours and I was a bit sorry, I've only booked a couple of days with them. The first day we headed to the desert to watch sunset. You can see many tourists climbing the highest sand dune next to Huacachina Oasis to enjoy the spectacular colors of the desert sunset, with Luis, we had the advantage of escaping the crowds to the unspoiled part of the desert  - 1 hour drive from the city. First we walked barefoot for about 30 minutes on the dunes, then we found a nice spot and did photoshooting there and finally we enjoyed the scenery of the falling sun over many kilometers of pure desert. 
Gallery
#4 Enjoy solitute at abandoned beaches of the Pacific ocean
Plan for the next day was to go to see the Canyon de Los Perdidos again with my family, but instead Luis has offered me a very unique experience - riding 70 km through the desert to the isolated beaches of the Pacific ocean - how could I say no. It sure was a long ride, but it was totally worth it. Sometimes we felt like drivers of Dakar race (which btw took place in Ica in the beginning of 2019). When we've arrived to the beach, we found a hidden spot among the rocks to hide from the wind and had a little picnic with a snack and pisco sour, then walked around watching the peculiar animals you can only see at abandoned beaches - crabs, starfish and other little creatures. After a while, we headed back towards Ica and stoped at a few places with interesting millions years old fossils.
Gallery
Book your tour to the desert with Waranqu with 10% off
here
#5 Fly over Palpa and Nazca lines
Flight over Palpa and Nazca lines is another nice one day trip from Ica and there are several companies offering the flight tours. But as Primoz is not a big fan of flying, and we were on a bit tight budget (flights cost usually around 120 USD), we have only seen a few of the lines while driving south on Panamericana Sur. There is now a bettter look-out tower being build on Panamericana, which is a few meters higher, and it's actually not that bad, though definitely so magnificent as from the air. If you decide to go flying, be careful choosing the company and don't go for the cheapest one, there are some horryfying stories circling around. If you are staying in Waranqu BnB, they can also help you to book a reliable and safe tour company for your flight over Nazca lines.
Gallery
#6 Watch sea lions and penguins in Paracas National Reserve
The original plan was to make a one day trip to Paracas from Ica, as it is an only 1h drive, but when our friend Mauricio said he is coming to camp there with his Chinese friend Dina, it was more than clear we want to be there as well. The first day we took a boat trip to Islas Ballestas. A small catamaran first took us along the coastline to see the Candelabra – ancient geoglyph of unknown meaning, then to the islands, 25 km away from the coast, where we could admire sea lions colonies and loads of birds including pengins – oh men the smell of the bird poop was terrible. We have also spent one night and one day in the Paracas National Reserve, with beautiful views of the ocean and flamingoes' lagunes.
Read more about our visit of Paracas and Islas Balestas
Gallery
#7 Taste sweet wines in the wineries in Peru
I don't consider myself a wine connoisseur, but being from the wine region of the Czech Republic, I always like to visit wineries when traveling through wine regions. And Ica region claims to have the first winery in South America as well as the best wineries in Peru. Thanks to the sunny climate of this region, wines here are naturally sweeter, and we could try that for ourselves first in a small Picasso family winery (entrance admission of 5 sole, 3 samples), then in the biggest winery in Peru called Tacama (entrance admission of 10 sole, 3 samples).
Tacama claims to be the first winery in South America and it's one of the many wineries in Peru to which you definitely have to pay a visit. Ica has of course much more wineries than this one worth visiting, but here you can besides tasting the delicious wine also lay your eye on a beautiful colonial architecture and learn a lot form the historry of this region (sepparate tours for the price of 60s). We also went to a Pisco Tour (free of admission), where we learned a bit more about how pisco is made and tried 9 different samples there. Yes, we were quite drunk after that so I highly do not recommend driving here but hiring a taxi driver instead - Waranqu can help you with that too.
Gallery
#8 Enjoy a day by the pool
One of the highlits of our stay in Ica and the main reason I like to go back so much, is the Waranqu BnB where we've stayed. Beside the family feel and hospitality these guys offer, they also have a pool and great garden, where you can unwind and absorb all the experience you lived through in Ica. Especially in the summer (December to Mach), when the temperatures in Ica are pleasant and you can enjoy sunshine all day long, it is the best stop you can make after or before visiting the higher and colder places in Peru such us Sacred Valley, Huascaran National Park or Colca Canyon. So take an extra day in Peru and enjoy your vacation like you suppose to - with legs in the pool, sun over your head and pisco sour in your hand. Don't forget to mention Czick on the Road during your reservation, to get 10% off of accomodation and all dessert tours.
Gallery
Book your stay in Waranqu BnB Ica with 10% off
here
*Waranqu BnB is a small family business which strive to help travelers to know the true beauty of Ica region. Though I have received a compensation for writing this article, my opinion of Waranqu as the best accomodation and tour guide in Ica is honest and I would recommend it to other travelers also without any received benefits.
Do you like this post about what to do in Ica? Pin it to your Pinterest travel board >>
8 amazing things you should do in Ica, Peru