Slovenia
Kranjska Gora and Julian Alps - places to see
June 28, 2020
Kranjska Gora and the Julian Alps are one of the best places to discover Slovenia. All year round it's full of foreign tourists and also Slovene mountain lovers, mostly to enjoy the beautiful nature of Triglav National Park and the famous hikes within it. Read about places you shouldn't miss when visiting Kranjska Gora…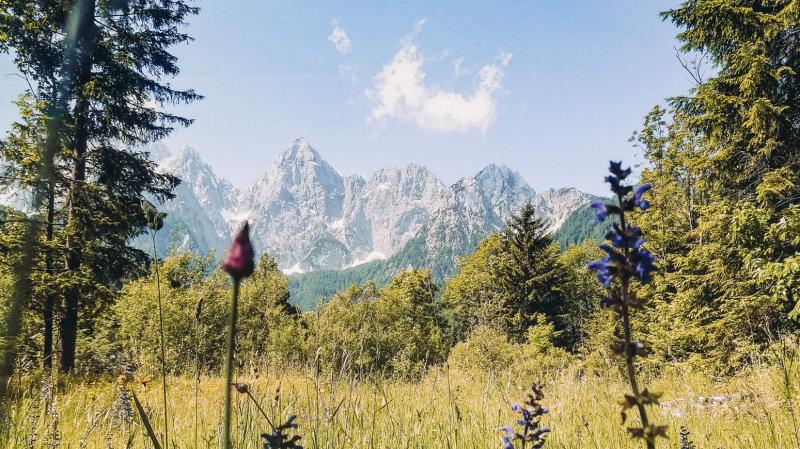 Kranjska Gora is a small mountain town in Slovenia surrounded by the Julian Alps, and it's the best starting point for many hikes in Triglav National Park and also for a hike to the Slovene highest mountain Triglav (2864 m).  If you love an active vacation, Kranjska Gora is an ideal place for you. You can go biking or mountain biking, take a hike in the mountains, conquer the highest Slovene mountain or simply enjoy the beautiful nature and views on various easy walks in the valleys and woods of the Triglav National Park.
Hiking is a well-developed sport in Slovenia since the late 19th century. At that time, the first mountain huts and ski slopes were built. Hiking paths are well maintained and marked, so it's very easy to go on a self-guided hike in Slovenia. Still, you should be aware of your surrounding, be well prepared and equipped and always let somebody know where you are going - sudden storms or thick fog in the high mountains have surprised and lead of the track also well-experienced hikers.
Even though you might not be an extreme sports enthusiast, Kranjska Gora is a great place to enjoy with family and kids too, as it offers rich cultural and historical background, natural beauties, waterfalls and lakes and easy hikes to the mountains or walks in the valleys - read more about all the things to do in Kranjska Gora bellow.
Gallery
Kranjska Gora a Julské Alpy – tips for trips around
Julian Alpa Slovenia - cultural and historical places around Kranjska Gora >>
Julian Alps Slovenia - nature and interesting places around Kranjska Gora >>
The most beautiful hiking paths in the Julian Alps - easy hikes  >>
The most beautiful hiking paths in the Julian Alps - demanding hikes  >>
If you are unlucky on the weather, you can still enjoy a visit to local museums and other historical and cultural places. What to do in Kranjska Gora when it rains:
Russian Chapple in the path to Vršič - wooden chapel built in the First world war by Russian prisoners.
Slovene mountain museum in Mojstrana – an exhibition of the history of Slovene mountaineering 
Liznjek and Kajžn house – typiccal slovene houses adn etnographic museums in Kranjska Gora adn Rateče.
Ski center Planica – the center of ski training s and also a place of the international championship in ski jumps. There is also a museum, restaurant, and zip line. 
Alpen village – is built in the winter in Christmas times, it's a beautiful Christmas market with local products sold in beautiful small wooden houses. 
Gallery
There are many easier hikes around Kranjska Gora, for which you don't need special equipment or hiking stamina. The beautiful nature of Triglav National Park and the Julian Alps can be enjoyed on every step you make. Here are a few trips around Kranjska Gora, to enjoy with your family:
Peričnik waterfall
One of the highest waterfalls in Slovenia. It has 2 parts - the bottom one is 52 m high ad is approximately 20mminutes walk from the road (steep forest path). You can also walk behind this waterfall and enjoy really beautiful views and a slight shower, be careful though as the path is very slippery. The upper waterfall is smaller, only 16 m high and you will need to do some more steep hiking (15 min), but it's also very beautiful and you will have more peace and quiet up there. 
You can head to this waterfall by foot, by bike or by car from Mojstrana (parking is very small). By the road is also a small mountain hut for some refreshment. The road from Pericnik waterfalls continues to mountain hut Aljažev dom in Vrata Valley, where many demanding hikes start. Therefore, the visit to this waterfall can be combined with some whole-day trip to the mountains. (Kriški podi, Razor, Škrlatica, Bovski Gamsovec, Križ, Triglav…)
Martuljek waterfalls
This beautiful half-day or whole day trip to Martuljek waterfalls will excite all nature lovers. It starts at a small parking spot in Gozd Martuljek village (turn by the bridge) and to the first waterfall, it's maybe 1 hour of slow and easy walk on a nice forest path. The whole time you are following the Martuljek river and can enjoy the view of other small waterfalls and high rocks around you.
The second waterfall is another hour of walking, this time on not very well maintained and marked path, which elevates all the way up to 1150 m. It's physically a bit more demanding and you need good shoes, but no other special equipment is necessary. The last few meters to see the waterfall, you must climb some rocks, but the path here is secured by iron steps and ropes. Then you cross a small bridge and get ready to stay breathless. There is also a way to get right under the waterfall, it's short but comparable to mountain ferratas, therefore, I don't recommend it to people without climbing experience. The view of the waterfall better from the bottom anyway...
Gallery
Zelenci lake and Nature reserve
Beautiful Zelenci lake is located right by the Podkoren village, there is small parking from which leads a short path through a low forest (10 min). The lake is a part of the swamp nature reserve and is home to many birds and plants. Its typical green color comes from springs of fresh cold water streaming from many layers of chalk-stone.
This little lake doesn't freeze in the winter, it has a constant whole-year temperature of 6°C. You can admire the views of the lake with mountains in the backdrop reflecting on its surface from a wooden bridge and a small viewing tower. It's forbidden to swim in the lake due to fragile natural habitat!
Jasna lake
This artificial double lake on the way to Vrsic pass is an ideal place to rest after a day full of activities. The water is very cold, but also refreshing during hot summers. You can walk around the lake, rent a SUP board, or jump into the cold water from a three-storage tower. There is also a massage path and a bar where you can enjoy a drink or an ice-cream. 
There is big parking by the lake, which is though usually full. You can also walk from Kranjska Gora on a path leading by the Pisnica river (15 – 20 minutes).
Gallery
Ajdovska deklica rock formation
One of the most peculiar artworks created by nature itself is located on the way up to Vrsic pass. The stone face "Ajdovska deklica" (Ajda girl) is visible on the north face of Prisank mountain (also called Prisojnik) and is best visible from the viewpoint at mountain hut Poštarska koča na Vršiču and also from the mountain hut Erjavčeva koča.
Legend says, that a pheasant girl Ajda forecasted a hunter to kill Zlatorog (a fable mountain goat with golden horns). Other Ajda women became mad about this prophecy and turned the poor girl into a rock. 
Biking path to Italy (to Laghi di Fusine)
A Biking path from Mojstrana or Kranjska Gora all the way to Italy and the beautiful Laghi di Fusina (or further) has replaced old trails and is therefore safely distant from the main road. There are rest stations and playgrounds by the path which makes it suitable for people of all ages. From Mojstrana to the lake and back it's only 53 km.
Gallery
Tamar Valley (from ski center Planica)
Tamar is a beautiful glacier valley offering amazing views at the surrounding mountains. It's easily accessible and therefore the most visited valley in Triglav National Park. This is a place, where many demanding hikes and climbs start, although just the walk from the parking in Planica to the mountain hut in Tamar is beautiful.
Park by the ski center Planica and head on the maintained gravel path twards the mountain hut Tamar. The path leads in the shadow of the trees and is very short (30 min - 60 min with little children). Next the mountain hut is a small playground and of course some refreshments too. Tamar Valley is suitable to visit all year round, also in the winter (small crampons might be useful).
Krnica Valley (from Jasna lake)
Another easily accessible valley in Triglav National Park is Krnica Valley. A gravel path leading from Jasna lake on the shores of Pisnica river (passing hotel Erika) will lead you within 1 hour to the mountain hut in Krnica, which is surrounded by breathtaking views at Skrlatica, Roglica, and Dovski Gamsovec mountains. Here you can also start for demanding hikes at Srlatica, Razor, and Prisojnik.
To prolong this short walk, you can head further to mountain hut Mihov dom on the road to Vrsic. There is a little elevation before you reach the mountain hut. You can then return on the asphalt road, making shortcuts through the serpentines. Count with additional 2-3 hours and be aware of the cars.
Gallery
Srednji Vrh (from Gozd Martuljek)
Srednji vrh is a little hill in Karavanke mountains, right above the village Gozd Martuljek. It offers amazing views at the Martuljek mountains, dominated by mountain Spik. You can reach this hill by car or walk on a forest path from Gozd Martuljek. 
Srednji vrh is a start point for several other hikes (Trupejevo podne, Vošca, …) though you can visit it just for the views and the amazing pictures you'll make here. You can also walk back to Kranjska Gora through grass and woods (marked walking path). A bit above Srednji vrh, on the way to Trupejevo podne, there is a small dairy farm Pr' Hlebanju worth visit. They have homemade cheese, milk, yogurt, and other local products.
Vršič mountain pass
Vršič mountain pass is a great place to admire the Julian Alps. It's a start point of numerous demanding hikes, but many people go up here by car or bikes just for the views and short walk around. Here are some short walks you could make:
From mountain hut Mihov dom to mountain hut Erjavčeva koča - 1 h 30 min
From mountain hut Mihov dom to mountain hut Koča na Gozdu - 45 min
From mountain hut Erjavčeva koča to mountain hut Poštarski dom - 35 min  
From mountain hut Tonkina koča to mountain hut Poštarski dom - 50 min
Gallery
Slemenova špica (1911 m)
Na Slemenovu Špicu vyražte z Vršiče (1h a 15 min) nebo z Domu v Tamaru (2h). Z vrcholu krásně uvidíte skokanské můstky v Planici a další vrcholy nad Údolím Tamar. Nejkrásnější pohled je od malého jezírka pod vrcholem na horu Jalovec.
Ciprnik (1745m)
Od jezera Jasna vede lehká označená stezka, která vás asi za 3 hodiny přivede na vrchol jménem Ciprnik. Z něj si vychutnáte výhled na Martuljské hory na východ a na hory Jalovec, Ponce a Mojstrovka na západ. V dálce na severu pak můžete za jasného počasí vidět Karavanky, Dobrač a rakouské třítisícovky. Pod vrcholem se můžete občerstvit v horské chatě Mojčin dom na Vitrancu (1555m).
Peč - Tromeja (1508 m)
Peč (také Tromeja), italsky Monte Forno, německy Dreiländereck je 1508 m vysoká hora na hranici Slovinska, Rakouska a Itálie. Z vrcholu je nádherný výhled na Julské Alpy, Gailtalské Alpy, Gurktalských Alpy a západní Karavanky. Vyráží se z vesničky Rateče a cesta nahoru trvá asi hodinu a půl.
Hike to Triglav (2864 m)
Triglav hora v srdci Julských Alp, nejvyšší hora na území Slovinska a zároveň nejvyšší hora Julských Alp. Na vrcholu stojí Aljažev stolp, který postavil v roce 1895 Jakob Aljaž, tehdejší farář v Dovje. Dnes je dnes chráněna jako kulturní památka. Slovinská tradice při prvním výstupu na Triglav uvádí, že nováčky pod Aljaževým sloupem na zadek vymrskají zkušenější návštěvníci, a to ničím jiným, než horolezeckým lanem. V letních měsících také na vrcholu často můete potkat hudebníky s harmonikou, který vám zážitek vyepší tradiční slovinskou hudbou.
Na Triglav se dostanete hned z několik míst Triglavského nárdoního parku. Všechny výšlapy jsou časově i tehnicky náročné, proto nepodceňujte fyzickou přípravu i vybavení. Nejoblíbenější jsou následující trasy:
Aljažev dom v Vratih – 6 hodin
Dolina Krma – 6 hodin
Pokljuka – 6 hodin
Gallery
Špik (2472 m)
Špik je dominanta hor Martuljek, který je jasně viditelný již ze silnice vedoucí přes Gozd-Martuljek. Z vrcholu je krásný výhled na Karavanky, údolí Horní Savy, horskou skupinu Martuljek a další nejvyšší vrcholky Julských Alp. Na vrchol vedou velmi náročné označené stezky v délce 4 – 5 hodin vycházející z Krnice, Pišnie nebo Ruského kříže. Nejkratší je cesta z horské chaty v Krnici (4h), doporučené vybavení je helma.
Mangart 82679 m)
Mangart (také Mangrt) je hora, která v létě dosahuje velmi velkého počtu návštěvníků. Přístup na vrchol je značně zkrácen díky silnici, která vede nad 2000 metrů. Vrchol, který patří mezi nejvyšší ve Slovinsku, má nahoře kříž a poskytuje krásný výhled, pokud zrovna není zahalen v mlze. Nejlépe je vidět sousední Jalovec jen pár metrů níže a sousední Italské Julské Alpy.
Vyrazit můžete opět hned po několika trasách, všechny jsou náročné technicky, ne však časově: Ze sedla 2 hodiny po slovenské (horolezecká) či italské trase, od Belopeških jezer 6 hodin, od Pri Mlinču (most Predel) asi 4 a půl hodiny. Pokud zaparkujete u mostu a výšlap si prodloužíte, doporučuji na cestě zpět stopovat a ušetřit si zátěž na kolena ;) Vybavení – helma a jistící komplet, pokud půjdete po slovenské trase.
Gallery
Prisojnik (Prisank)
Prisank také Prisojnik je hora vysoká 2547 metrů, která se nachází nad údolími Mlinarica, Krnica a Suha Pišnica. Z vrcholu se otevírá krásný výhled na nejvyšší vrcholky Julských Alp. Vyrazit můžete hned po několika trasách, které se liší náročností a potřebným vybavením. Nejsnadnější je Slovenska trasa, těžší je Grebenska trasa a nejtěžší je Kopiščarjeva trassa (jedna z nejnáročnějších horolezeckých tras ve Slovinsku), která vede přes horské okno a určitě potřebujete jistící komplet a helmy. Na snadnější dvě trasy stačí helma.
Škrlatica (2740 m)
Škrlatica je druhá nejvyšší hora ve Slovinsku. Na vrcholu je kříž, díky kterému tuto horu rychle rozpoznáme i ze sousedních hor. Z vrcholu je velmi pěkný výhled na všechny vrcholy nad údolím Vrata, zejména na Triglav a sousední Dolkovou špicu. Směrem na východ vidíme těžko dostupné Rokave. Na Škrlaticu můžete vyrazit po několika trasách, všechny jsou velmi náročné a výstup trvá 6 – 8 hodin. Časově nejkratší trasa je z chaty Aljažev dom v údolí Vrata (Mojstrana). Doporučuje se vybavit se helmou a jistícím kompletem.
Gallery
Jalovec (2645 m)
Jalovec je šestou nejvyšší horou ve Slovinsku. Z vrcholu, který strmě klesá ke třem vysokohorským údolím (Loška Koritnica, Tamar a Zadnja Trenta), se otevírá krásný výhled na nejvyšší vrcholky Julských Alp. Východiska – Dolina Tamar nebo Vršič, oboje velmi náročné a dlouhé túry (6 hodin a více).  Vybavení: Helma a jistící komplet doporučené (ale já bych řekla povinné).
Mala Mojstrovka (2332 m)
Díky relativně vysoké nadmořské výšce je Mala Mojstrovka jedním z nejnavštěvovanějších vrcholů Julských Alp. Z vrcholu je krásný výhled na sousední Velikou Mojstrovku, Mangart, Slemenovu špicu, Ponce a vrcholy nad údolím Krnica, kde vynikají Škrlatica a Prisojnik. Východisko – Vršič, 2 - 3 hodiny. Vybavení: Helma a jistící komplet doporučené.
WARNING: při náročných túrách se na vrcholu vždy zapište do registrační knihy včetně toho, odkud a kam jdete, pokud se ztratíte, půjde vás snadněji vystopovat. Vždy s sebou mějte dostatek vody (3l), svačinu, a náhradní oblečení pro případ deště. Do vysokohor tenisky a sandály nepatří, vždy mějte trekové či horolezecké boty.
Schovejte si článek na Pinteresu, snadno ho tak najdete až budete plánovat dovolenou ve Slovinsku 
Kranjska Gora and Julian Alps - places to see